Despite 60-point bursts, the Bobcats play defense well
Why you need to stop talking about why the Bobcats suck on defense and that's why LeBron/Melo scored over 60.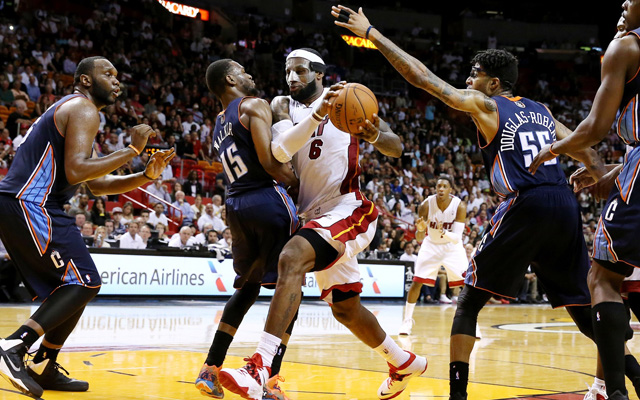 More: MVP impact? | Watch every bucket | Twitter reacts | Heat beat Bobcats
Sorry, I gotta stop you there. Before we go any further, this has to be made clear. It's driving me nuts, and it must stop. 
The Bobcats are a good defensive team. 
I know, I know, I know. Carmelo Anthony scored 62 with the Knicks against them. LeBron James just scored 61 on them along with seven rebounds and five boards on a 22-33 shooting night. They have always been the joke of the league. They must be terrible. 
I'm here to tell you, it's just not true. I watch a lot of Bobcats games, probably 80 percent of their contests this season. They're six games under .500 after facing the Thunder, Spurs, and Heat in consecutive games, seventh in the playoff standings but in the dreadful Eastern Conference. I'm here to tell you they're just not that bad. I'd actually venture to say that when you watch them, you would think they're pretty good. Not great. Not even "really good." Just pretty good. 
They play hard, they contest shots, they move well, they find shooters, they cut off driving lanes and backdoor cuts. They do all the stuff you want a defense to do. 
"That can't be true, since clearly their defense is awful. I mean, LeBron and Melo scored 123 points against them, bro!"
Well, here's the thing. It's not. 
The Bobcats came into Monday night with the sixth-best defense in points per possession. You don't trust them fancy-schmancy "advanced" metrics? Fine. They came into Monday's game 5th in points allowed per game. After LeBron detonated for 61 against them, they fell to... seventh in points per possession and remained in 5th in points allowed per game. 
"OK, but they play in the East," you say. 
The Bobcats are fourth in points allowed per game vs. the Western Conference, and sixth in points allowed per possession vs. the Western Conference. 
What else you got?
"OK, then, hot shot, you've got fancy numbers. Explain to me how they give up all these huge nights, then." 
Weeeeeeeelll... again, I've got bad news, because it turns out... they don't. 
In 60 games played this season, the Bobcats have given up more than 25 points to an opponent just 33 times. You know who also has given up 25 points or more to an opponent 33 times? The Miami Heat. The Oklahoma City Thunder have done it 26 times, the San Antonio Spurs 27 times. The Lakers have allowed it 42 times. 
"Then how did LeBron and Melo do it, genius?!" 
Here's Bobcats coach Steve Clifford: 
"Consider the greatness of the player and the sequence of what happened," Clifford said of James' 22-of-33 shooting night. "He was in the pick-and-roll most of the time, which is where most of his baskets happened. As the ball was released, if you stopped the video and said, 'Can we live with that shot?' you'd realize MKG and Tolliver did a good job."If there's somebody who could be blamed for that, then blame me. We did change our coverages somewhat as the game transpired. You could have flat-out doubled him, but then they would have scored 150. Kidd-Gilchrist and Tolliver taking heat for that? No. That's a coaching decision."
via Inside the NBA: Charlotte Bobcats' Steve Clifford: LeBron's 61 wasn't MKG's and Tolliver's fault.
He's right. We talked about how LeBron's jumper was the reason he had the lethally efficient night. The man didn't dunk once. If the Bobcats were just letting James get to the rim whenever, or Melo pound his way in, it would be one thing. They didn't. If a guy's hitting jumpers, especially when a lot of them are contested or it's off the dribble in the pick and roll, what, honestly, are you going to do? Are you going to tell me you don't want James taking jumpers instead of driving at your big men?
Finally, consider this from the interview I did with Clifford earlier this season: 
"We have a talented defensive team in the NBA to me," Clifford says. "We have quickness and toughness on the perimeter, and we have guys who can guard primary scorers fairly well. So we're not having to run around and double-team a lot. That makes everything easier. Our two four men, and really or three fours when Anthony [Tolliver] plays that position, they naturally make multiple efforts.

"And then they're smart about it. We're just playing base defense. We're not doing a lot. For me, to be an elite defense or a unit that can defend in the playoffs, there are things that we need to add. I don't think we're ready for it this year. We may do a few things here and there. Really, my thing is they're buying into it, they're trying hard, and we have guys who are capable of doing it."
via How basketball lifer Steve Clifford is turning the Bobcats around - CBSSports.com.
The Bobcats don't double. They are willing to live with a guy getting loose. They couldn't hang with Miami, because Miami's a better team. But abandoning what you do that's had success this year is a bad plan for one game in the regular season. Their wing defenders are young and their base defense is simple. Put that together with two of the best scorers in the history of the game, not just today's NBA, and you have two outlier nights that we should appreciate as brilliant, and not denigrate as "against the Bobcats, LOL." 
I don't mind if you're not impressed with Melo's 62 or LeBron's 61 for any number of reasons. I don't mind if you think a team six games back of .500 in a terrible Eastern Conference is awful or that the team is stil a joke because of its long history of losing. But don't trot out to me that this is a bad defensive team. 
There's just no way to argue that's true. 
The then-Heat teammates squared off during the 2011 ECF, but Erik Spoelstra put a stop to the...

Stephen Oh has his finger on the pulse of the Rockets and just made a pick for Wednesday night's...

Gasol doesn't seem opposed to the idea of a midseason trade
The Ball brothers better put their heads down and focus on basketball, according to Billy...

Paul George returns to Indiana for the first time since his trade to the Thunder

Also, LeBron James' historic season continues, while Kevin Durant reminds us who he is