Despite disappointment, Blazers' season should be celebrated
The Blazers' season is all but over. It's been a great one.
• 2 min read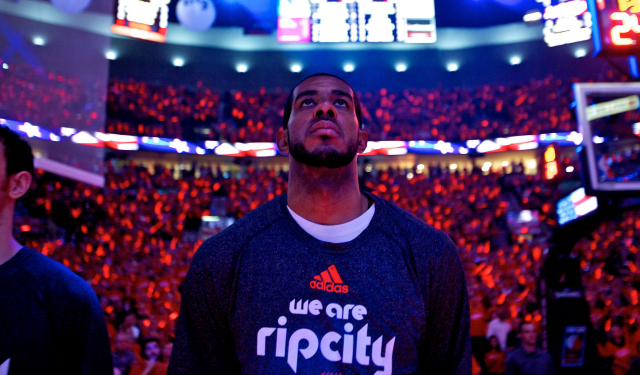 More postseason coverage: Playoff schedule, results | Latest news, notes
The Portland Trail Blazers must be miserable. Before Game 3 against the San Antonio Spurs on Saturday, point guard Damian Lillard called it the biggest game of his life. With the season essentially on the line, Lillard and company couldn't get it done, losing 118-103. They now face an 0-3 deficit. 
Just like the first two games, they trailed by 20 before halftime. They made a rally in the third quarter, then the Spurs executed them to death. They even went on a 10-0 run in the fourth, but San Antonio was always safe. Portland has led for 33 seconds this series. The Spurs are the better team. The Blazers must feel it.
"It is frustrating," Portland head coach Terry Stotts said. "You gotta play through the frustration. It's a part of the game, it's part of playoffs, we're playing a championship-caliber team. You gotta play through that. It's frustrating to get down 20 in the first half. You look at the scoreboard, and it's a hole."
While they stew, though, we can step back and acknowledge what this team has done. These guys shocked the NBA world by winning 22 of their first 26 games. They participated in thriller after thriller, and played some of the prettiest basketball in the league. Like the 2011 Dallas Mavericks squad that won the title with Stotts as an assistant, or like a mini-San Antonio, Portland's players understood their roles perfectly and shared the ball beautifully. Unlike those teams, their defense was always going to be their downfall, but that's OK.
The Blazers reached the second round for the first time since 2000, and gave their fans the chance to celebrate perhaps the biggest shot in franchise history. In a brutally competitive conference, they won 54 regular-season games, the same number as the Miami Heat in the weaker East. 
Despite the way Tiago Splitter and the Spurs limited his efficiency, LaMarcus Aldridge made the leap. He was always great, but this year was something different. It'll be remembered as the season he was truly dominant, became a leader and committed to Portland. 
Lillard evolved even more than expected after his Rookie of the Year campaign, hitting clutch shot after clutch shot and making his first of what will be many All-Star appearances. Nicolas Batum and Wesley Matthews had career years, Robin Lopez provided a much-needed paint presence and Stotts got the most out of his group.
The first three games of this series have been strikingly, disappointingly similar, and the Blazers' special season is all but done. Going into Game 4, though, they surely won't play like it. The halftime deficits are a sign that San Antonio is simply superior, but the second-half rallies say something about Portland, too. The Blazers were never supposed to make it this far, but they've believed in themselves since training camp. They're not about to stop fighting.
"We're going to show our character, we're going to show our pride, we're going to come out and play our asses off on Monday," Stotts said.
There's no reason to expect anything less.
Our advanced computer model simulated Saturday's Thunder-Cavs game 10,000 times

The Jazz are reportedly looking into trading Rodney Hood before the Feb. 8 NBA Trade Deadl...

The Cavaliers are ready to reset everything if they have to. Their interest in Lou Williams...
It sounds like the Cavaliers are going to be active before the NBA trade deadline on Feb....

We've got all the scores, highlights and news for Friday night

George Hill, who is unhappy in Sacramento, could be a solution to Cleveland's backcourt si...