Did Larry Drew (finally) call out Josh Smith for his shot selection?
Josh Smith should stop taking bad shots. And maybe his coach is actually approaching doing something about it.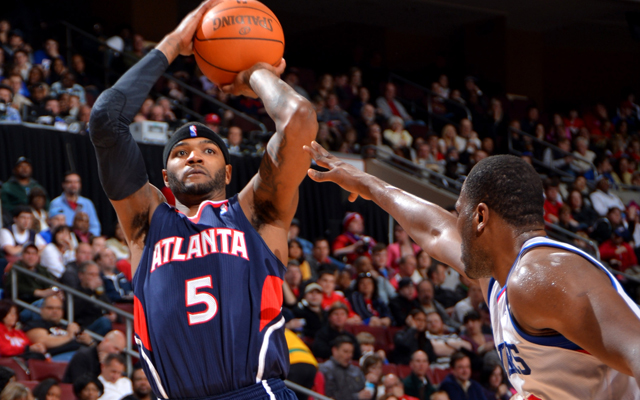 The Hawks lost to the Celtics on Friday night. Boston was without Rajon Rondo, Jared Sullinger, Leandro Barbosa and Kevin Garnett. Now, Atlanta was without Devin Harris, Al Horford, Zaza Pachulia and Lou Williams. But for a team battling for the fifth seed, that's a bad loss. The bigger issue is it seems emblematic of who the Hawks are and who they have been over the past six years. 
They beat a lot of teams and then lose games that they absolutely should win. 
After the game, coach Larry Drew specifically singled out the Hawks' on-ball defense. Now, that's difficult, especially with Jeff Green playing the way that he is. But overall, the Hawks are a good defensive team. What was more interesting was that he said this: 
Drew said the Hawks' issues were again compounded by poor shots.

"If you are not taking good shots, it's as good as a turnover," Drew said. "That is not anything we've haven't talked about every road game we've played. We talk about our shot selection. We talk about not turning the ball over. We talk about limiting them to one shot and coming up with the rebound. When you take bad shots it's as good as a turnover and tonight we took quite a few."
via Celtics roar past Hawks to take season series (updated) | www.ajc.com.
Hawks blog Peach Tree Hoops had some context on what he might have been talking about there. 
Smith seldom took the ball to the basket, despite a lack of prolific shot blockers inside for Boston. Instead, Smith often chose the path of least resistance, lobbing long two after long two until his shot chart looked like this:

So maybe Drew was talking about someone else when he lamented the lack of shot selection but bear in mind that the Hawks shot 50.7 percent separate from Smith's performance above so, yeah, maybe not.
via Josh Smith may have been singled out by Larry Drew in Hawks loss in Boston - Peachtree Hoops.
That's a big deal. The "Hawks shot 50.7 percent separate from Smith's performance." That's incredible. You're going to win games when you shoot better than 51 percent against Boston's defense. 
Instead, look at those mid-range jumpers. One of the funniest things going in the NBA is that moment when Smith catches a pass wide open from 3 or mid-range, and there's a pause from him, and the entire Hawks crowd screams, "Nooooooo!" and he still launches it and usually misses. He's a player whom you hope misses the shot because it makes him less likely to take it again. Or at least you'd hope so. 
Smith has shot 87-of-305 from mid-range this season for 29 percent. If you're looking to put that in context, Smith is the only player according to NBA.com to take more than 300 mid-range jumpers this season and hit less than 30 percent of them. 
So, yeah, this is kind of a problem. 
Here's a look at the several key questions heading into the first week of training camp

Signing Phoenix's qualifying offer will clear the big man to become an unrestricted free agent...

Markieff Morris was already in line to miss the start of camp due to a pending assault cas...
The 76ers should hopefully get a lot of play out of their young guys this season

Okafor's been on and off the trade block for over a year and doesn't seem to be in Philly's...

Fisher is the fourth NBA player to compete for the Mirror Ball trophy on the show