Did Pacers push too hard, too soon?
After failing to take advantage of Miami's slump, the tired Pacers have no choice but to keep pushing for the coveted No. 1 seed in the East. Rest may not be an option.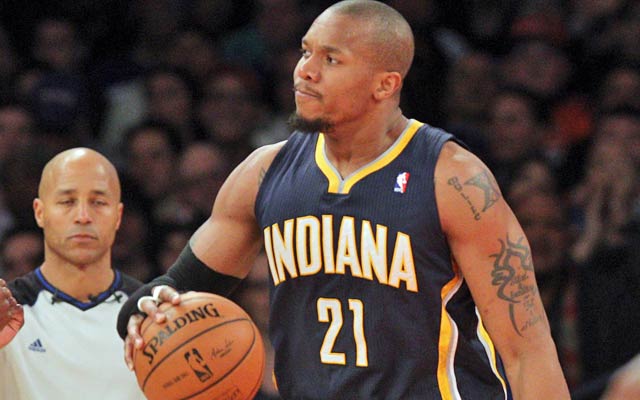 Snyder: Humble, direct Vogel key to Pacers' revival
NEW YORK -- Before the Pacers played the Knicks on Wednesday night, I asked Frank Vogel what his team had cleaned up during a four-game winning streak that followed a four-game losing streak -- an uncharacteristic slide that either exposed their weaknesses or their inability to finish what they'd started in what has otherwise been a masterpiece of a season.
"Offensive movement, screening, our ball containment, our transition defense, our defensive rebounding ...," Vogel was saying in the hallway outside the visiting locker room.
"That's a long list," I said.
"Yeah, we've been working on a lot of things," Vogel said.
About an hour later, many of those familiar trouble spots resurfaced on the floor at Madison Square Garden in a 92-86 loss to the Knicks, who've won seven straight as they try to salvage an abysmal season with an improbable push for a playoff spot. Indiana's pick-and-roll coverage fell flat. The Pacers' offense was stagnant. All-Star Paul George looked tired and lacked lift on his shot -- not to mention accuracy. George was 4-for-17 on his way to a forgettable 17-point night. He was 2-for-9 from 3-point range, making him 5-for-22 from beyond the arc in his past three games.
Two words: Tired legs. According to NBA.com's distance tracker, George has run the fourth-longest distance in the league this season -- 172.4 miles, or 6 1-2 marathons.
Afterward, the frustration boiled over in the Pacers' locker room. George questioned his team's basketball IQ. Roy Hibbert and David West questioned their teammates' unselfishness. 
"We've got to be able to play at a higher pace and a higher IQ," George said.
"We didn't play team ball at all," West said.
Perhaps the Pacers, playing their fourth game in six nights, simply ran into a hot team on the road and didn't have the energy to keep pushing the buttons that got them back on track. It wasn't as bad as their brutal stretch earlier this month that included a 22-point loss in Charlotte and a 26-point loss in Houston, but it was disturbing enough to reverberate in the locker room.
Every contender has its difficult stretches during the NBA's 82-game regular season marathon. To say the Pacers are no longer the dominant team that sprinted out to a 16-1 start and spent much of the season with the best record (and best defense) in the league would be an overreaction.
But there is a dilemma that the Pacers may have to confront before it is too late. Indiana's Big Three of George, Hibbert and West have played in every one of the Pacers' 68 games this season. Not a single game off for any of them. This is in stark contrast to how Gregg Popovich has handled the Spurs for years. Erik Spoelstra has strategically scheduled nights off for his stars, too.
Fans and TV networks hate it. Paying customers feel ripped off by it. But rest is paramount during the NBA's six-month, regular-season grind.
With the older Spurs, and with the Heat's Dwyane Wade and, to a lesser extent, LeBron James, building rest into the schedule is a necessity. (Wade has missed 17 games this season, mostly to rest his ailing knees and keep him fresh for the playoffs. James sat out the Heat's loss to the Celtics on Wednesday night with back spasms.) Vogel has maintained that, with a younger team -- George is 23 and Hibbert 27 -- rest isn't required.
"We keep an eye on our guys," Vogel said. "I agree with how Coach Pop handles his team, but we have a younger team. And the veterans wouldn't sit out if you put a gun to their head."
Here's the problem: With their late-winter/early-spring swoon, the Pacers have squandered a chance to separate themselves from Miami in their all-out pursuit of the No. 1 seed and homecourt advantage throughout the Eastern Conference playoffs. With series-deciding losses on the road in two of the past three postseasons -- including a Game 7 loss at Miami in last season's Eastern Conference finals -- Indiana has kept the pedal down from start to finish in pursuit of a series-deciding home game if and when they see the Heat again.
Miami has lost six of nine since March 3, and the Pacers (4-5 during that stretch) have picked up only one game in the loss column. Now, with only a two-game lead, the Pacers have little choice but to keep pushing.
Asked about how he prioritizes securing the No. 1 seed and preparing for the playoffs, Vogel said, "Both are equally important in my mind. It's important to keep winning now; earning the [No.] 1 seed is still a priority of ours. But the bigger thing is making sure that we're playing at our optimal level."
Of all the things that the Pacers worked on to try to get back on track, rest hasn't been one of them. And now, with two of their 14 remaining games against the Heat, there may not be time.
CBS Sports HQ Daily Newsletter
Get the best highlights and stories - yeah, just the good stuff handpicked by our team to start your day.
Please check the opt-in box to acknowledge that you would like to subscribe.
Thanks for signing up!
Keep an eye on your inbox for the latest sports news.
Sorry!
There was an error processing your subscription.
Mychal Thompson played for the Lakers, but says his son won't follow in his footsteps

Memorabilia from 'The Big O's' Hall-of-Fame career went to the highest bidder

The Rockets will have to look elsewhere as they try to bolster their bench
The 2018 Rookie of the Year shared his thoughts on LeBron picking L.A. and also said Philly...

Irving's mother, grandparents and great-grandparents were all part of the Standing Rock Sioux...

Steve Ballmer's Clippers currently share the Staples Center with the Lakers