Did Stephen Curry make the right decision even if he was fouled?
Stephen Curry's tying/winning attempts at the end of Game 3 probably wasn't the best look.
After some late-game heroics to get the Golden State Warriors in position to pull off the comeback and the upset of the Los Angeles Clippers, Stephen Curry was given the ball with 7.8 seconds left and was told to create an opportunity for him and his teammates. There was no real play after the inbound pass from the looks of the set on the court. Set two screens to get Curry open to receive the ball, then let him go to work.
Considering Curry had hit two ridiculous 3-pointers in the previous couple minutes of action, it was a good idea to let their best player make the decision to go for the tie or the win. Clearly, Curry gets fouled on the play, but it was a subtle foul in many ways by Chris Paul as he bodied up Curry on the shot. Let's take a look at the close up of the shot in .gif form:
There are a couple reasons Paul doesn't get called for the foul on what would have been two free throws (Curry's toe was on the line) with about four seconds left. First, the refs are rarely going to call body contact in the way Paul fouled him. He didn't push through him or play out of control on the contact. He subtly moved into his hip with the forearm and gave a bit of a push. Secondly, he makes contact on the forearm but he doesn't reach through to do so.
Technically, he's entitled to that space by keeping his arm pretty straight up as Curry is off-balance and in a shooting motion in which he flops a bit. That's not to say none of this is a foul nor the right no-call by the refs. There was just some sneaky subtle moves by the veteran to avoid the call. 
But in terms of the shot, did Curry give his team the best chance to win there? Was that the best shot they could've taken in that moment? Let's take a look at a couple of still shots from the play: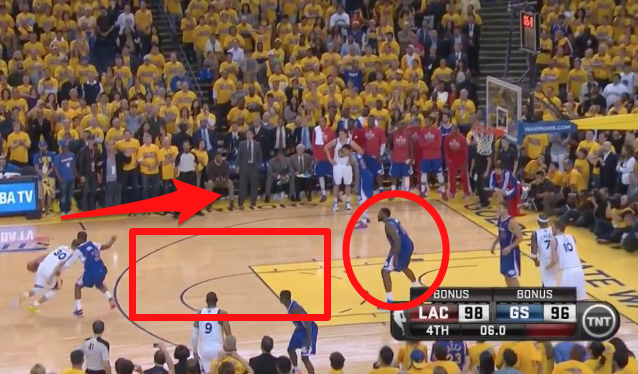 As Curry makes his hard driving move to the left against Paul, he gets to a point in which he turns the corner and can get much deeper into the half court. He has DeAndre Jordan lurking about six feet from the basket, but there is a lot of real estate in between to get past Paul and still take a relatively uncontested shot.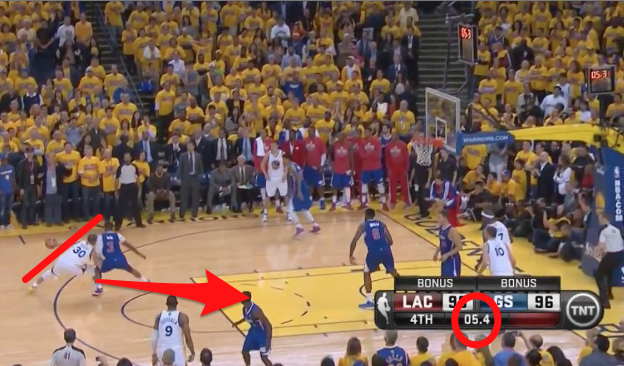 Instead of taking the lane provided by the initial drive, he opts for his patented step-back (or Steph-back) jumper. It's something Curry has killed defenders with for years, but considering it's his primary move, a defender like Paul will be waiting for that move. From the way he sticks with Curry, you can tell he was playing that move the entire way. As Curry attempts separation, he's not very balanced and perhaps a crossover dribble to his right hand would have taken away the positioning advantage CP3 has.
Considering he had 5.4 seconds left on the clock at this point, he had time to put another move on his defender.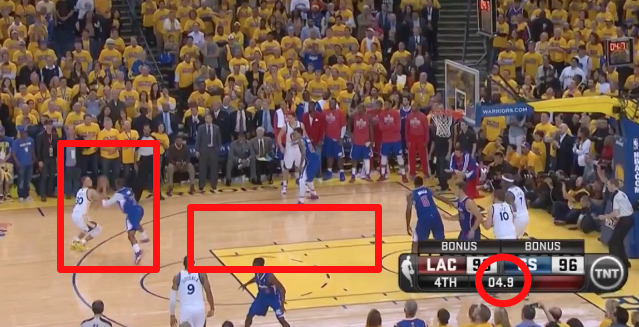 He takes the shot so early in the clock, which isn't necessarily a bad thing. It gives the Warriors the chance to get an offensive rebound and still score to either force overtime or win the game. But he hasn't created any separation and there is still all of that unclaimed land in which he could've gotten a better shot. He also doesn't even get behind the 3-point line so had he hit it, all he would've done is created a difficult tying shot for himself.
There also wasn't any help for him here. Every one of his teammates is used to space the floor. Jermaine O'Neal and David Lee are low to keep the big men from getting up there to contest the shot. Andre Iguodala is closely guarded by his man on the weak side wing and Klay Thompson is tightly defended by his man in the left corner. But you can't help but wonder if a more sophisticated play with more movement and cross-screen action could have confused the Clippers' defense.
It's easy to judge all of this stuff in hindsight because we're not in the moment making split-second decisions. However, Curry tried to be the hero when he could have just attempted to live to fight another period. Had he made the shot, we'd be screaming "ONIONS!" and talking about how clutch he is, no matter how bad the shot was.
Since he missed it, it gives us the avenue to wonder if he made the right decision and whether or not Mark Jackson should have called for a better play.
The awards are voted on by peers in the NBA and adds to Russ' league MVP award he won this...

Minnesota is facing even bigger expectations headed into next season, and they'll be difficult...

When the NBA MVP odds came out, it got us thinking: Will stat-compiler Russell Westbrook win...
Durant labeled the Cavs' situation as a regular problem in the NBA

James takes to Instagram for a better look at the Cavs' new Nike-made uniforms

Kevin Durant says he doesn't agree with what President Donald Trump agrees with