Did Zach Randolph deserve to be suspended?
This wasn't the first incident the Thunder's Steven Adams has been involved in, and Zach Randolph's punch was weak at best. But a punch is a punch, and a one-game suspension -- even for another Game 7 in this thrilling postseason -- was the unfortunate result.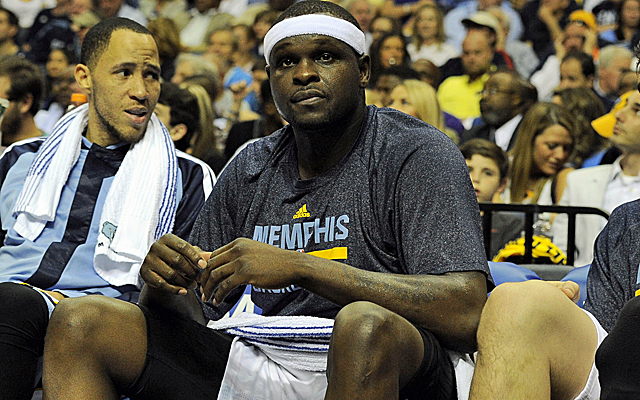 More postseason coverage: Playoff schedule, results | Latest news, notes
In this incredible first round of the playoffs, we had three teams fight off elimination on Thursday night, forcing an unprecedented three Game 7s on the same day on Saturday. As if that weren't enough, the Mavs and Spurs gave us another classic on Friday night, with Dallas hanging on with a 113-11 victory to force another Game 7 on Sunday.
Not to mention Sunday's Game 7 between the Raptors and Nets.
This is nuts, basically.
After the Pacers-Hawks game in Atlanta on Thursday night, I had the good fortune of being in the TNT studio while those lunatics Charles Barkley, Kenny Smith and Shaquille O'Neal (with the hardest working traffic cop in show business, Ernie Johnson) performed the best studio show in sports television, "Inside the NBA." 
"It's like March Madness," Barkley said of these playoffs.
Indeed.
We could've had another classic, and more madness, on Saturday in Game 7 between the Thunder and Grizzlies in Oklahoma City. Alas, word came down from the league office on Friday afternoon that Memphis' Zach Randolph would be suspended for Game 7 for "punching Oklahoma City Thunder center Steven Adams in the jaw," according to Rod Thorn, the league's president of basketball operations.
Here is the play. I don't know about you, but I've seen stronger punch in the juice aisle at BJ's.
Did such weak sauce from Randolph really justify suspending him for a Game 7? The Grizzlies certainly don't think so. If you don't think so, I can only argue with you to a point.
Here's the point to which I will argue, and it might be the only point that matters: If you make contact with an opposing player's head with a closed fist -- and it's intentional, or not in the course of making a basketball play -- then a one-game suspension is what you should expect. (See Bryant, Kobe v. Ginobili, Manu, circa 2007.)
You want to see a weak punch that resulted in a one-game suspension during the 2013-14 regular season? Here's one that also was drawn by Adams, from the Nuggets' Jordan Hamilton on Dec. 17.
If that noogie to Adams' shoulder got Hamilton suspended, then it's not too much of a stretch that Randolph's blow/punch/shove with a closed fist to the side of Adams' head got him a game, too.
On one hand (no pun intended) I could see how someone would say that the word "punch" in both cases was too strong. And in the case of Randolph, who is supposed to be playing the deciding game of a fantastic playoff series on Saturday, the NBA's official news release on the suspension could've been reworded. 
Here's the problem: Once you start trying to redefine what Randolph did, one of two things has to happen. Either it was a shove or a push or a strike, and thus not worthy of a suspension, or it was what it was. What is it called when someone hits you in the head with a closed fist, no matter how weak or uncoordinated it was? It's called a punch. And that's why the NBA suspended Randolph.
Another subplot worth noting: The Randolph and Hamilton incidents haven't been the only ones the Thunder have been involved in this season. Adams also drew an elbow from the Mavs' Vince Carter on Nov. 6, resulting in a one-game suspension for Carter. The Thunder's Serge Ibaka tossed the Clippers' Blake Griffin to the floor on Nov. 13, which got Matt Barnes mad and caused Barnes to shove Ibaka, get ejected, and get fined. The league docked Barnes $25,000 for failing to leave the court in a timely manner and for using inappropriate language on Twitter. (In other words, Barnes at least got his money's worth.)
In addition to Ibaka and Adams, Kendrick Perkins' enforcer role is pretty well understood. Basically, if you're in the paint against the Thunder, you better be ready to snack on some elbows. They get under your skin, make you mad and make you do things that you shouldn't be doing. That's basketball -- especially in the playoffs.
But you cannot condone punching someone in the head on the court. A punch, no matter how weak, is a punch. 
Was Randolph's shot at Adam's head any worse than the Pacers' George Hill getting in Mike Scott's face and Scott twice shoving Hill in the face with open hands on Thursday night? In some ways, no. But in the way that matters most to the league office, it was. Randolph made a fist and hit someone in the head.
That's a punch. It's also a shame.
The Warriors used a huge third quarter to come back from a 23-point deficit to get the win

Three takeaways from Golden State's 24-point rally past the Sixers

Okafor has played only 25 minutes this season
Capela's shoe slipped off, and was sitting near the free throw line

The Magic will instead play in the Las Vegas Summer League

Ball walked away from an altercation between the Lakers and Suns on Friday night