Digital History: Bulls-Heat rivalry stars LeBron James and Derrick Rose
A review of what has gone on between Derrick Rose's Bulls and LeBron James' Heat since 2010.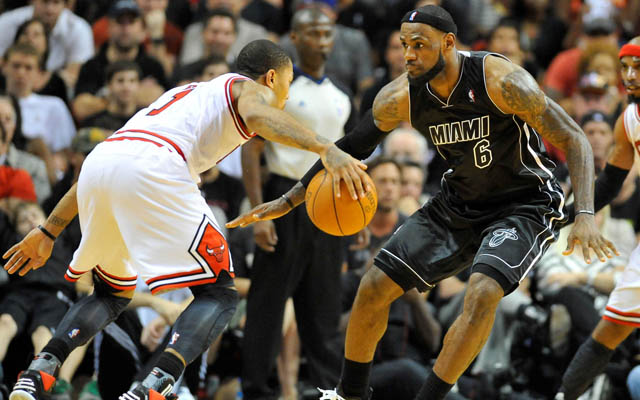 It has been 888 days since Derrick Rose last saw LeBron James and the Miami Heat on the floor of an NBA playoff game.
Eight hundred and eighty eight days since what was supposed to be Rose's arrival at the top of the NBA food chain, where he was revealed as just another young pretender to the throne, not quite ready for the leap. It's been 888 days since Miami went on an 18-3 tear in the fourth quarter, in the United Center, to close out the Bulls in four straight games and advance to the NBA Finals for the first time in the Triad era. It has been 888 long days.
To say a rivalry exists between the Heat and Bulls requires some manipulation of the idea. The Bulls have seen the Heat as their rival ever since James snuffed the light from that magical season. But, for the Heat, Rose and the Bulls fall into the category of so many other teams (the Thunder, the Knicks, the Pacers), and can only be seen as yet another tough opponent that they've toppled along the way.
On Tuesday night, the rivalry that could have been, which could be again, resumes on South Beach as Derrick Rose makes his return to an NBA regulation game to face the defending champions in the shadow of their latest banner.
To understand the complicated relationship between these two teams requires understanding the nuance. Because you cannot say the Bulls have vexed Miami at every turn, nor gotten the better of them overall. But still, they're stuck in Heat's immune system, like a cold they can't quite shake but which has never kept them from their work.
THE CHEMICALS BETWEEN THEM
It began with The Decision. No more words need to be said about that night in Greenwich, but that phrase, "I'm taking my talents to South Beach" sent shockwaves and repercussions throughout the league, and through Chicago.
The Bulls, after all, were supposed to be in the running for both James and Wade.
Rose was coming off a frustrating season in which he was swept by James' Cavaliers. But the Bulls had cap space, and the typically frugal and ultra-patient Bulls front office decided this was the time for a move. After striking out on James, Wade, and Bosh, they moved into position and landed Carlos Boozer. At the time, it looked like they got the worse player between Boozer and Amar'e Stoudemire, but it looks like they lucked out there.
Similarly, the Bulls went low on the offer to Mike D'Antoni. Instead they hired longtime assistant Tom Thibodeau.
That worked out well.
Rose had texted James to try and recruit him, but he never went out of his way. He always wanted to be "the guy" for Chicago.
At a time when Chicago native Wade and fellow Creative Artists Agency client Chris Bosh were huddled in their agent's office in the Windy City being wooed by Bulls executives, Rose was nowhere to be found. When Bulls officials went to Cleveland the next day to join in the biggest superstar suck-up in NBA history, pulling out all the stops in hopes that James would say "I do," Rose did not inject his influence into the process.

Some interpreted Rose's silence as a deafening repudiation of James and Wade, as a sign that he somehow wouldn't welcome the superstars to share the stage in his native Chicago. It isn't clear how James and Wade interpreted Rose's lack of engagement. But one thing is clear: Rose's priorities were in the right place. He was working on getting better, respecting the hierarchy of the team and letting the people who get paid to make personnel decisions do their jobs.

"Obviously, no NBA player is going to go beg someone to come play with him," said another person familiar with Rose's approach. "He was fine with LeBron, Wade or Bosh on his team, and he's fine with Carlos Boozer, Joakim Noah and Luol Deng. He goes about his business the same way regardless of who's on his team."
via Don't mistake reluctant Rose for a shrinking violet - NBA - CBSSports.com News, Scores, Stats, Fantasy Advice.
Everyone thought the Bulls would be good, but they didn't know how good they would be.
THE OPENING SALVOS
It soon became clear that the Bulls weren't just a good team in the Eastern Conference, they were a legitimate contender. Ferocious defense designed by Thibodeau and the freedom he gave Rose lead to the Bulls eventually taking the No. 1 seed in the Eastern Conference.
Their 62-win season included three games against the much-hyped, hyper-scrutinized Heat who were still learning how to play together.
Chicago won all three matchups.
When the two teams met in the playoffs, the momentum seemed to carry with Chicago. Despite having trouble with both the then-upstart Pacers and the Atlanta Hawks, the Bulls were a rallying point for anyone who disapproved of the Heat's team-up.
Chicago took Game 1.
"That's funny to me," Noah said. "This is what all of us have been dreaming about our whole lives, to play in these situations. And because people are saying it's one superstar vs. three superstars, people think that's what motivates us?"

Whatever it was, Game 1 went about as well as the Bulls could've dreamed. They dominated the star-studded Heat 103-82 to take a 1-0 lead in the best-of-7 series, proving what a flawed notion it was to paint Chicago as a one-man team.

"We've got a monster at the point," Noah said. "That's no secret. And if you try to double-team him, we have playmakers that can make plays. We have a lot of options."

Funny, nobody in the Bulls' victorious locker room Sunday night could remember people being too impressed with their options or talent back in July, when Miami assembled its star-studded trio of free agents and the Bulls signed ... Carlos Boozer, Kyle Korver, and Ronnie Brewer.

"We don't know who writes about what," said Boozer, who had 14 points and nine rebounds as Chicago's "big three" went point-for-point with Miami's. Boozer, Rose (28), and Luol Deng (21) equaled the offensive output of Chris Bosh (30), Dwyane Wade (18), and LeBron James (15).

"Nobody was talking about us at the beginning of the season," Boozer said. "Not too many people were talking about us throughout the season. And there might not be too many people talking about us now. But everybody in this room believes in each other and we're going to keep grinding, helping each other out, and doing what we do."
via Bulls use full-team effort in Game 1 to rout Heat - NBA - CBSSports.com News, Scores, Stats, Fantasy Advice.
People foamed at the mouth for the storyline. The hero would save the day. And then...
The Bulls' run ended with Derrick Rose, who had been shut down by LeBron James in all kinds of nasty ways, missing the final jumper to try and tie the game. Rose came at the King, and he missed.
But there was no reason to think the Bulls wouldn't get back. Rose would be back, and better than ever.
Right?
THE FALL
The thing about Rose's injury wasn't just the traumatic nature of it. It came after a year where he continually missed time with injuries. He was just worn down. You saw it in the 2011 run. He was hammered by Indiana in a preview of what they would become defensively. Atlanta was surprisingly tough on him. And the Heat, James in particular, just smothered him. He wasn't the same that next season, though he was still brilliant. Then that first game against the Sixers, with Rose left in by Thibodeau as insurance against what may have been an insurmountable lead.
It was brutal. Rose would have to miss half the following season. How could the Bulls possibly survive?
THE STAND
Instead, the Bulls thrived to a degree. They just proved to be tougher than everyone else. They were a defensive team that made life miserable for the other team, and Nate Robinson and Luol Deng were able to fill in the gaps just enough.
Meanwhile, the Heat had won the 2012 title, finally getting that monkey off their backs.
They entered the season as the champs, and proceeded to destroy everything in their path. In the middle part of the season, they took it to another level, and had won 27 straight games entering a night vs. the beat-up, injury-riddled Bulls. They looked unstoppable as they pushed toward the NBA record for consecutive wins.
Derrick Rose still wasn't back. Despite shoe-company-sponsored video to the contrary, Rose never returned. He was cleared by doctors in February, but never felt physically, mentally, or emotionally ready.
What chance did the Bulls have against the Heat without Rose?
March 27th, 2013:
On a rare, unexpected night of jubilation in a season without Derrick Rose -- a night without Joakim Noah and Rip Hamilton, too -- the United Center roared to life like it always has on an important basketball night here.

"End the Streak! End the streak!" The chant made its way from one end of the arena to the other, washing over James as he lined up his free-throw and dropped it in.

Twenty-seven seconds later, the second-longest winning streak in NBA history was over. For a night, the Heat's overwhelming talent and determination during this run of greatness were no match for the sheer probabilities and equalizers of the NBA grind. Shane Battier, ever the eloquent deliverer of quotes, called it like it was.

"Pretty much a garden-variety road loss in the NBA," Battier said after the clock ran out on Miami's streak -- six shy of the 1971-72 Lakers' record of 33 -- with a 101-97 loss to the Bulls' misfits and role players.

Somehow, you always knew it would end like this, when you least expected it. Not against the four-time champion Spurs on Easter Sunday, not against the conference-rival Knicks next Tuesday. It would end in New Orleans, or in Charlotte, or against a Bulls team that was not only without Rose, but also Noah, Hamilton and Marco Belinelli, too.

There's a reason it hadn't been done in 41 years.
via Tenacious Bulls get physical to stop Miami Heat's winning streak - NBA - CBSSports.com News, Scores, Stats, Fantasy Advice.
When we analyzed how the Bulls could beat Miami, we looked at two things: their tough physical defense and how they respond in emotional situations. This team wasn't better than Miami in 2011 but worked their way to a better record; same thing last year. And on Wednesday -- without Derrick Rose, Joakim Noah, Marco Belinelli or Rip Hamilton, -- they ended the streak by combining those elements.

The Bulls whacked the Heat repeatedly on drives, playing a tough, physical game, especially against LeBron James.

And then, after James was hit again with a hard foul by Taj Gibson that was inexplicbly called a flagrant foul, reviewed, then rescinded, James himself got tagged with a flagrant foul.

It was that kind of night for Miami. (And the officials, who lost control of the game for both teams on both ends, a disturbing trend this season.)

Luol Deng was huge for Chicago. Deng has carried the Bulls all season, and his defense and timely playmaking was monstrous for the team down the stretch. Carlos Boozer was up and down, making huge plays, then clanking free throws or badly missing key shots, then having the huge putback at the end of the game.

Throw in a little bit of Nate Robinson being the ridiculous, unreliable but occasionally flamethrowing firebug that he is, and Jimmy Butler having the biggest game of his career, and you have a streak that was broken. Chicago always plays Miami tough with its defense, execution and toughness, and it's just another sign of how great a coach Tom Thibodeau is.

So much for the streak. Chi-town took care of that.
via How the Bulls killed the Heat streak - CBSSports.com.
If you believe in moral victories, this was the very definition.
The two would meet again in the playoffs, and still, despite being without Rose and Luol Deng after a freak condition developed after a spinal tap, and with Joakim Noah barely able to walk, the Bulls took Game 1. They lost the next four, because Chicago didn't have nearly enough, and Miami was the best team in the league.
A miserable season spent waiting on a point guard's return that never came. It will be remembered as a frustrating, miserable year marked by injuries, by the lost promise of what Rose's return would have meant. It will have footnotes about Luol Deng's spinal tap condition, Kirk Hinrich's calf, and Taj Gibson's knee. Oh, and Joakim Noah's foot.

Underneath all that, though, there needs to be admiration for this Bulls run. It was tough, it was full of determination and heart, things that beyond all the metrics we do truly enjoy watching. It wasn't successful, because talent is better than those things. But they deserve recognition for accomplishing so much with so little.

Throughout the season, the Bulls largely stepped up in key moments. They won games they had no business winning. They out-executed teams with more talent, they hustled and worked over teams with more energy. So much of this comes down to the identity that Tom Thibodeau has instilled. Thibodeau led the Bulls to believe that they could beat any team if they stayed with the things they do well.

Rebounding, effort, and defense, defense, defense.

Look, you can't ignore the elephant in the room that Derrick Rose never returned when so many teammates played through injuries. But injuries and bodies are different, and it doesn't matter now. Let's not cast judgment on Rose, let's celebrate guys like Joakim Noah.
via Heat-Bulls Game 5: Bulls admirable in effort under tough circumstances - CBSSports.com.
That was five months ago. 
But entering Tuesday night's game, the pattern is clear. Very few teams (Boston, Indiana, San Antonio) have been able to consistently challenge Miami. Chicago takes it to them every single time. There's a personal streak here, too. There's a genuine dislike, and a rivalry, if we can call it that, that has been filled with iconic moments:
But more than anything, this game, this battle, is about Rose vs. James. Rose isn't in James' sphere yet. Don't mention the MVP. Don't mention how good, fast, or strong Rose is. James, in comparison to every other player including Rose, is simply on another planet. But he's still young. He can get there. And every great player has a nemesis. Jordan had Isaiah Thomas, Larry Bird had Magic, Kobe had Shaq (wait). 
Rose's challenge just happens to be greater. We'll see if he can rise above, starting Tuesday night. 
Westbrook's late layup gave the Thunder a 109-108 victory

LeBron became the seventh player in league history to reach the milestone

There were a few things that stood out from Tuesday's All-Star selections
Here are three players from each conference who had legitimate claims to make the game

LeBron achieved the milestone in the first quarter Tuesday

Here are the full lineups for the 2018 NBA All-Star Game