Dion Waiters, J.R. Smith involved in three-way trade
The Cavaliers pulled Dion Waiters from their game against the Sixers on Monday, and they've agreed to trade him.
• 1 min read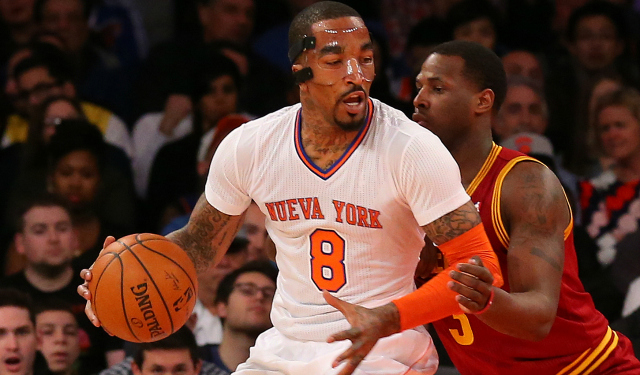 The Cleveland Cavaliers have traded guard Dion Waiters in a deal involving the New York Knicks and Oklahoma City Thunder, all three teams announced on Monday.
The details: Waiters is headed to the Oklahoma City Thunder, and the New York Knicks are sending guards J.R. Smith and Iman Shumpert to the Cavaliers. Cleveland will send reserves Alex Kirk and Lou Amundson to the Knicks, who will also receive forward Lance Thomas from Oklahoma City and trade exceptions worth $5.9 million and $2.6 million.
Oklahoma City is also sending a first-round pick to the Cavs (protected 1-18 in 2015, 1-15 in 2016, becomes two second-round picks in 2017, per ESPN's Brian Windhorst), and New York gets a 2019 second-round pick from Cleveland. Knicks center Samuel Dalembert has been waived.
"We wish Dion the best as he continues his career with the Thunder and thank him for his effort and work here with the Cavaliers," Cleveland general manager David Griffin said in a statement. "Dion is a talented player with potential ahead of him. Trades like this are always difficult to make because there are relationships and bonds built and that was the case with Dion. At the same time, we're very excited to welcome Iman and J.R. to Cleveland. With their size and versatility, we think both Iman and J.R. can help our team on both ends of the court and we look forward to them joining us."
Waiters, center Kirk and forward Amundson were present for the pregame introductions for Cleveland's game against the Philadelphia 76ers on Monday, but all left the court area before it tipped off.
"Dion Waiters is a player that we've tracked and liked since his time at Syracuse, in the NBA, and with USA Basketball," Thunder general manager Sam Presti said in a statement. "Dion provides another proven scorer that positively impacts our roster and adds depth and flexibility. We have a lot of respect for his toughness and competitiveness, and believe that he is a physical playmaker who will enhance the versatility of our team. We are excited to welcome Dion to Oklahoma City and the Thunder organization."
"As our journey moves through this season, we will search for the type of players that fit the style we hope to exhibit for our fans. Our desire is to improve our ability to compete," New York president Phil Jackson said in a statement. "In addition, these transactions improve our flexibility to the current roster and the salary cap for future seasons."
LeBron said he was frustrated by the President's recent actions

A look at the various actors and elements in the latest sensational blockbuster trade in the...

Blockbuster deal doesn't change the Thunder's projected finish in the West
The Thunder strike again this offseason, and Knicks, entering a new chapter, also make out...

The Warriors have responded to the White House rescinding their invitation

Carmelo Anthony has to change his game in Oklahoma City