Dion Waiters, Kyrie Irving speak with media together to quash rumors
Cleveland stars say they get along and everyone totally believes them. One of these things is true.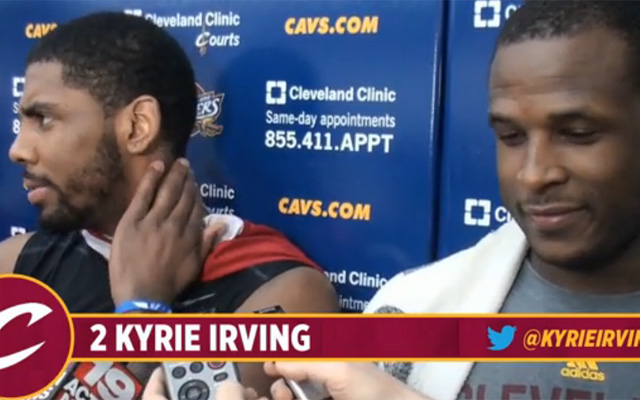 More NBA: Power Rankings | Expert Picks | Seasons in Review | Playoff Picture
You could not have made up what happened with the Cleveland Cavaliers this year. They struggled out of the gate. Kyrie Irving has dealt with constant questions about whether he likes it in Cleveland and intends to stay. Andrew Bynum was a non-factor and a locker room cancer. Anderson Varejao's been hurt. They traded for Luol Deng in an emergency "pull the parachute" move to try and sail to the playoffs and that didn't work. They fired their GM. 
And the hits just keep on coming. 
On Monday, after practice, Kyrie Irving and Dion Waiters held their post-practice availability together. The two have faced repeated questions about the relationship in the media this year, with the implication being that the two don't get along. The source of frustration is said to be Waiters' alpha dog mentality and a desire to be "the man" in Cleveland. 
And it somehow involves Josh Gordon, wide receiver for the Cleveland Browns: 
On "First Take," Gordon was asked about the perceived rift between Irving and guard Dion Waiters, both top-four picks in the NBA draft.

"I talked about it with Dion," Gordon told anchor Skip Bayless. "He's my neighbor in my building, so we hang out all the time. I'm aware of the rift in the locker room. That's just alpha males and supreme athletes trying to share the spotlight."

He said he hoped the two got along but supported the idea that one of the two would have to be traded.

"I'm not opposed to that," Gordon said. "It might play out better."
via Cleveland Cavaliers' Kyrie Irving, Cleveland Browns' Josh Gordon trade barbs - ESPN.
That touched off a firestorm which resulted in Kyrie Irving telling media that Gordon needs to mind his own business. So the mini-press-conference at Cavs practice Monday was an attempt to put the rumors to bed, to make fun of them a little bit, and try and end the beef with Gordon. 
"Honestly on the court, off the court, with the best of friends," Irving said. 
The two joked about how they actually spoke to each other at practice before discussing the Gordon situation.
"(Outside sources and media) don't know what we do. There will be times when we don't get along on the court," Waiters said. "But that doesn't mean we don't get along." 
You have to respect the two for making the appearance. You can't talk about how they won't address an issue and then deride them when they do. They wanted to try and end the constant speculation about it. 
Now, do I believe them? When one outlet reports on dischord between two players, even a reputable one, you take it with a grain of salt. But when multiple outlets have alleged the same situation, and it's part of a greater pattern pertaining to Kyrie Irving's attitude towards Cleveland, it's hard to believe everything's fine. 
Maybe trying to get out above the situation and squash it was the play. Maybe acknowledging the reports, creating posts like this one, is counterproductive. Either way, as much of a good faith effort as it may have been, it's unlikely it helps end the specuation that the two are doomed for a break-up at some point, especially with the Cavs' unraveling after a playoff charge with Irving out. 
The Suns will also receive a second-round pick in the deal

Kerr noted Warriors are deeper than the NBA championship team of last season

The Dubs will make a decision as a team on visiting the White House, but Steph would vote...
Wolves are an up-and-coming NBA squad, but this region knows heartache too well

The Bucks will be the sixth team since 2011 for the 31-year-old Green

Green helped KD through the tricky situation but not without enjoying his teammate's blund...