Dion Waiters says it's totally natural that he was out of shape for Summer League
Dion Waiters sloughs off talk that his conditioning is a concern after a poor showing in Summer League.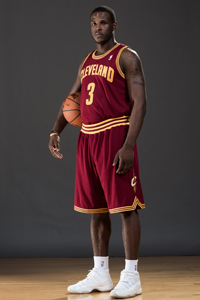 Waiters says his conditioning isn't an issue.
(Getty Images)
If you were a Cavs fan, there was concern. If you were just an observer, there was snickering. Dion Waiters showed up for Las Vegas Summer League and did not look good. He seemed overweight, sluggish, and generally out of shape, which is about the last thing in the world you would want to see from your athletic wing you drafted top-five, outside of some sort of Satanic cult gear in his gym bag or white powder on his mustache. It was a pretty bad review for a guy who many thought was a reach at No.4 anyway. 
But for his part, Waiters says it's no big deal. From Syracuse.com:
DD: Well, one of those reasons people were giving for your performance was that you were out of shape. And when you were at Syracuse and you were heavy, you weren't at your best, either. Do you think there's a correlation there?

DW: It's different for the NBA Draft, when you don't have to do nothing. It was a couple weeks between the draft and summer league. I still wasn't (in game shape). But now, you see me, there's a big difference.
via Dion Waiters signs autographs, talks about his new life as a Cleveland Cavalier | syracuse.com.
A lot of guys actually stop working out because if they tweak an ankle, bang, that's it, their stock drops. Waiters started cancelling workouts when teams started reportedly throwing promises at him. Then afterwards you're dealing with a lot of life-changing events. 
Still, he needed to be ready to go when Summer League started. There's a matter of preparation that's expected. It's Summer League, and this is the last time it will matter in his career. But it was his first time in a Cavs uniform. There was work to be done, progress to be made. 
Maybe Waiters will never have a conditioning issue again. His Summer League issues certainly don't portend a future problem. But you have to be a little concerned that off the bat, Waiters isn't 100 percent invested in the process of becoming the best he can be.  None of the at will matter if he kills it in training camp, of course. Waiters and see, as always. (See what I did there? "Waiters" and see? I'm here all week, folks. Tip your Waiters. See? Again!)
DH12 is picked for free throws after a teammate gets ejected. He makes both, and lets Scott...

Bell was injured defending a Robin Lopez dunk and had to be taken off the floor in a wheel...

Trevor Ariza and Gerald Green are reportedly both suspended two games
We've got all the scores, highlights and news from the night's games

Jonah Keri talks with NFL and NBA broadcaster Ian Eagle

SportsLine simulated Wednesday's Nuggets-Clippers game 10,000 times