Dion Waiters says LeBron told him to be ready days before Decision
Dion Waiters says LeBron James called him a few days before he made his decision and told the Cavs' guard to "be ready."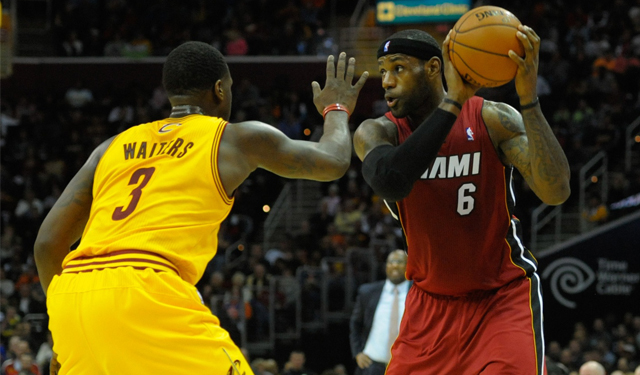 More Offseason Analysis: Coaching changes, news | Free Agency | Draft
Did Cleveland Cavaliers guard Dion Waiters know LeBron James was coming back to Ohio before he announced it in an essay to Lee Jenkins? It's possible he had an inclination it could happen. Waiters told SLAM Magazine LeBron and him have talked and even talked "four or five days" before he made his decision. James called Waiters told him to "be ready" even though he said he hadn't made up his mind just quite yet.
He just wanted Waiters to be ready and already working hard, just in case he decided to go back home. From SLAM:
"We've talked," Waiters said of his new teammate. "I actually talked with LeBron before he made his decision. He called me and just told me to be ready. Be ready. I talked to him four or five days before he made his decision. He just got on the phone and said I haven't made my mind up yet but be ready.

I told him that I'm already working hard. I'll be ready. And he said, I know, I know you are. Then a few days later I read the letter. I was just really excited for the city of Cleveland. I think the city, more than anybody, deserves this. They deserve to have LeBron coming back. I think the excitement is really back in Cleveland and I'm looking forward to being a part of that."
Waiters has already stated this offseason that he knows he needs to change his game and style of play a bit. He's watched some Dwyane Wade footage from when Wade and LeBron first teamed up to see the way Wade adjusted his game. With Waiters being such a ball dominant player, learning to play off the ball, learning when and where to move without the ball, and becoming a better spot-up shooter from outside will go a long way to adapting his game to playing with LeBron.
In his second season in the NBA, Waiters averaged 15.9 points, 3.0 assists, and 2.8 rebounds in 29.6 minutes. He's an effective scorer but not always the most efficient team player. He was much improved scoring the ball from his rookie season by raising his shooting percentage 2.1 percentage points to 43.3 percent and his 3-point percentage from 31.0 percent to 36.8 percent.
Trail Blazers guards Damian Lillard and C.J. McCollum have been pushing for Anthony to join...

Anthony reportedly gave the Knicks an expanded list of teams he'd waive his no-trade clause...

The Suns will also receive a second-round pick in the deal
Kerr noted Warriors are deeper than the NBA championship team of last season

The Dubs will make a decision as a team on visiting the White House, but Steph would vote...

Wolves are an up-and-coming NBA squad, but this region knows heartache too well