Dirk Nowitzki laughs off suggestion Rockets could sign him
Mavericks star expects to re-sign "quickly" with Dallas this summer, possibly at a substantial pay reduction.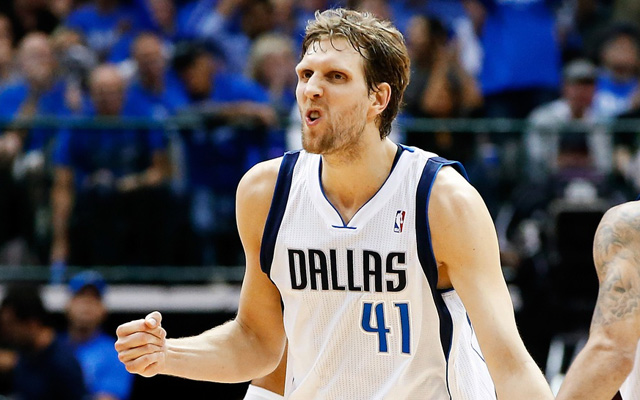 More Offseason Analysis: Coaching changes, news | Free Agency | Draft
Mavericks forward Dirk Nowitzki laughed off the idea of the Houston Rockets signing him in free agency this week and said he expects his re-signing with the Dallas Mavericks to be over "quick."
"Usually, we get it over quick," Nowitzki said. "Four years ago, I met with Mark (Cuban) on July 2nd. I don't like the period of not knowing what's going on. I don't like the unknown. Mark and I will hopefully find a good deal for both parties.

"We have not had any talks yet, but I'm sure that won't take a long time."

Asked if he saw any chance of him not being a Maverick next season, Nowitzki said: "Pretty slim to none. We all know I kind of grew up here in the Mavericks' (organization)."

Nowitzki even laughed when it was mentioned that the Houston Rockets – bitter rivals down Interstate 45 and the team that Dwight Howard spurned the Mavericks and Nowitzki for last summer in free agency – have been mentioned as a possible landing spot for him.

"The quote was more that they're going for every guy that's out there," he said.

"And that, I guess, includes me. But I doubt I'll be out there long."
via Dirk Nowitzki says no talks with Mavs yet, laughs at report of Rockets' interest | Dallas Morning News.
Rumors had surfaced that the Rockets were looking at making a push for Nowitzki, but in truth, as Nowitzki mentioned, they're just being aggressive on all fronts. Their move to decline the option on Chandler Parsons, making him a restricted free agent this summer means that they need to be aggressive this summer if they want to add another star to their combination of James Harden and Dwight Howard. 
The Mavericks, meanwhile, will have cap space flexibility once again, with roughly $28 million in space this summer. Nowitzki has already said he's open to a major paycut which could help the Mavericks add to their core this summer, but they'll need to either re-sign or replace Shawn Marion and Vince Carter. 
Philly and Boston are matching up again after the Sixers' second-half collapse in London

Kris Dunn somehow took a chunk of the Bulls court out with his teeth, but didn't lose any in...

The fallout from the Rockets-Clippers tussle continues; no Clippers were disciplined
DH12 is picked for free throws after a teammate gets ejected. He makes both, and lets Scott...

Bell was injured defending a Robin Lopez dunk and had to be taken off the floor in a wheel...

Trevor Ariza and Gerald Green are reportedly both suspended two games