Dirk Nowitzki undergoes arthroscopic knee surgery, will miss six weeks
Dirk Nowitzki undergoes successful arthroscopic knee surgery and will miss six weeks.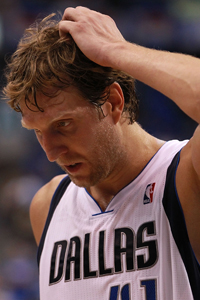 Dirk will be on the sidelines for the start of the season.
(Getty Images)
Well, we had warned that things weren't fine and dandy with Dirk Nowitzki's knee from all the signs, and while he's not out for a huge period of time, he's going to miss the start of the season. The Mavericks announced Friday afternoon that Nowitzki underwent arthroscopic surgery on his right knee and will resume on-court activity in six weeks.
That means just to get him back on the floor will take six weeks, then he has to get back into conditioning and then there's actual game time to get his timing down. The announcement leaves some wiggle room, saying he can be back "within six weeks," but there's also some lag afterward. 
The announcement comes as a surprise as just this week Mark Cuban said Nowitzki would be fine and Nowitzki himself said he was going to try an avoid surgery if he could at all. 
If Nowitzki were to miss only six weeks, he'd be back right around the Dec. 3 game vs. Detroit, meaning he would miss 16 games. Ten of those sixteen games are against potential playoff teams.
The Mavericks' first month of the schedule: 
Oct. 30 @ L.A. Lakers

Oct. 31 @ Utah

Nov. 3 vs Charlotte  

Nov. 5 vs Portland  

Nov. 7 vs Toronto  

Nov 9 @ New York

Nov. 10 @ Charlotte

Nov. 12 vs Minnesota  

Nov. 14 vs Washington  

Nov. 16 @ Indiana

Nov. 17 @ Cleveland

Nov. 19 vs Golden State  

Nov. 21 vs New York  

Nov. 24 vs L.A. Lakers  

Nov. 27 @ Philadelphia

Nov. 28 @ Chicago
via MAVERICKS: 2012-13 MAVERICKS SCHEDULE | THE OFFICIAL SITE OF THE DALLAS MAVERICKS.
Warriors' forward doesn't understand the reasoning behind the all-too-common double technical...

Hardaway Jr. gave a 'safe' call like he was an umpire in baseball

Barnes hits the trey with less than a second left to lift Mavericks to dramatic 95-94 vict...
Kevin Durant was once again back in Oklahoma City

Gregg Popovich has never seen an injury lead to the issues that Kawhi Leonard has been fac...

Kobe Bryant, of course, had his 81-point game against Rose and the Raptors back in 2006