Dirk Nowitzki wants to retire in Dallas but not if things don't change
Dirk Nowitzki doesn't want out of Dallas but wants things to improve. Now.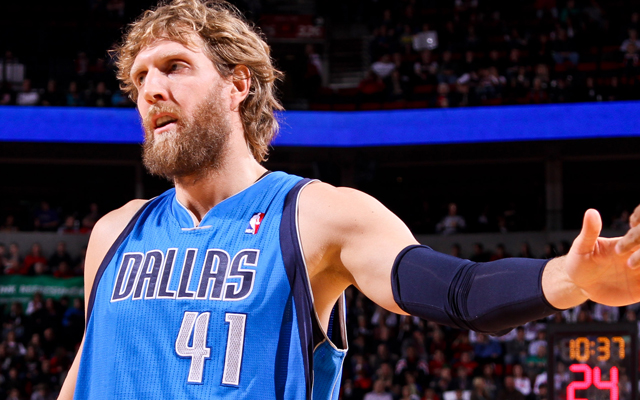 The Mavericks are on the edge of elimination. Two Jazz wins or a combination of a Jazz win and a Mavs loss would mean their summer vacation will start in nine days. If that happens it will be the first time the Mavericks haven't made the playoffs in over a decade and a rather inglorious year in the twilight of Dirk Nowitzki's career. 
In an interview with USA Today, Nowitzki reiterated that he wants to retire as a Maverick, but he put some caveats on it. 
"Now that I already reached my goal (of winning it all), I really want to finish my career in Dallas," Nowitzki told USA TODAY Sports recently. "But saying all that, I don't want another year next year with the same as this year, (with) the frustration and playing for the eight or nine seed. I think we all know that this is a very big summer for us. (Mavericks general manager) Donnie (Nelson) knows. Cuban knows. We want to get back to the championship level."
via Dirk Nowitzki says he's thinking about his future.
The idea of Nowitzki playing elsewhere seems crazy, like Tim Duncan or Kobe Bryant. But then, it seemed crazy for Patrick Ewing, or Hakeem Olajuwon, or Allen Iverson... or Michael Jordan. It happens. 
The big thing is that Cuban gambled that the CBA would cause teams to be way more restrictive with spending, opening doors for him to reload as his players got worse. But unfortunately, as he did with Steve Nash, he guessed wrong on when those players would decline. Tyson Chandler is a DPOY candidate and Jason Kidd is playing well in New York. Jason Terry has struggled, but so has the entire Celtics roster. 
It is a big summer for them, but their options are limited. Beyond Chris Paul and Dwight Howard, the "superstar" options in free agency drop dramatically. You'd hate to see Nowitzki fade out on a marginal playoff team with Josh Smith, for instance. You don't want the Mavericks to be the Hawks. 
But sometimes, these things are just out of anyone's control. Winning consistently in the NBA takes luck. The past two years, the Mavericks have been low on that. 
Warriors' forward doesn't understand the reasoning behind the all-too-common double technical...

Hardaway Jr. gave a 'safe' call like he was an umpire in baseball

Barnes hits the trey with less than a second left to lift Mavericks to dramatic 95-94 vict...
Kevin Durant was once again back in Oklahoma City

Gregg Popovich has never seen an injury lead to the issues that Kawhi Leonard has been fac...

Kobe Bryant, of course, had his 81-point game against Rose and the Raptors back in 2006