Do Warriors need a new coach instead of keeping Mark Jackson?
With the Golden State Warriors eliminated from the playoffs, they could be making a coaching change away from Mark Jackson.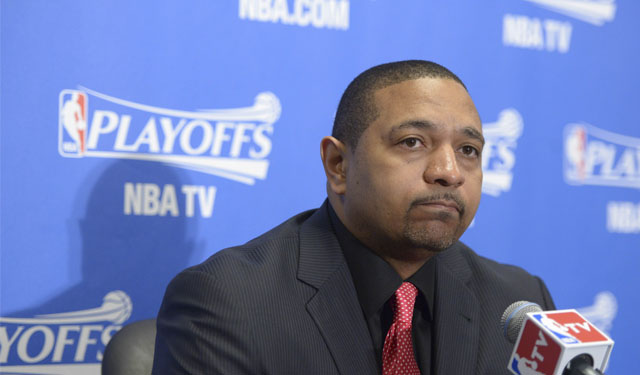 More postseason coverage: Playoff schedule, results | Latest news, notes
Los Angeles Clippers 126, Golden State Warriors 121
On the surface, everything looks promising. The Golden State Warriors just took a healthy Los Angeles Clippers team to the end of Game 7 while missing Andrew Bogut for the entire series. That's an accomplishment for coach Mark Jackson. 
His in-game speeches in the huddle look great on television. The majority of the players on the team outwardly love him and the trust and atmosphere he brings to the locker room. And yet, rumblings from those in the organization and covering the team tell us there is something dysfunctional going on in the East Bay. After the Warriors couldn't quite match the Clippers point for point in Game 7 at Staples Center, there was a quick movement from journalists and fans on Twitter saying Jackson's removal from the coaching position would be idiotic.
The thing is it's not about his coaching; it's about the culture. There were reports of multiple assistants over the last two seasons not getting along with Jackson to the point in which the environment became untenable. There may have been a rift between him and lead assistant Michael Malone, now the coach of the Sacramento Kings, a season ago. Jackson had issues with assistant Brian Scalabrine this season and reassigned him to the D-League. Darren Erman, another promising assistant coach, was fired after reportedly recording conversations around the team, coaches, and just about anybody else.
Erman's situation didn't take too long to resolve, as the Boston Celtics quickly hired him to their staff even after finding out just what happened in Oakland. Could it have been that bad for Erman if a rebuilding team would immediately hire him despite the potential trust issues of working with someone who may have recorded conversations without the other person's permission?
That's the alleged culture Jackson has created with the Warriors, which is why it seems as if the ownership and front office have fallen more and more out of love with Jackson. Even with the franchise enjoying its most successful two-year run since 1990-92, only a deep playoff run with a team that had championship aspirations after investing $48 million in wing Andre Iguodala this past summer could have secured Jackson's job. Whether he ends up getting let go or not, a solid coaching job wasn't enough for the rumors to go away. 
On the surface, the Warriors seem like a fun, freewheeling offense that shoots a lot of 3-pointers and maximizes the most of its weapons. And yet, too much frustration emanated from the fan base this season as they watched what used to be a fun offense devolve into a lot of isolation post-ups that didn't include getting the ball to Stephen Curry, the most electrifying shooter in the NBA. They had the 12th best offense in the NBA, but that's mostly because Curry did a great job with a disappointingly basic system.
Jackson managed to bring confidence to his team and his motivational tactics appeared to be some of the best in the NBA. That's an underrated part of coaching which gets overlooked far too often. Jackson may be arguably the best motivator in the NBA, as long as you buy into his core religious ideals and choose to identify with them. He'll still give you confidence to go do your job, but it's up to you and your faith in him with how high that confidence rises. 
This season makes you wonder if Jackson is a good enough coach to cut out all of the rumors and conjecture following the last two seasons, which happened to be good seasons. In some organizations, it might be. In this Warriors organization, it might not be because the owner is intent on proving to his customers they mean business when it comes to winning a title. With the team taking a step back from a second-round exit last season to a first-round exit this season, that's a hard sell to make, injuries or not.
Jackson's reported paranoia with his own job security could be as much the team owner's fault as it is Jackson's, but convincing the owner to take the responsibility in a situation like this is not typically how the NBA works. Jackson never got the contract extension he wanted and it may have driven insecurities to new heights.
You don't meet expectations and the coach is likely to take the fall. Sometimes that fall is deserved and sometimes it sets the franchise back. The Warriors are an attractive market with a great roster, a great front office, and a growing Q rating that make it one of the best jobs available if it becomes available.
You can find a long list of deserving coaching candidates for the Warriors to interview, and Jackson probably isn't the best coach on that list if you include him for having a shot at the job next season. Even if all the players love him, can't they just as easily love the next coach, especially if he's a better tactician? These are the answers the Warriors' ownership and front office have to procure. 
Mark Jackson will not stop being a coach in this league after the series loss to the Clippers; we just don't know where and for whom that coaching job will be.
We break down which rookies have been most valuable to their respective teams so far this...

Will the Mavericks follow Mark Cuban's wishes and start losing?

Kuzma says he had to step his fashion game up when he joined the NBA
The Rockets will try to extend their 10-game winning streak

It's a different league now, but the veteran is filling a void for New Orleans after his four-year...

The Bulls lead by three with 10 seconds left but lost 116-115