Doc Rivers admits trading Kendrick Perkins was probably a mistake
New Clippers coach Doc Rivers admitted what most of us already knew: That trading Kendrick Perkins was probably a mistake.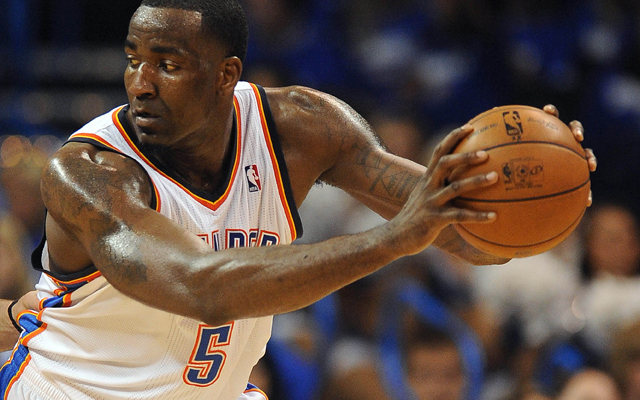 Doc Rivers is ready to admit what most of us already knew: That the Celtics trading Kendrick Perkins was probably a mistake. When the deal happened, it seemed almost unfathomable for the Celtics to part with Perkins, the heart and soul of their interior defense, for a young player to come off their bench in Jeff Green. It was a deal no one saw coming and easily the most surprising of an eventful 2011 trade deadline. 
But Perkins was coming off knee surgery and headed for free agency and the Celtics had already failed with lowball extension offers. So they pulled the plug on an unpopular trade and the team never really found their footing the rest of the season. 
The Celtics stuck to the company line that they liked the trade and that it was necessary. But now with Rivers coaching the Clippers, he's opened up on his true feelings about the deal, via WEEI:
"I think so," reflected Rivers, "because we needed the toughness. The one thing we did by losing Perk was we removed Kevin's protector. I didn't think it was a coincidence that, after Perk left, that Kevin got into all those little flicks with the other teams. Perk deflected all that."
With Perkins starting at center, the Celtics won a championship were a Game 7 away from another -- a Game 7 that was missing Perkins because of an ACL injury in Game 6. 
Since his move to Oklahoma City, the Thunder covered up one of their more glaring defensive holes and have enjoyed a trip to the Western Conference finals, the NBA Finals and a 60-win season and the top seed in the West last year before Russell Westbrook's injury. Perkins has been the center (pun!) of a lot of negative attention for his production and inability to be effective against smallball lineups like what the Heat used in the 2012 Finals, but you can't exactly deny the fact the Thunder have improved as a team -- specifically defensively -- with him. 
The Jeff Green side of things hasn't exactly been a smashing success either for the Celtics, but with Boston transitioning into a new era after moving Paul Pierce and Kevin Garnett, it's opened the door for a lot more for Green. He just signed a substantial four-year extension and could be a cornerstone for Boston moving forward. He's been frustratingly inconsistent coming off the bench, but has certainly shown flashes of excellence. 
Was the trade really an overwhelming success for either side? I think the Thunder have certainly enjoyed more success as a group since it, but that probably has a lot more to do with Kevin Durant and Russell Westbrook, and less to do with Kendrick Perkins. 
But it's easy to see things from Rivers' perspective. He had a tight, committed team that was battling to return to the Finals. They broke up the team, hurt some feelings in the process and didn't entirely recover that season. 
We've got all the scores, highlights and news from all of Saturday's games

The two teams have reportedly not had any substantial discussions to this point

Oladipo may be getting most of the shine, but this second-year big man has been phenomenal...
SportsLine's Mike McClure, a DFS pro with more than $1M in winnings, gives optimal lineup...

The Lakers were just 2-14 from the stripe

The Cavs are reportedly looking to acquire numerous players -- even Teen Wolf?