Doc Rivers blasts Lakers over treatment of Phil Jackson
Doc Rivers blasts the Lakers for their treatment of Phil Jackson during their hiring process.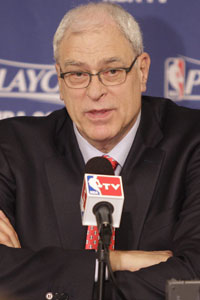 Doc Rivers has Phil's back.(Getty Images)
Doc Rivers is a modern rival of Phil Jackson. Jackson's had a number of them in his time, but Rivers is the only one to play him to a Finals draw, 1-1. But they're both members of the coaching fraternity, and after the disaster of the Lakers meeting with Jackson, then hiring Mike D'Antoni in the middle of the night, Rivers has some thoughts on the Lakers' decision. From the LA Times: 
Boston Celtics Coach Doc Rivers gave his take on the Lakers' coaching change to Chris Russo (SirusXM's Mad Dog Radio) on Tuesday, criticizing the organization for their handling of Phil Jackson.

"I didn't like the way it was done," said Rivers.  "I don't think you embarrass anybody."

After relieving Mike Brown of his coaching duties, the Lakers had initial talks with Jackson.  While the team's former coach (and 11-time NBA champion) was mulling over the possibilities, the Lakers instead hired Mike D'Antoni for the job.

"Whether you like Phil or not, he's won a lot of titles and I think he was owed more than that treatment, in my opinion, especially [from] that franchise," continued Rivers.
via Doc Rivers blasts Lakers for treatment of Phil Jackson - latimes.com.
It's kind of ironic that Rivers would stick up for Jackson as part of the coaching fraternity given how many times Jackson has unnecessarily jabbed at his fellow coaches publicly. But no coach liked the way it was done. D'Antoni can't be blamed, he couldn't know the situation. But the Lakers did and how they did it offended a great many people, not the least of which was Jackson, and the Los Angeles media. 
It does make things tougher for D'Antoni, though, whose Lakers won his first game on the sidelines 95-90 over Brooklyn. The more Jackson's name lingers, the more pressure there is on D'Antoni to get out of Jackson's extremely tall shadow. 
He speaks out at a LeBron James Family Foundation event; he tweeted about Charlottesville on...

Smith was at the event to support his Cavaliers teammate

Trade talks involving Irving have seemingly stalled in recent weeks
The three stars were joined by a number of other NBA players

After meeting with the club, Kentucky star was surprised the Knicks passed on him in the d...

Cleveland wants to stock up with biggest possible return for their disgruntled point guard