Doc Rivers, Celtics ready if Chris Bosh returns for Heat in Game 5
Boston Celtics coach Doc Rivers says his team is ready if Miami Heat All-Star forward Chris Bosh returns for Game 5 of the Eastern Conference finals on Tuesday night.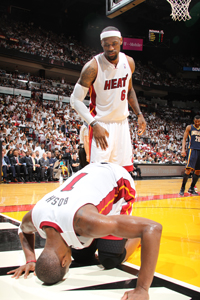 Chris Bosh could return for Miami on Tuesday. (Getty Images)
MIAMI -- Bosh is coming. But Boston is ready.

ESPN.com reported on Sunday that Miami Heat All-Star forward Chris Bosh is expected to play during Game 5 of the Eastern Conference finals against the Boston Celtics at AmericanAirlines Arena on Tuesday night. Bosh has been sidelined for three weeks with an abdominal strain and has not played in Miami's last nine games.

Heat coach Erik Spoelstra said Monday that Bosh's status has changed from "out indefinitely" to "day-to-day" and that his forward had made "significant progress" but that a Game 5 return still wasn't "definitive."

With the series tied at two games apiece, Celtics coach Doc Rivers said that his team is fully prepared for Bosh's return. Speaking during a conference call with media members, Rivers sounded like someone who expected the return to happen.

"We don't have to do everything different," he said. "We've prepared every game like Bosh is going to play. Eventually he will and maybe it will be [Tuesday]."
Bosh traveled with the Heat to Boston for Game 3 on Friday and Game 4 on Sunday, both losses, as he continues to rehabilitate from the abdominal injury suffered on May 13 in Game 1 of the Eastern Conference semifinals against the Indiana Pacers. He's undergone multiple rehab-oriented workouts and participatd in Heat shootarounds over the last week.

During the regular season, Miami was 42-15 when Bosh played and 4-5 without him. During the postseason, Miami is 5-1 when Bosh played and 5-4 without him.

His absence has required Spoelstra to use smaller lineups for extended stretches, and the Heat have struggled to contain Celtics All-Star forward Kevin Garnett, especially in Games 3 and 4.
"It's another body," Rivers said of Bosh being used to defend Garnett. "Chris is very talented and poses his own problems but I don't think Kevin is going to be that concerned about whoever he plays against."
Rivers said Boston's stategy would continue to be to work Garnett inside regardless of who defends him.
"Kevin is going to try to post up whoever they throw out there," he said. "And we're going to try to post him up."
One thing that might need to change with Bosh active, Rivers acknowledged, was his team's aggressive use of trapping and doubling on the perimeter. The Celtics have used extra, secondary defenders to actively work to limit LeBron James and Dwyane Wade while they handle the ball on the perimeter.

"All the trapping we're doing is more difficult when Bosh is on the floor," Rivers said. "He stretches the floor. That's his value on offense, he can really shoot the ball." 
With Bosh during the playoffs, Miami has averaged 96.5 points and allowed 83.3 points. Without Bosh, Miami has averaged 95.7 points and allowed 91.7 points. Of course, Bosh was available against the No. 7 seed New York Knicks, mostly unavailable against the No. 3 seed Indiana Pacers and has not yet been available against the No. 4 seed Boston Celtics.

Bosh, 28, averaged 18.0 points and 7.9 rebounds per game for the Heat this season. He appeared in 57 of Miami's 66 regular-season games.

Bosh is averaging 14.7 points, 6.8 rebounds and 1.0 assists in six postseason appearances.
Porzingis is questionable for Carmelo Anthony's return to MSG on Saturday

The Spurs and Rockets will renew their in-state rivalry on Friday night

Anthony will play at Madison Square Garden on Saturday for the first time since being trad...
SportsLine's Mike McClure, a DFS pro with more than $1M in winnings, gives optimal lineup...

The Cavaliers won the much-anticipated matchup, 121-112

Two of the league's most interesting teams will meet on national TV on Friday night