Doc Rivers got brutal with Chris Paul in first face-to-face meeting
New Clippers coach challenges Paul on not having accompished anything in his accolade-studded first eight seasons in the league.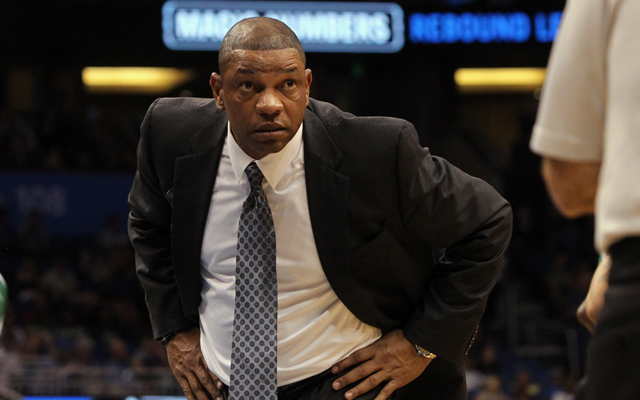 Doc Rivers actually wasn't considered a great coach seven summers ago. His rotations always seemed out of whack, his X's and O's never seemed all that impressive. The one thing he was known for was an ability to motivate. (In time, those other facets would come to the surface, whether he developed them or merely had the talent to reveal he had them.) And in his first meeting with Clippers All-Star Chris Paul after signing on as his new head coach, that motivation began immediately. From Yahoo Sports: 
"As professional athletes, you always want someone to push you and motivate you," Paul said. "The first meeting I had with Doc, he pretty much told me I wasn't anything. He told me I hadn't done anything in this league, and he was right. You don't always want somebody that's going to tell you what you want to hear."
via Doc Rivers lets Chris Paul know he still has work to do - Yahoo Sports.
Paul flourished in New Orleans under a similarly tough approach from Byron Scott. And honestly, at this point, he needs the motivation. He's cemented himself as the best point guard in the league to a degree where he has little left to accomplish on a personal level. MVP is unlikely with LeBron James still breathing, his All-Star and All-NBA nods are locks. But quietly (far more quietly than it has been with Carmelo Anthony), there's been the murmurin of critics who question why Paul has never advanced past the second round, why he's only won two playoff series in his career. 
With new superteams like Houston, you have to expect there to be growing pains, time for adjustment. But the core of this Clippers roster, outside of new additions J.J. Redick and Jared Dudley, have played together. There should be no "Well, we've got a few years." If Paul is going to win a title in the era between the end of LeBron's dominance and the start of Kevin Durant's, he's going to have to make his move now. 
Whether that means being more aggressive or not saving his body as much and risking injury remains to be seen. But the Clippers appear on the surface to be ready to make a big move for it all this year. 
Thomas spent a day with a 10-year-old girl whose family is also new to Cleveland

Barkley did not hold back with his opinion of the Big Baller Brand patriarch

We have all the latest scores, highlights and news from Wednesday's NBA games
LaVar Ball also made it clear he thinks his sons are being placed in 'a great situation'

The Thunder are just 12-14 on the season, despite the addition of Paul George and Carmelo...

The then-Heat teammates squared off during the 2011 ECF, but Erik Spoelstra put a stop to the...