Doc Rivers knows the Clippers defense isn't good enough yet
A look at the Clippers' defensive issues and whether they're as good as their numbers say they are.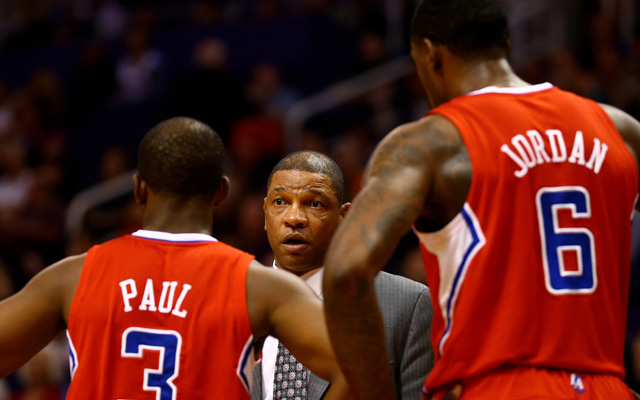 Clippers coach Doc Rivers said Monday that he understands his team's defense isn't good enough, no matter what the numbers might say. 
"We have not crossed that threshold yet, where we're consistent and every time you see us play, you say 'Man. I know they talk and I know their offense is efficient, but they're a heck of a defensive team,'" he said. "When you look at us now, you say, 'When they play, they can play defense.' We have to cross that threshold to be an elite team."

The Clippers are giving up 100.4 points per game, 14th in the NBA.

"Our numbers say we're better than what I think we are, at times," Rivers acknowledged Monday. "…I think we've shown that we can do it, in quarters, even in games and even in stretches. We'll go three or four games doing it, but it has to be a consistency thing. That's our next step."
via Rivers seeking consistent defense from Clippers - The Orange County Register.
The Clippers give up 101.9 points per 100 possessions, good for ninth best in the NBA. The data indicates that they are a top flight defensive team. I took a look two weeks ago at how the Clippers defense has done against other Western Conference playoff teams. At the time, Dallas was in, and of those teams, the Clippers had the second-highest defensive efficiency against Western Conference playoff teams of any Western Conference Playoff team. (Dallas had the worst mark.)
Basically, the Clippers have beat up on terrible teams and struggled against most teams with a pulse. Worse still, they're sliding backwards. Since January first, they've averaged a 104.7 points per possession, 14th in the league, and 19th in points allowed per game. 
Sports Illustrated broke down one of the problems J.J. Redick has identified with the Clippers' defense, a lack of trust between the perimeter guards and DeAndre Jordan. 
Making the right defensive play would require Jordan to leave his man (Greg Monroe) briefly in order to protect the basket. He didn't come through. That's the leap of faith that good team defenders must make, with the trust that their previous assignment will be picked up by the next rotation in sequence. In this case that responsibility fell to J.J. Redick, who identified the need for rotation far earlier than Jordan did.
via The Fundamentals: What's holding back DeAndre Jordan on defense? | The Point Forward - SI.com.
That's where a lot of this comes in. The Clippers have a good scheme under Doc Rivers, and they have good defensive personnel. But the trus in that system simply hasn't come through. Trust leads to better rotations, better rotations lead to consistency, and consistency leads to more stops which helps the team score which helps the defense get set and it all rolls downhil. 
Rivers is right that they need help, and there's certainly time to fix it. But the Clippers aren't title contenders this season because their defense hasn't made the leap. Do they have time in the two and a half months before the postseason begins to make that jump? 
We've got all the scores, highlights and news from all of Saturday's games

The two teams have reportedly not had any substantial discussions to this point

Oladipo may be getting most of the shine, but this second-year big man has been phenomenal...
SportsLine's Mike McClure, a DFS pro with more than $1M in winnings, gives optimal lineup...

The Lakers were just 2-14 from the stripe

The Cavs are reportedly looking to acquire numerous players -- even Teen Wolf?