Doc Rivers on Sterling: 'Doesn't sound like much of an apology'
Los Angeles Clippers' coach Doc Rivers doesn't feel like Donald Sterling's apology was much of an apology and will stand by Magic Johnson on this.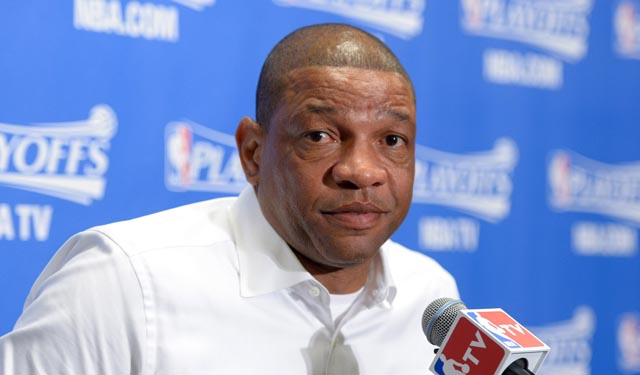 More postseason coverage: Playoff schedule, results | Latest news, notes
Donald Sterling can't seem to get out of his own way as he comes to the end of his reign over the Los Angeles Clippers. He's already been banned from the NBA and his soon-to-be former franchise, and is likely to be forced to sell when the NBA Board of Governors eventually convenes to vote on the process of fully removing Sterling from the NBA. In what we can only assume was an attempt to make things better or clearer by Sterling in an interview with Anderson Cooper, he managed to make things look much worse for himself, which didn't seem possible.
Sterling had some pretty ridiculous and inaccurate things to say about Magic Johnson in the interview, which has already elicited an official response from NBA commissioner Adam Silver. Clippers' coach Doc Rivers also had a reaction to the "apology" from Sterling, which was that his former boss' words about Magic didn't actually seem like an apology and he was going to roll with Johnson on this. From ESPN Los Angeles:
"Obviously I know who Magic is," Rivers said. "I'll stand by Magic every day of the year because I've known him for a long time. Having said that, I don't know what's going on out there. I tried not to get involved in that part of it right now. Whatever it is, that doesn't sound like much of an apology to me."

"I'm glad that he did it. I don't have much more comments than that," Rivers said. "I think that's what you have to do, and you should do it. He probably should have done it right away. Having said that, I don't have much comment more than that. I haven't heard the apology. I personally don't need one. But I think the right thing is always when you make a mistake you should man up and apologize, so it's good that he did it."
There isn't much more to add to Rivers' comments, even if he'd like to expand more with his thoughts. In a public forum like this with his team still fighting for its goal of competing for a championship, furthering the discussion outside of what Rivers had said would be another distraction tacked onto weeks of distractions from Sterling and his racist comments. Rivers is taking the high road and allowing Sterling to keep digging a bigger and bigger hole for himself as the NBA looks to remove him from the league.
Zack Cimini is 12-3 on picks for or against the Pistons ATS and locked in a play for Frida...

Both Washington and Detroit will try to snap losing streaks Friday night

The Hornets are reportedly looking to move their franchise point guard
We've got all the scores, highlights and news for Thursday night

The Sixers big man got his first All-Star selection -- and maybe some revenge -- on Thursd...

It appears some players are not entirely taking the All-Star voting process seriously