Doc Rivers predictably calls Blake Griffin trade rumors 'stupid'
Clippers coach criticizes reporting outlet for "creating" a story.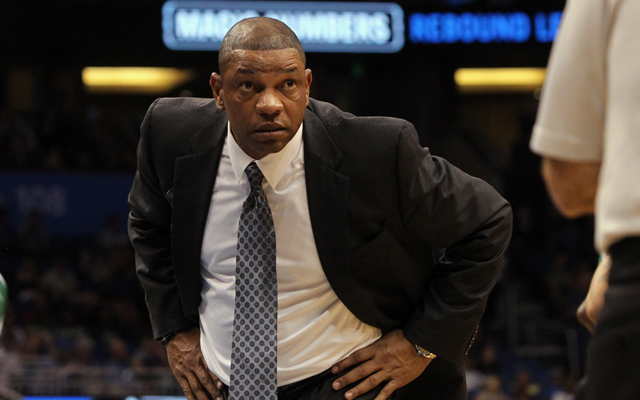 When Doc Rivers was in Boston, rumors were a pretty common commodity about possible trades. Every week for three years, there were discussions leaked to the media about possible trades. And every time Doc Rivers would deny that they were going on. Ray Allen confirmed that several that the Celtics denied ever having taking place were actually true. 
Oh, and he denied right up until he left for the Clippers that he wanted out of Boston, too. 
But of course, that didn't stop the parade of (falsely) righteous indignation on Saturday as Rivers sounded off about the rumors of the Clippers and Knicks considering a trade of Carmelo Anthony for Blake Griffin. 
Doc Rivers said "stupid" four times in 30 seconds after being asked about Blake Griffin-Carmelo Anthony story on ESPN.

— Dan Woike (@DanWoikeSports) January 5, 2014
"It's just stupid. My whole issue with any of that crap, that network, to me, reports a story they created." -- Doc Rivers on ESPN story

— Dan Woike (@DanWoikeSports) January 5, 2014
"If you're the Knicks or whoever, wouldn't you want Blake Griffin? I would. I don't see what the story is." - Doc Rivers

— Dan Woike (@DanWoikeSports) January 5, 2014
Woike had the best take on this whole sequence:
Save these comments for 15 years and re-read them when Doc Rivers is inevitably hired to do commentary for ESPN after he retires.

— Dan Woike (@DanWoikeSports) January 5, 2014
Amen.
And Rivers can take this approach consistently because trades are rare in the NBA and this one would be extremely difficult for both teams to justify. But that doesn't mean it was "created." Someone on both teams spoke to create this rumor. Otherwise, the rumor would have just said that one team had thought about it. 
Is a reporter for a major outlet going to fabricate a rumor like that, damaging credibility? Is it worth it? Why these two players? Why not Chris Paul and Dwight Howard, or something? But then, because it can't be proven due to it being done on background, Rivers isn't exposed at all in blasting the idea. 
Just know that this is standard operating procedure. Trade rumor gets leaked, team immediately makes fun of it. That's how these things happen. The deal is unlikely to happen, but not because Rivers thinks "it's stupid." 
Trump rescinded Curry's invitation to the White House after Curry said he wasn't interested...

Silver said he was hoping Warriors would get chance to share their views directly with the...

Along with the Thunder, those were the three teams most involved in the Anthony trade talk...
LeBron said he was frustrated by the President's recent actions

A look at the various actors and elements in the latest sensational blockbuster trade in the...

Blockbuster deal doesn't change the Thunder's projected finish in the West