Doc Rivers said he's looked into parade routes for the Clippers
The Clippers' new head coach isn't being bashful about his expectations of his team.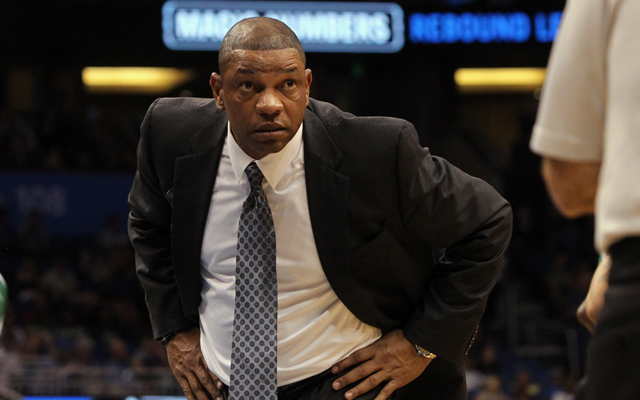 The Clippers' championship dreams weren't crushed on opening night, but their pride certainly took a hit.
Especially when you add in the fact that pregame, new coach Doc Rivers was apparently talking about how he's looked into championship parade routes already. Via NBA.com: 
The information gathering began, Doc Rivers said, four days after he was hired as coach and head of basketball operations for the Clippers. He wanted to learn more about parades. Championship parades. Championship parades for the Clippers.

He couldn't follow his Boston formula of tracing the route the Patriots took and using it once he coached the Celtics to the 2008 title. He certainly wouldn't copy the Lakers' path through downtown, not when the whole point is for the Clippers to hammer out their own identity. Maybe the NHL's Kings. Rivers could have road tested Lord Stanley's 2012 ride. And he never would have guessed that teams have to pay at least part of the bill for the celebration.

"I've researched enough to know what we can do," he said.
I think Rivers' reasoning here isn't arrogance as much as it's trying to change the Clipper culture that's been engrained the past 25 years. It's about changing the mindset of "Oh we're the Clippers we can't win a title" and turning it into having the confidence to envision a parade through Los Angeles that doesn't include the Lakers. 
(Sidebar: Does it really require 'research'? I'm pretty sure finding a parade path in LA shouldn't be all that hard. The Lakers have had so many there's probably still confetti lining the road from their last one.) 
Still, with the beatdown the Lakers put on the Clippers on Tuesday, those aspirations were damaged a bit. It's one of 82 and obviously the Clippers are still a contender, but when you start talking about parades, you kind of don't want to lose that same night. I think that's called getting humbled. 
Thomas spent a day with a 10-year-old girl whose family is also new to Cleveland

Barkley did not hold back with his opinion of the Big Baller Brand patriarch

LaVar Ball also made it clear he thinks his sons are being placed in 'a great situation'
The Thunder are just 12-14 on the season, despite the addition of Paul George and Carmelo...

The then-Heat teammates squared off during the 2011 ECF, but Erik Spoelstra put a stop to the...

SportsLine's Mike McClure, a DFS pro with more than $1M in winnings, gives optimal lineup...