Doc Rivers thinks Durant is MVP, but Blake Griffin is runner-up
Doc Rivers doesn't have an MVP ballot, but if he did, he'd pick Kevin Durant first, and then his own guy ahead of LeBron James for second.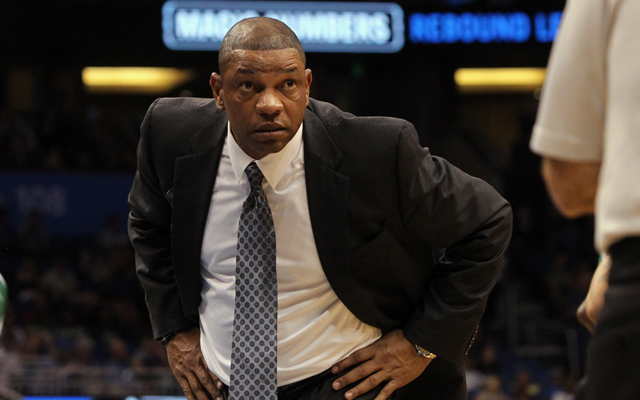 More NBA: Power Rankings | Expert Picks | Latest news, notes
Doc Rivers doesn't have an MVP ballot. Good thing, too.
The MVP discussion seems to have been mostly settled, with even LeBron James somewhat endorsing Kevin Durant as the winner. Those two will almost assuredly finish one and two, but that's where things get weird. Who's third?
On Rivers' ballot, it's LeBron. Wait, what? Via ESPN.com:
"I think second because I'm coaching him," Rivers said of Blake Griffin. "I think Durant has had the best year. I still think LeBron [James] is still the best player in the NBA but I think Durant has had an MVP year. I don't know who has had a better year. And I honestly think Blake would be right behind him."
So to recap, Rivers would go Durant first, Griffin second and LeBron third. A coach campaigning for his own man? SHOCKING.
So forget the bias there. Let's just look to see if Rivers has a point, even slightly. LeBron's season hasn't been up to his ridiculous standard, but he has still be terrific, averaging 27.0 points, 6.4 rebounds and 6.9 assists with a PER of 29.36, ranking him second in the league.
Griffin is averaging 24.1 points, 9.6 rebounds and 3.8 assists with a PER of 23.84 (10th overall). But the case to be made for Griffin isn't what he's done with raw statistics as much as it's in how he carried the team playing without Chris Paul, who missed more than month with a shoulder injury. During that stretch Griffin played some of the best basketball of his career as the Clippers went 12-6 without Paul, scoring 112.3 points per 100 possessions. That was largely due to Griffin's brilliance, who assumed the role as the offensive focal point.
But that's probably the case to put him third on your ballot. Because while LeBron has slipped some this season -- primarily defensively -- he's still put together a season worthy of winning his fifth MVP, had it not been for the ballistic season Durant put together.
It's nice of Rivers to make his point for Griffin, stepping up for his man and showing some loyalty. But that doesn't make him right.
Leonard's relationship with Spurs also reportedly strained because of how injury has been...

San Antonio hasn't missed the playoffs in 20 years, but the road is rocky this season

Last year's MVP finalist has missed all but nine games this season
The design for the patch is still being worked on

The explosive forward and upcoming free agent is having a career year

Cuban said on Dr. J's podcast that losing is Dallas' 'best option'