Doc Rivers threatens changes to Celtics after latest loss
Doc Rivers says things must change or Boston will make big changes.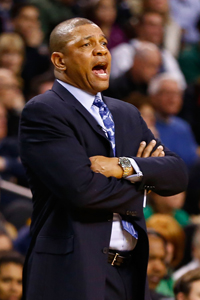 Doc Rivers
(Getty Images)
Boston may not have hit rock bottom Sunday night, but it was close. While the Patriots were busy getting smoked in the AFC Championship, the Celtics were getting run out of Detroit, 103-88. The Pistons controlled the game for the most part and ran away late. Boston fell to .500, and all the dreams of them being "fixed" after the return of Avery Bradley have fallen by the wayside. 
Just ask Doc Rivers. 
"I gotta either find the right combination or the right guys, or we're going to get some guys out of here," said a visibly upset Rivers after the Celtics lost their third straight game. "That's the bottom line. This group right now, they're not playing right. It's in them to play right. But right now they haven't been either because I'm not getting to them, or they're not getting to each other."
(via Doc threatens to get some guys out of here)
"Going to get some guys out of here" is the key phrase there, by the way. For three years, Doc Rivers has been the one to talk Danny Ainge off the ledge of making major roster changes. This is Rivers saying that if things don't change, he's going to join Ainge in making major moves in regards to the roster. 
Rajon Rondo is saying that the team is playing too lax on the floor, and when Rajon Rondo says you're not giving enough regular-season effort, you've hit a bad place. Kevin Garnett is frustrated, the whole team is frustrated, but instead of responding, they're just coasting through. They're not good enough to coast. 
If things don't turn around fast, the Celtics are going to become big players at the trade deadline. 
Warriors' forward doesn't understand the reasoning behind the all-too-common double technical...

Hardaway Jr. gave a 'safe' call like he was an umpire in baseball

Barnes hits the trey with less than a second left to lift Mavericks to dramatic 95-94 vict...
Kevin Durant was once again back in Oklahoma City

Gregg Popovich has never seen an injury lead to the issues that Kawhi Leonard has been fac...

Kobe Bryant, of course, had his 81-point game against Rose and the Raptors back in 2006