Doc Rivers wants the Clippers to turn expectations into reality
Los Angeles Clippers' new coach Doc Rivers knows the expectations of his team coming into this year and wants his team to make it reality.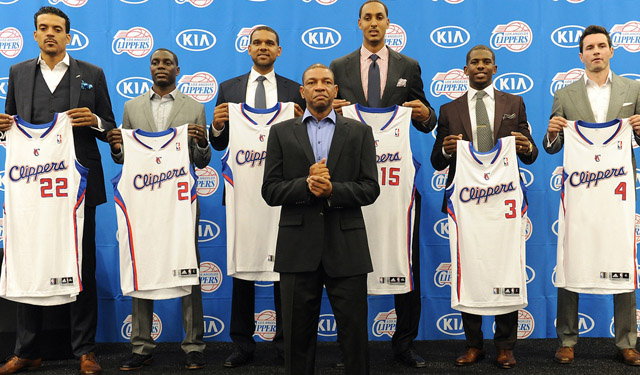 The Los Angeles Clippers recently found themselves released from being one of the laughingstocks of the NBA. With sparse playoff appearances and Donald Sterling as the owner, they were the punchlines for many NBA jokes over the past few decades. Then the Clippers drafted Blake Griffin, traded for Chris Paul, and start transforming something that not only looked far from laughable but something quite respected and a little feared.
This offseason, the Clippers built on this new image and bolstered the roster with much-needed wing help and the sidelines with one of the best coaches in the NBA. They traded a future first-round pick to the Boston Celtics as compensation for bringing Doc Rivers to the organization as their coach. Immediately, it starts making you think that the team isn't that far from being considered a true title contender. Rivers knows his team's expectations and that turning them into a reality is the only thing that matters. From the Los Angeles Times: 
Rivers must make the players' considerable individual talents add up to a cohesive whole, polish their many assets, and solidify their defense before they can be a championship contender in a rugged conference.

"The expectations are great. I don't want us to shrink from that at all. I don't want us to run from that," he said. "But what we've got to get our guys to understand is expectations are one thing. Realization is a whole different thing, and just because you're expected to do anything doesn't mean you've arrived.

"We have not arrived. We didn't win a playoff series last year. So we have a lot of work to do as a group. We should expect to do that work. We have to expect that it's going to be much harder and we have to embrace it and do it."
The Clippers already had a core of Paul (needed to re-sign), Griffin, DeAndre Jordan, and Jamal Crawford. They managed to add to it with acquisitions of J.J. Redick, Jared Dudley, Darren Collison, and Doc Rivers. While they still need to address interior depth (they added Byron Mullens as well) to hopefully round out the defensive efforts, this is a very dangerous team in the playoffs if they remain healthy. 
But they also have only won one playoff series in the last two years, and were bounced from the 2013 playoffs by the Memphis Grizzlies, one of their toughest matchups in the West. With the Thunder, Spurs, and Rockets all looking like formidable opponents, the Clippers need Rivers to instill that championship attitude he gave to the Celtics and help mold them into challenging for a title, instead of just looking like a fun team to watch.
Rivers mentioned that the team's athleticism means they need to run more, which has often gone against the slower pace of Paul's teams. His offensive execution has been so good but this team could be even better on offense if it pushes the pace. However, the biggest improvement has to come on the defensive end and until the Clippers fix those issues at the end of games, Rivers won't be able to turn their title expectations into a reality.
Victor Oladipo just wants to live his life and enjoy his breakout season with his new team

Keep it right here for all of the news, notes, scores, and highlights from around the Asso...

LeBron has a player option for next season, and is expected to opt out and become a free a...
The Pistons will be looking to snap a five-game losing streak when they host the Celtics on...

Bryant offers some advice for Ball and other rookies about having a sense of urgency in the...

Burks has stepped up in a big way for the Jazz, averaging over 20 points per game since Rodney...