Doc Rivers yelled at Thunder owner Clay Bennett after Game 5 loss
Clippers coach wants to know why there wasn't sufficient replay on controversial call in Los Angeles' loss to OKC.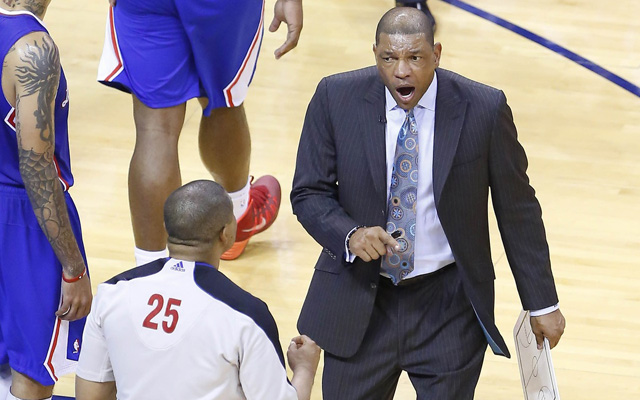 More Game 5: Controversial Call | Doc goes off | Breaking down the call | Clips react
Yahoo Sports reports that after the Clippers lost Game 5 vs. the Thunder following a controversial call, Doc Rivers yelled at Thunder owner Clay Bennett in the hallway before heading to his press conference and going ballistic. 
Fresh off a stunning collapse that had pushed his Los Angeles Clippers within a game of season's end, still fuming over a controversial replay call he would later lament as potentially "series-defining," coach Doc Rivers marched out of the locker room late Tuesday with fury in his eyes. He headed toward the interview room only to spot Oklahoma City Thunder owner Clay Bennett walking past in the hallway.

"Wow!" Rivers yelled at Bennett. "Why can't we get the right replay?"

Bennett, perhaps still stunned by his unlikely change in fortune, didn't say a word in response and just kept walking.
via Clippers coach Doc Rivers blasts controversial call in loss, yells at Thunder owner - Yahoo Sports.
Rivers was fuming after the game, saying the call was "game defining" and potentially "series defining." 
It's pretty rare to see Rivers go this nuts over a call, even as he pointed out how the Clippers should have won that game. It's been an emotional rollercoaster wrapped in a whirlwind trapped in a glass case of emotion for Rivers and the Clippers ever since the Donald Sterling fiasco erupted in round one. You wonder what's going to happen next in this incredible series. 
Game 6 is Thursday. 
Dan Fegan was once considered as one of the most influential agents in the NBA

Ersan Ilyasova isn't quite the player he used to be, but maybe the 76ers can bring the best...

LeBron James speaks his mind and that's part of what makes him a superhero to Gregg Popovi...
We've got all the scores, top plays and news from Sunday's NBA games

Stephen Oh has his finger on the pulse of Wizards basketball and released a play for Sunda...

The Warriors don't have any interest in winning a popularity contest. They're fine winning...