Dolan meets with Melo, writing on the wall for Mike Woodson?
According to reports, the Knicks locker room might be turning on Mike Woodson, as Carmelo Anthony met with owner James Dolan.
There was already one report suggesting Mike Woodson could be fired by the trade deadline. Well, according to a few other bits of information, it's not hard to see why. 
Via ESPN New York, despite a public backing from J.R. Smith, a few Knicks players have privately grown frustrated with the head coach.
Some Knicks players privately have grown tired of Woodson questioning the team's effort after losses. Two league sources said some players expressed their frustration with Woodson to Knicks management after a loss to Brooklyn on Jan. 20.
That's not good. Once you lose support of the players, you're mostly cooked. The players are typically the ones telling ownership and management to give you a shot, to trust in the process. But if the players aren't in anymore, there's just not a lot of hope for turnaround.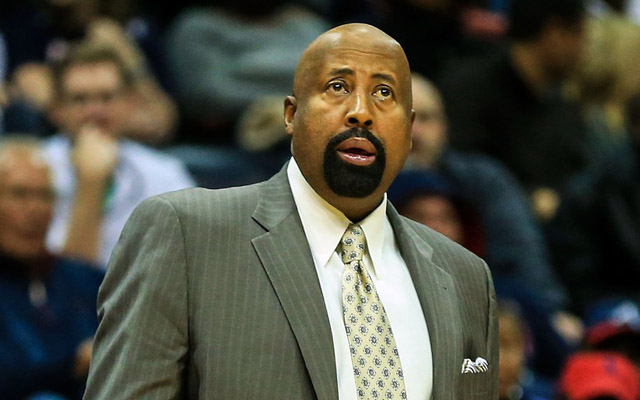 But it's not just any player you've got to keep the support of. It's Carmelo Anthony. And via the Daily News, he might be losing that too.
James Dolan's visit to the Knicks' locker room late Wednesday included a high-level meeting with Carmelo Anthony and at least one other player to discuss the state of the club and whether a coaching change is necessary, the Daily News has learned.

According to a team source, Dolan is obviously troubled by the Knicks' 19-30 record and is contemplating removing head coach Mike Woodson. The Knick hierarchy is divided on whether Woodson has lost the locker room and the chairman of Madison Square Garden was wise to take the temperature of the franchise player. Dolan, though, also runs the risk of alienating Anthony if the public perception is that the All-Star forward, who is extremely sensitive to the notion that he is a "coach killer," is at all responsible for running Woodson out of town.
Ruh roh. 
Here's what Melo said recently when asked:
"At this point, I don't really know what's going to happen, if something's going to happen," Anthony said. "If something was to happen then it's out of my hands."
Not exactly the good ol' vote of confidence there.
The Knicks are 19-30, and outside of the postseason picture. They had a bit of fleeting success recently, winning four straight which included Anthony's 62-point game. But that boost was short-lived, as they've now dropped three in a row. So much for turning the page and flipping the season around.
So the next attempt at jumpstarting could be firing the coach. Stay tuned.
The Raptors will try to continue their run of dominance.

The Rockets are still the NBA's hottest team, but don't sleep on the Spurs now that Leonard...

Kevin Garnett has no interest in working with Glen Taylor, but he'd gladly buy the Timberwolves...
LaVar Ball formed a pop up shop in New York to sell Big Baller Brand merchandise. The results...

The Cavaliers players took a stand against bullying on social media

The Rockets are gunning for their 10th consecutive win