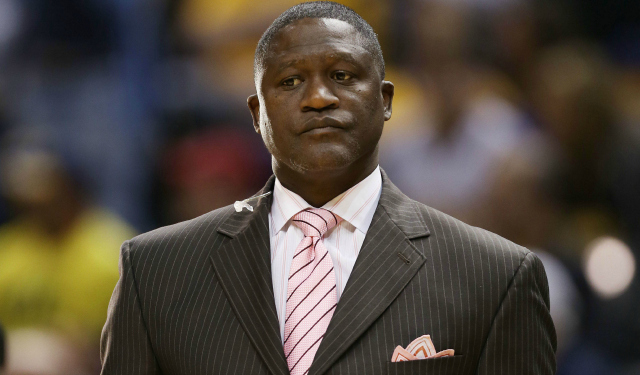 Dominique Wilkins must have all the stories in the world. The Hall of Famer known as the Human Highlight Film recently shared a great one with the Boston Herald's Steve Bulpett. The subject: Larry Bird, and how he treated Wilkins as a young player:
"One of the first times I ever played against him, I went out for the opening tip and I went to shake his hand. He just stood there and looked at me stone-faced with his hands behind his back," Wilkins said recently.

"I was like, 'Whoa.' Then we were getting ready for the tip and he says to me, 'You don't belong in this league, Homes.' I couldn't believe it, but it happened so fast, I didn't know what to think.

"Then they had the ball and I was on him and he said, 'I don't know why they got you guarding me, Homes. You can't guard me.' Then, whap, he hit a 3. Then he came down again and said, 'They made a mistake putting you on me, Homes,' and he took another 3."

Getting into the story, Wilkins began to act things out with his facial expressions.

"So now I'm hot," he said. "I'm hot. I mean, I'm steaming.

"Then a little while later, I came down on a break and he was backpedaling. I just went right after him. I jumped up and he tried to challenge, but I took that right through the rim. He fell and hit the basket support.

"He got up and said, 'I like you, rookie. You've got(guts).' I was happy for a second, and then he said, 'But I'm still going for 40 on you tonight.' "

He then paused the story, stepped back and smiled.

"But I got him," Wilkins said. "He only scored 39."
The Game 7 duel between Wilkins and Bird in 1988 is well chronicled and easy to revisit. This, though -- this is new, and it's classic Bird. Wilkins was the No. 3 overall pick in 1982. He was a great scorer as a rookie. He obviously belonged in the league. Bird just liked to try to intimidate people, and he talked more trash than just about anybody. That's not a bad welcome-to-the-NBA moment.