Donald Sterling calls league charge 'illegal'
Banned Clippers owner objects to league's effort to terminate his ownership and claims he has received offers of over $2.5 billion for the team.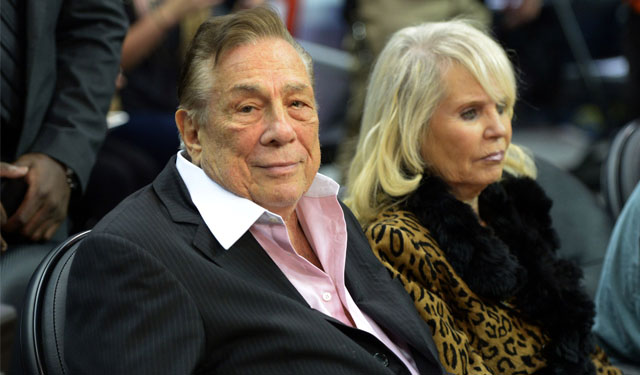 More: Sterling banned for life | Latest updates | NBA news
USA Today and other outlets have received a 32-page document from banned Clippers owner Donald Sterling filed Tuesday in response to the NBA's charges in pursuit of termination of his ownership, claiming that the NBA's efforts are "illegal." Last week reports surfaced that Sterling had authorized his wife Shelly to negotiate the forced sale of the Clippers. Now Sterling claims that he's received offers of more than $2.5 billion.
Los Angeles Clippers owner Donald Sterling said the NBA's efforts to terminate his ownership of the Los Angeles Clippers are "illegal" and that it would force his family to pay an enormous capital gains tax that would be "egregious," according to his response to NBA charges filed Tuesday.

In a 32-page response to the league, he said he will fight the charges and noted that he has received offers of more than $2.5 billion for the team.

His wife, Shelly Sterling, is planning to file a response to the NBA by midnight Tuesday that strongly asserts her position as an innocent bystander in the league's efforts to strip her family's ownership of the Los Angeles Clippers, a person familiar with the situation told USA TODAY Sports.
via Donald Sterling vows fight, says he has offers of $2.5B.
NBA commissioner Adam Silver has indicated that the league is amiable to the Sterlings selling the team to expedite the process and avoid a legal fight. Instead, it would appear Sterling very much intends to fight the process. 
There have been reports of nearly a dozen potential ownership groups in play for the team, including Grant Hill and Anthony Ressler.
The big question will be whether his wife will pursue suit to retain the team, which the NBA has made clear it does not intend to allow. The NBA's vote to terminate the Sterling's ownership of the Clippers is set for June 3. 
In response to the document, the NBA released the following statement Tuesday night. 
"This evening, the NBA received responses from Donald and Shelly Sterling to the charge to terminate the current ownership interests in the Los Angeles Clippers.  The NBA Board of Governors will meet on June 3 at 1 p.m. in New York City to hear and vote upon this matter.  Should the Board vote to sustain the charge, the Sterlings' interests in the Clippers will be terminated and the team will be sold."
So basically, "cool story." 
Meanwhile, Shelly Sterling released a statement, confirming that she has been authorized to negotiate the sale. 
Statement from Shelly Sterling's attorney pic.twitter.com/0cqpEt0QQ4

— Dan Woike (@DanWoikeSports) May 28, 2014
Bagley wants to be in the 2018 NBA Draft and should be the No. 1 overall pick

Durant helped build the court in Manhattan as part of his community outreach program

Prince will be a special assistant to Memphis GM Chris Wallace
He speaks out at a LeBron James Family Foundation event; he tweeted about Charlottesville on...

Smith was at the event to support his Cavaliers teammate

Trade talks involving Irving have seemingly stalled in recent weeks