Donald Sterling: 'I'm apologizing and I'm asking for forgiveness'
Banned Clippers owner denies he's a racist in an interview with CNN.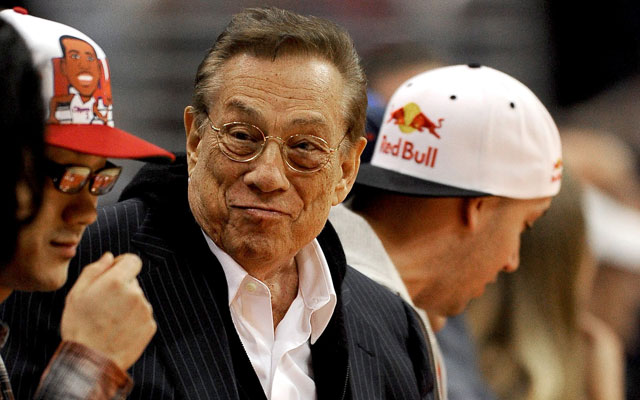 More: Sterling banned for life | Latest updates | NBA news
In an interview with CNN, banned Clippers owner Donald Sterling denied he's a racist and apologized for his comments which were released to the public from a recorded conversation two weeks ago. 
"I'm a good member who made a mistake and I'm apologizing and I'm asking for forgiveness," he told CNN's Anderson Cooper in an exclusive interview set to air on Monday. "Am I entitled to one mistake, am I after 35 years? I mean, I love my league, I love my partners. Am I entitled to one mistake? It's a terrible mistake, and I'll never do it again."

"I'm not a racist," Sterling told Cooper. "I made a terrible mistake. I'm here to apologize."

Asked by Cooper why he took so long to say he's sorry, Sterling said he was "emotionally distraught."

"The reason it's hard for me, very hard for me, is that I'm wrong. I caused the problem. I don't know how to correct it," he said.

"If the owners feel I have another chance, then they'll give it to me," he said.
via Donald Sterling tells Anderson Cooper: 'I'm asking for forgiveness' - CNN.com.
Sterling was banned for life from the NBA by Commissioner Adam Silver two weeks ago after Sterling confirmed that it was his voice on the recorded tapes. At the time, Silver said that Sterling had not expressed any other views regarding remorse or regret on the comments. 
The interview comes as the NBA continues the process of dismantling Sterling's ownership. The NBA Advisory Committee placed president Andy Roeser, a long-time confidante of Sterling's, on indefinite leave, and placed Dick Parsons in charge as CEO of the team while granting Doc Rivers wide basketball operations powers. 
Meanwhile, Shelly Sterling told ABC this weekend that she intends to fight any effort from the league to remove her from her stake of ownership, despite her lack of having been approved by the NBA Board of Governors. 
Sterling has been accused of racism and illegal housing discrimination policies going back for more than 20 years, with most incidents having been settled out of civil court. 
We've got all the scores, highlights and news from all of Sunday's games

The Rockets beat the Warriors 116-108 on Saturday night

The Cavaliers gave up 148 points in their loss Saturday afternoon to the Thunder
Blatt made the comment before coaching in the All-Star Game in Turkey

Is this rock bottom for the Cavaliers because it sure feels like it is

Wade, as he's done so many times in his career, threw it up to LeBron for the thunderous f...