Donovan says teams have called but he's not interested in NBA
Florida coach says he's flattered but not interested in heading to the NBA, as the Cavaliers look to scour college ranks for new coach.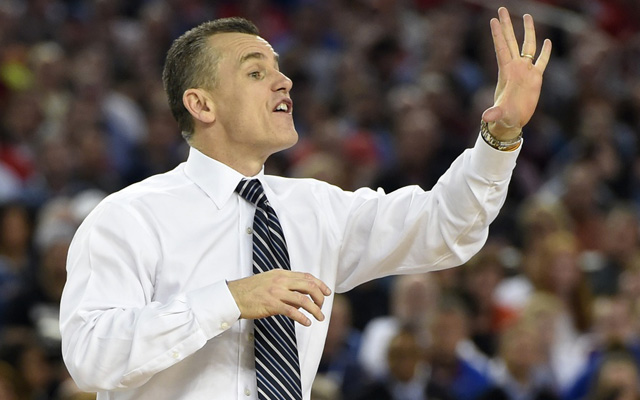 More Offseason Analysis: Coaching changes, news | Free Agency | Draft
Billy Donovan told the Associated Press on Thursday that several NBA teams have contacted him, but he's happy at the University of Florida .
Billy D says "I've spoken to a couple of NBA teams," but adds he's happy at Florida

— Mark Long (@APMarkLong) May 22, 2014
The Cavaliers reportedly reached out to Donovan, according to ESPN. Donovan has been mentioned in rumors with coaching vacancies with the Lakers, Wolves and Pistons.
Donovan last agreed to a deal with the Magic in 2007 before backing out.
ESPN also reports that the Cavs are looking at several college coaches to fill their vacancy after firing Mike Brown:
In addition to Donovan, they have tested the interest of Michigan State's Tom Izzo and Iowa State's Fred Hoiberg, sources said. The Cavs made inquiries about UConn's Kevin Ollie before he agreed to a long-term extension to stay.

The team has been doing research on several former NBA coaches who are currently available including Lionel Hollins, George Karl and Alvin Gentry, sources said. But it appears the Cavs are investigating the college options first.
via Florida Gators coach Billy Donovan spoke to a couple NBA teams - ESPN.
Donovan remains a powerful candidate despite his insistence at staying at Florida ... which can only help negotiations for future contracts and extensions.
The Pacers believe the Lakers tampered with Paul George before they traded him

Among the questionable decisions by Jackson was signing Noah to a long-term, lucrative dea...

This Akron store doesn't want their hometown hero to leave again
Milwaukee's star did not get cleared to play for his national team due to a painful knee i...

Ball, the second overall pick in the NBA Draft, is receiving even more hype

Rap mogul supports the vision the outspoken father has for his brand and sons