Doug Collins officially steps down as coach of the Sixers
Doug Collins officially steps down as Sixers head coach.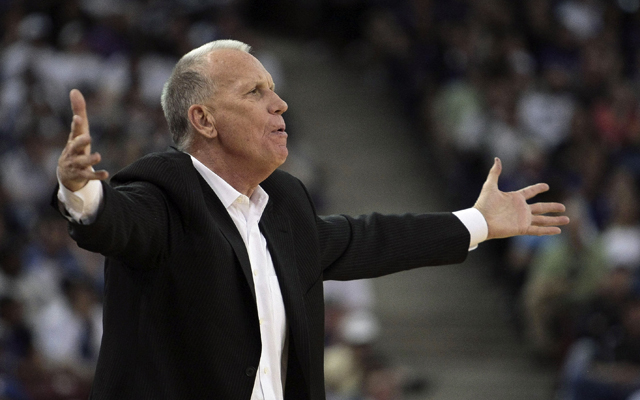 At a press conference early Thursday, Doug Collins stepped down as coach of the Philadelphia 76ers. It had been confirmed earlier in the week that Collins was stepping down after three seasons. From the Philadelphia Inquirer: 
Collins also announced that he will not coach anymore in the NBA.

He said he made the decision that this would be his last season "around Christmas."

"I don't have to drop my head - I didn't fail," Collins said. "A lot of it was out of our control and sometimes you have to realize that. We've got a lot of good young pieces [and] we probably played our best basketball the last 6 weeks of the season, which was important to me."

Collins also strongly denied reports that 76ers upper management tried to push him out

"The thing that stunned me the most was at the end when they made it look like they didn't want me," Collins said.

He admitted that the 76ers "swung for the fences and it didn't work" when the team traded for Andrew Bynum.

Collins said this season's disappointments weren't the reason why he resigned.

"I was not going to base [stepping down] upon winning and losing," he said.
Collins struggled offensively with the Sixers, too often embracing the mid-range shot which was the same one that he tried to get his defense to force. Some of his rotations were baffling, and his love of Spencer Hawes will confuse fans and media until the end of time. But Collins also turned a team with young talent into a real defensive beast at times and helped Jrue Holiday become a star. 
He has done his time and will now step into a consulting role with the Sixers. You could tell as the season went on just how worn out Collins was -- not just with the losses, but how everything went wrong for the team. 
It was supposed to be such a good year for Philadelphia. Instead, Bynum never played. Thaddeus Young and Jason Richardson were hurt, the team suffered, then Collins resigned. In the words of a smart Sixers fan: 
It's time to close the book, then burn the book, then never speak of the book again.
Cuban weighed in on the ongoing feud between the basketball dad and the POTUS

Embiid has taken his trash-talk game to the next level this season, but he's not scared

Last year Durant said returning to his old home was 'never going to be a regular game'
The All-Star forward injured his wrist during Sunday's loss to the Lakers

Steven Adams believes he's the problem with the Thunder struggles in the clutch

LaVar claims that Luke Walton has been 'soft' on Lonzo so far