Dr. J to represent Philadelphia 76ers at NBA Draft Lottery
The 2014 NBA Draft Lottery will have the former ABA legend and NBA champion in attendance.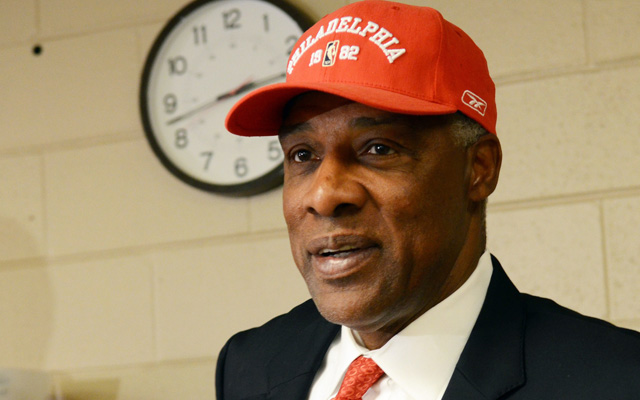 Dr. J, Julius Erving, is the most iconic superstar in Philadelphia 76ers franchise history. And on Tuesday night, he'll try and bring luck to the Sixers in finding their next one. The Sixers announced Monday that Erving will represent the team at the NBA lottery Tuesday. 
"Dr. J is one of the most revered and legendary figures in the history of the Philadelphia 76ers and the National Basketball Association, so it is fitting that he represent us at the podium on this exciting night," said Sixers CEO Scott O'Neil. "As we build for the future, we are thrilled to have a key part of our past with us to bring the team good luck during tomorrow night's NBA Draft Lottery."
The Sixers are second in lottery odds, with a 19.9-percent chance of landing No. 1 and a 55.8-percent chance of landing in the top three. They also have New Orleans' 10th-spot pick in the lottery, with a 1.1-percent chance of No. 1 overall and a 4.4-percent chance at a top-three pick. 
How the Cavs star would fit with the Wolves, Knicks, Clippers, Spurs and other teams linked...

The Pistons put out a long list of details regarding their new uniforms

The Pacers traded the forward to OKC for two former lottery picks who have yet to reach their...
Gilbert said what was expected, but didn't necessarily sound all that confident

Altman addressed the media about Irving during his introductory news conference

Toronto's center has an uncertain future; can we still talk about this 25-year-old's poten...