Draft night trade primer: What teams are looking to deal?
A look at which teams are targeting trades on draft night and what they could be looking for.
More Offseason Analysis: Coaching changes, news | Free Agency | Draft | Rumors
The NBA Draft is Thursday. For much of the last eight months, teams have been largely petrified of moving picks due to the value of this draft. Even in February, when the "this draft is so overhyped!" talk started, the deadline was silent in part due to the value of this draft (as well as all rookie scale contracts under the CBA). There were exceptions, Washington, Golden State and the Indiana Pacers moving theirs for win-now solutions. But by and large, there was a strong resistance to moving picks.
But over the last month leading up to the big day, the whole perspective has changed. There's always trade chatter in advance of the draft. Teams talk, and then members of those teams talk to the media, and so they report it, and then another team involved leaks something different to a different reporter. But you have to gauge the volume. Now, of course, all of the noise could be just that. There was talk about two weeks out of the deadline about how crazy it could be and then the week of the deadline it just died, everything went silent. But if you follow the patterns, there's reason to think that there could be moves. Here's a quick primer at what the landscape looks like with four days to go.
THE LOVE DYNAMIC
Kevin Love is the piece that hangs all over this. The Wolves are looking at (yet another) rebuild (in a seemingly endless string of them) and so they're going to want draft picks. You have to be a team that can convince Love to re-sign... or do you? Denver's emergence in talks last week echoed some of the same things I've heard over the last few months and fits with what Denver's stated approach has been to this offseason: aggressive. The Denver Nuggets would effectively be trying to either shoot the moon for one title shot or blindly going into the process thinking "get the superstar, figure out how to keep him later." That can be alleviated if Love decides to opt in and gives whatever team he's traded to another full season until 2016 to enter free agency.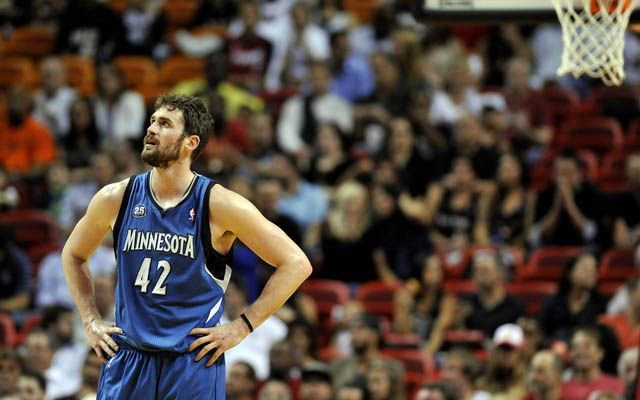 But Denver seems more like a smokescreen than anything else. The Houston Rockets aren't a great fit, and don't seem to have the assets to interest Minnesota. Love would, ahem love it if the Los Angeles Lakers could swing the deal but Minnesota likely starts vomiting uncontrollably whenever the Lakers put a package on the table. So, for the moment, it's down to Golden State, Chicago, and Boston as the likely clubhouse leaders. The breakdown:
Golden State Warriors : Best young talent, hardest bargaining position.
Chicago Bulls : Best collection of assets, might prefer Melo.
Boston Celtics : Best draft pick collection, worst players to send back.
Golden State is playing hardball, posturing through the media that they won't give up Klay Thompson , or Klay Thompson and a pick, depending on who you get your news from. This is, of course, insanity. Klay Thompson's a good young player. He's not an All-Star. David Lee is an underrated player on a bad-as-it-sounds contract. The Warriors aren't doing the Wolves a favor here. Also complicated in this is the nature of the deal involving picks. Because of the Stepien Rule that prevents trading consecutive years of picks (but wipes the slate clean after every draft so you can trade your pick every year, just not in advance), the Warriors can't trade their 2015 pick until after the 2014 draft (in which they're giving the Utah Jazz their pick). So any deal with Golden State could be agreed to on draft night but couldn't be completed until after.
Reports indicated Monday that the deal was "dead." These things are like comic book or soap opera characters. Dead never means dead.
Chicago has the best assets, with Nikola Mirotic, the No. 16 and No. 19, and Taj Gibson or Jimmy Butler to put with Carlos Boozer . That's what the Wolves should ask for. But the Wolves have been quiet on that front and seem focused on Carmelo Anthony .
The Celtics are basically in a decision tree. Can you trade for Kevin Love? Yes. Then trade the No. 6 pick, Jared Sullinger , and whatever else the Wolves could find appealing. You build a team around Rondo and Love. Can you trade for Kevin Love? No. Trade Rondo for picks and assets, commence complete tear down.
Love may not be traded until August, maybe even February. But the conversations about such a deal are going to continue through the draft and hang over most things.
THE ESCAPE HATCH GUYS
Not everyone thinks this draft is that great. In fact, if you listened to many of them, it's not even all that good. Which is why there are a bunch of teams that could move back or out of their spot completely.
First up, teams with multiple first-round picks. The Phoenix Suns have three first round picks and have already indicated they're not going to use all of them. Whether that means trading for a player, combining two of the picks to move up, or trading back depends on the offers that come available. But they're going to move something, somewhere.
The Nuggets are also likely to move the No. 11 pick. That rumor's been floating since February. There was talk that the Nuggets could take Dario Saric with the eleventh pick, but that's complicated by Saric re-signing for three years in Europe. That may not deter them from taking Saric and holding out for the future, but if hey want to move forward now, that certainly makes it tough. The Nuggets want a veteran, and the 11, while still valuable, isn't so good as to be untouchable. Their options for shooters are Gary Harris who's small or Nik Stauskas who's slow. So if they can get a veteran who they think will really help the team immediately, they'll go for it. There isn't a super-high level of interest in a slow rebuild, the Nuggets largely seem to want to piece things together to improve the team.
Chicago's another team that outside of the Love deal, could get a little anxious. They're targeting Carmelo Anthony in free agency, and they'll want to move as much as they can in guaranteed salary to create space. They can use the picks to try and sweeten the medicine of someone taking Carlos Boozer, or just move them for future assets. The other way to get around this is to grab-and-stash with Saric or another Euro. But if they want to get immediate return, trade's the best option.
THE UNSTABLE ENVIRONMENT
If Philadelphia gets desperate for Andrew Wiggins, they have the assets to move up. The Wolves could wind up with multiple picks depending on the Love trade, which they could then look to move. Cleveland seems like they're sticking at No. 1, but come on, this is Cleveland we're talking about. Everything is on the table. 
Other teams could potentially move on draft night: Utah if it gets a guy it like and wants to move back, the Lakers if it looks to make a free agency push, Toronto to try and move up. The Atlanta Hawks are an unstable core with good players multiple picks. And Oklahoma City has been way too quiet and usually pulls off something.
Philadelphia owns nearly a third of the second round, Milwaukee just isn't going to have enough roster spots for all the picks they have. Oh, and Charlotte has said it wants to improve now, and New York is actively trying to buy its way into a pick.
Maybe it's all smoke, and on draft night, the whole thing will go down quietly with very little movement. But there are enough forces in play and conditions seem to be right to produce instability. The tectonic plates have wiggle room. We'll see if anything shakes loose.
Is it just a normal workout, or is LeBron continuing his recruiting efforts?

Chris Bosh answered on the spot about the LeBron James and Kyrie Irving situation

LeBron James is pitching free agents on Cleveland but the Cavs can't even reach Kyrie Irving...
Thanks to the Rockets, the Nets might be open to selling a controlling stake

Stephen Curry likes what he sees in this fan

How the Cavs star would fit with the Wolves, Knicks, Clippers, Spurs and other teams linked...