Draft Options: Picks 16 through 20
What can the Bulls, Celtics, Suns, and Raptors do in the middle of the first round of the 2014 NBA Draft?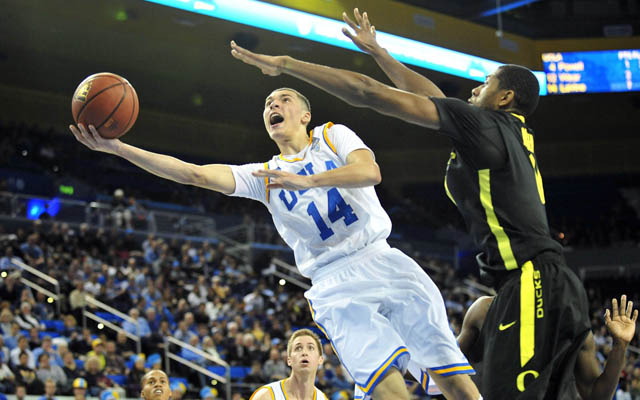 More Draft: Mock drafts | Draft news | Draft options
A team-by-team look at picks No. 16 through 20 in the 2014 NBA Draft and what those teams can do. Click here for picks No. 1 through No. 15.
NO. 16 CHICAGO BULLS
Draft Gary Harris: Harris slipping to No. 16 would be shocking. But look. He's 6-4.5 with average wingspan. Most wing prospects have exceptional length. Harris is a role player in a draft full of guys with high upside. A fall shouldn't shock anyone, especially with the type of athlete-drafters in front of them. This would mean they wouldn't have to trade up to get their guy.
Draft Nik Stauskas: Same deal here. Stauskas is likely gone. But if one team grabs a shooter in Harris in the top 10, and the others get focused on the wings and bigs in that range, Stauskas could slip. He's an exceptional shooter and can handle but isn't fast in any way. But he fits really well with what Chicago needs.
Draft Shabazz Napier: Ken Berger of CBSSports.com reports that they're looking at the UConn star. Chicago needs a solution at backup point guard and stylistically, Napier is similar to Rose, without, of course, the elite athleticism. But he can defend adequately and provides floor presence, which they need. Young point guards have not done well under Tom Thibodeau, especially prospects. Going with the older, more polished Napier might be the best fit.
Draft Adreian Payne: If you're not getting Kevin Love, and you want to trade or amnesty Carlos Boozer, Payne makes a ton of sense here. Even if they get Carmelo Anthony and decide to play him at four, with Taj Gibson off the bench, there should still be room in the rotation for Payne. And if they play Melo primarily at the three, Payne can back up Gibson. If the Bulls don't add Melo or Love, Payne's role becomes a bit bigger.
Draft Zach LaVine: It seems odd to draft a super-athletic, raw combo-guard when you have Rose, but then, they don't know if they have Rose or not. And LaVine gives them a playmaker who also can shoot from the outside. He's raw, though, and those types of players haven't fared well under Thibodeau. LaVine is talented, but he's also going to need time.
Draft Tyler Ennis: If Stauskas and Harris are off the board, Ennis is another option. He can run the pick and roll and run an offense. He's not a great shooter and a worse finisher, but he's got good length and athleticism. This is a fine fit. Elfrid Payton can't shoot, but he'd also work for the role.
Draft Kyle Anderson: The Bulls' defense can cover up for his lack of lateral quickness,and he can shoot and handle. Jimmy Butler fits better at the 2-guard, so Anderson fills a role they need. His size helps and he can score.
Draft Jusuf Nurkic: Nazr Mohammed has been their back-up center for the last few years. So yeah, they could use some depth.
Other options: Rodney Hood, T.J. Warren, Cleanthony Early
Trade up or down: This is what they (reportedly) want to do. The idea is that instead of a project or role-player wing and big, they want to move up and grab an elite shooter, either Harris or Stauskas. That makes sense, but you wonder if a young guy will be ready to compete at the kind of level they need. Trading down doesn't seem like as likely of an idea, considering where they're headed and the likelihood of wanting veterans and no more than 14 on the roster.
Trade for a vet: Sure, there are a lot of ideas here. The Bulls have mysteriously gone silent in the Kevin Love talks over the past two weeks, and it makes you wonder. The No. 16 and No. 19 along with Euro prospect Mirotic, and either Jimmy Butler or Taj Gibson is a better offer than they're going to get anywhere for Love. So the pick has to be on the table. Then there's the rumored Arron Afflalo plan, which would also make sense. Packaging Mirotic and the No. 16 would probably get it done but might be too steep for Orlando.
NO. 17 BOSTON CELTICS
Draft Zach LaVine: The odds are pretty low that LaVine is going to be here at this spot, but he fits pretty well. He can play 2-guard, make up for the potential loss of Avery Bradley in free agency, and replace Rajon Rondo if they trade him.
Draft Rodney Hood: A wing to replace Jeff Green who can score. Brad Stevens might be able to get him to defend.
Draft Tyler Ennis: They could use a backup point guard and if they wind up moving Rondo, Ennis can fill in. Napier, Elfrid Payton also fit here. Although drafting Payton, an athletic, playmaking point guard who can't shoot would be a little weird.
Draft T.J. Warren: Warren can add scoring, but isn't a great fit with their frontcourt.
Draft Clint Capela: A high upside pick that can bring rim protection and length down low. They could use someone in their frontcourt who's actually athletic beyond Jeff Green.
Draft P.J. Hairston: Would likely start at shooting guard immediately, and would give them a lot of what they need, in terms of perimeter defense and shooting.
Draft Cleanthony Early: Let him and Rondo run, man.
Trade up or down: Boston is a little unstable here. They can move all their picks to Minnesota for Kevin Love. If Kevin Love goes somewhere else, they could trade Rondo. If they trade Rondo, they could trade up. Everything is largely on the table for them here. But a move up seems unlikely given Danny Ainge's lack of interest in this draft and trading down seems unlikely as it would mean more picks.
Trade for a veteran: They're in the Kevin Love sweepstakes, and they're always looking for a top-tier upgrade, but they won't move it unless they can get a star player. There aren't many on the market.
NO. 18 PHOENIX SUNS
Draft Cleanthony Early: He's a pretty good fit at No.14 but a reach.
Draft P.J. Hairston: Hairston's a great fit and would work well in the system.
Draft Kyle Anderson: Most of the options at No. 14 are available here, and Anderson's likewise a good fit. He's not super fast, but he could help on the perimeter.
Draft Clint Capela: Fits athletically next to Miles Plumlee and can run the floor.
Draft Rodney Hood: Pretty much any wing here is OK. T.J. Warren, Hood, Young if he slips.
Trade up or down: They would be happy to move up but if they can't find a deal that works, they could move back all the way to next year. Their last pick in the late first is more likely to get moved, but if they find a package deal, this one could get gone, too.
Sell the pick: The Sarver way! The Suns have made it know they're not keeping all three picks, so there's always a chance the Suns just decide to cash out on this one.
Trade for a vet: Unless it's Kevin Love, not a lot of reason to, though if the Suns can get into the Arron Afflalo chase it might work.
NO. 19 CHICAGO BULLS
See above. Basically the same guys. They're likely to try and move up with it. If they couldn't get a shooter earlier, P.J. Hairston is in here. Cleanthony Early should also get a look. Jerami Grant would be a reach, but would do pretty well if Boozer's gone. 
NO. 20 TORONTO RAPTORS
Draft Kyle Anderson: Terrence Ross played well last year, but a more consistent shooter with a bigger frame might be a good idea.
Draft Jerami Grant: This is a bit of a reach, but it's also a good fit. If Capela is off the board, they could use the length and athleticism at the 4 spot.
Draft Capela: He's a freak of nature and they could use one with how slow Valanciunas is. They'd have a dominant inside pairing if Capela hits his ceiling.
Draft Hairston: Doesn't make much sense considering where all their talent is.
Draft a point guard: Tyler Ennis, Shabazz Napier, Elfrid Payton, any would give them a solid backup and a potential successor if Kyle Lowry leaves in free agency. This should be their priority.
Draft Jusuf Nurkic: It's a little bit of overkill with Valanciunas, but they needed more inside depth in the playoffs. They could use the fouls.
Trade up or down: Neither is likely. They're in a good spot to get the kind of guy who can help and trading up would probably mean giving up assets they don't have.
Trade for a veteran: Can they afford to without knowing if Kyle Lowry will return? It's not a bad idea if they package it with some young talent, but they've also got a few free agents coming up this summer. Seems unlikely.
Jordan Bell had himself a night against Portland

The younger Ball brothers are heading to BC Prienai, but that could spell trouble

Not many games, but still plenty of action and intrigue Monday in the Association
SportsLine's advanced computer model simulated Tuesday night's Lakers-Knicks game 10,000 t...

The Reno Aces are concerned about the new WNBA franchise stealing their thunder

Hinkie parted ways with the 76ers in 2016 after drastically changing the direction of the...