Draft Options: Picks No. 10 through No. 15
A look at options for the Philadelphia 76ers, Orlando Magic, Denver Nuggets, Minnesota Timberwolves, and Atlanta Hawks.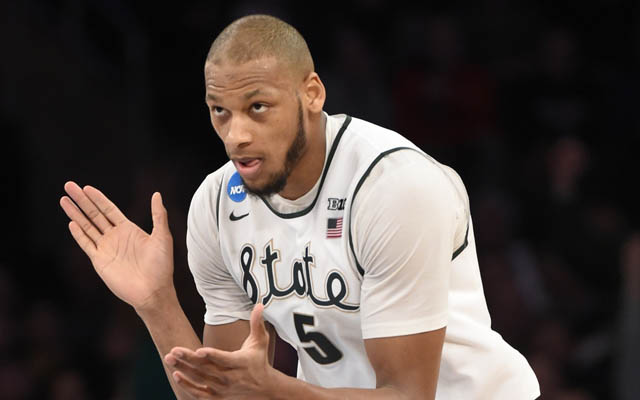 More Draft: Mock drafts | Draft news | Draft options
A team-by-team look at picks No. 10 through 15 in the 2014 NBA Draft and what those teams can do. Click here for picks No. 1 through No. 9.
No. 10

Philadelphia 76ers
Much of this depends on what they do with the third pick. So that has to be factored into any option.
Draft Dario Saric: Saric is 6-10 and can run pick and rolls. He just sounds like the kind of guy this regime leans towards. High upside, big skillset, versatile and long. Helps with moving Thaddeus Young , too.
Draft Gary Harris: A pure shooter to put on the perimeter. He's not their ilk in terms of size or length, but if they don't take Andrew Wiggins, he can provide shooting which they need with MCW on the floor. If all he does is shoot especially well, it's OK to have a specialist like that on the floor.
Draft Adreian Payne: An outside-the-box concept, but if they don't take Julius Randle or Noah Vonleh, this makes sense. Yes, he's older, but he's also an immediate building block. He makes you better off the bat, and that can help the other guys develop. He's going to take pressure off Nerlens Noel and that might be just as valuable.
Draft Zach LaVine: Man, what a head fake it would be if the Sixers drafted a big with the No. 3 pick then took LaVine here. Super athletic, raw, and can shoot. You can either play him with MCW in two similar athletic freaks in the same backcourt, or trade MCW for assets or a pick.
Draft Doug McDermott: Doesn't fit their model, doesn't fit their team, and doesn't have great upside. Don't see this happening.
Draft Clint Capela: A shot-blocking menace to put next to Nerlens Noel. All of the length, ever. Capela's Ibaka comps are legit and even if he's never the polished player Ibaka is, Capela can still be a demon in terms of making plays with his length.
Draft James Young: Just a good wing. Sometimes that's enough.
Draft Nik Stauskas: More of a ball-handler than Harris. Slow, but his shooting balances MCW.
Trade down: Doesn't make great sense here. They're going to get a valuable player here, and they need young talent.
Trade up: They're not going to want to surrender this pick, even if it means getting Andrew Wiggins. They might package it and Thaddeus Young to jump a few spots if they really want someone, though.
Trade for a vet: Nope, that's not the plan.
Denver Nuggets
The odds are great that they are not making this pick, if any pick at all. But let's pretend.
Draft Dario Saric: The Nuggets may have the best European scouting team in the league outside of the San Antonio Spurs . They have a great eye for talent and invest a lot of time and money there. So taking the top-ranked European prospect should he tumble this far should be a no-brainer. The Nuggets have a slew of undersized, bruising power forwards. Saric gives them a 6-10 forward with handle who can do just about anything. The drawback here? This goes against Brian Shaw, and to a degree GM Tim Connelly's belief in traditional positionality. Saric is a hybrid, a modern four. That could give them pause.
Draft Gary Harris: Harris isn't super tall, and Ty Lawson is downright short. But they need shooters and for pure shooters, this is the best bet. Harris can find space and knock down threes consistently. They need a guy like him at this position, but his 6-3 size and average wingspan make this tougher.
Draft Nik Stauskas: If they get stuck here, I could see them going this route. Stauskas is tall, can shoot the lights out, and is extremely skilled, something the organization is high on. He's not particularly athletic and could struggle defensively, but the Nuggets are known to like this crop of shooting guards and Stauskas is the non-short option. Unless...
Draft Marcus Smart: Smart could go No. 4. Wouldn't shock me a bit. But if he's here, you could see this happening. He's not a shooter, 29 percent from three last season. But he's strong as an ox and can handle. He gives them a tough guard who can create and score, which is something that Brian Shaw thinks the team needs.
Draft Adreian Payne: I like this idea, they likely don't. Adreian Payne projects to be kind of like a monster J.J. Hickson, except maybe not as good on the boards. He has legit three-point range, post-moves, and is tough inside. He's 23, but this roster isn't built to win in five years, they want to get going. Payne could come in and help them tomorrow. He should be on the list.
Draft James Young: They have more than enough perimeter small forwards, thanks.
Draft Zach LaVine: No one made more of an impact in his workout than Zach LaVine in Denver. He's been blowing people away all over the league, but especially in Denver he showed a lot. If they believe he can play two and potentially be a long-term replacement for Ty Lawson, this would make sense.
Trade down: Possible. They're not super excited by most of the players in this spot, or this draft, and if they can get value, it might make sense. But they're up against it when it comes to roster spots. They'd have to make room. This would only be likely if it were part of a larger deal.
Trade up: I'm not saying it's not possible, but if it is, it's one heck of a smokescreen from Denver. They like the talent in this draft, but they don't LOVE it, and they don't think there's a deal that "makes sense" for them to move up in it. That complicates matters. The likely option?
Trade for a veteran: The Nuggets have been talking about adding a "veteran leader" for months. That could be someone like Kevin Love if they get lucky with what other teams offer Minnesota. Or it could be someone who's played in the league and had success but is on a contract that someone wants to move. The Nuggets have a lot of good players they can trade, and the No.11. I honestly don't expect them to pick at No. 11 and if I had a gun to my head, I'd say they trade out of it completely.
No. 12

Orlando Magic
Draft Gary Harris: Oladipo and Harris is a weird backcourt. Not bad. Just weird. It all depends on whether they're sold on Dipo at the point guard spot or not.
Draft Dario Saric: It's looking unlikely he'll be around here, but if he is, the Magic may not take a lot of time deciding this. They need a rim protector, sure. But Vucevic and Saric in a frontcourt is just crazy deadly, and that allows them to move Tobias Harris and Andrew Nicholson , who may have more value on the open market.
Draft Nik Stauskas: This is quite the refined B1G backcourt here. Stauskas has a little point guard in him, tough I have concerns about his speed in half-court sets. But he spaces the floor and provides offensive balance, which they need.
Draft James Young: They could use a "true" small forward and Young fits that bill. He can shoot a little bit (34.9 percent from three) and can run the floor well. He could wind up an excellent 3-and-D guy and take some of the hurt from losing Afflalo in a potential trade.
Draft Adreian Payne: And then destroy the entire world with the beastliness of Payne-Vucevic. It's just an unbelievably tough combination. Again, lack of a rim protector, but wow the ability there.
Draft Jusef Nurkic: The guy is basically Groot the giant tree from that "Guardians of the Galaxy" movie. He's a big tree. They want a rim protector, that guy can do it.
Draft Clint Capela: Long, athletic, can block shots. The rim protection they can put next to Vucevic.
Trade up or down: Very possible. The Magic can honestly afford to burn this pick to try and get to the No. 1 spot and take Wiggins. They can package it and Afflalo and go after a higher pick in the 6-7-8 range or move back and pick up future firsts. They have a lot they can do here.
Trade for a vet: Nope. Unlike some teams, and despite reports, the Magic have been patient with their rebuild. That's the play here as well. Don't force the issue.
No. 13

Minnesota Timberwolves
Draft Doug McDermott: It's not at all likely he falls this far. A GM told me this week "there's no chance he doesn't go top ten." But if he does, this wouldn't be a bad fit. He's not Kevin Love, but he has better athleticism than he's shown, and can provide shooting which they badly need.
Draft Adreian Payne: This is basically my solution for every team. But if the Wolves are losing Kevin Love, and they are losing Kevin Love, they need a replacement scoring power forward. Payne's not as skilled as Love, who is. But he's a beast, athletic, and tough inside. He's plug and play, ready to go from Day 1 and along with Gorgui Dieng would be a tough young frontcourt of the future.
Draft Nik Stauskas: They have sucked at shooting for years. He's a shooter and can run backup point which they need. This works.
Draft James Young: He makes Corey Brewer expendable which may be worth it unto himself.
Draft Zach LaVine: If you believe he can play shooting guard, he might be worth it. Rubio helps ease him into the offense and will find him on cuts. He gets to use his athleticism on a rebuilding team. It's no a bad idea.
Draft Gary Harris: Again, shooter.
Draft P.J. Hairston: A shooter who also has great length. There's a lot to like here. It's a pretty decent fit and he can play multiple positions off the bench or as a starter.
Draft T.J. Warren: It's a little awkward but he fills the scoring void of Love to at least half. He's largely plug and play and even though he'll struggle defensively... I mean, he's replacing Kevin Love.
Trade up or down: I mean... they're trading Kevin Love. Does trading down seem like a good idea when you're losing a top-ten player? Trading up would be interesting but it's hard to see how they pull it off. Even if they get the No. 1 for Love, they shouldn't have to give up the 13.
Trade for a vet: You do that when you're starting your run. Not when it's over.
No. 14

Phoenix Suns
Draft Clint Capela: This is my preferred fit. It gives them a crazy athletic shot blocker to throw at teams alongside Mason Plumlee (and Alex Len ). He can throw down lobs in transition and has the lean frame to make it in the up-and-down system.
Draft Kyle Anderson: Jeff Hornacek might be able to do something with his skillset. But do they really need a ball-handling wing with Dragic and Bledsoe (presumably) around? Anderson's slow and that could cost him in the system. He would have to fit a very defined role for this team to make sense.
Draft T.J. Warren: Channing Frye 's a free agent, and they could use a combination 3/4 who can score. He actually makes sense in a lot of Phoenix's small-ball sets next to Plumlee.
Draft P.J. Hairston: Long, athletic, can shoot. It's almost painfully obvious that Hairston should get a look here.
Draft Cleanthony Early: It's a reach, but honestly, he's too good of a fit not to look at it. Super athletic, runs the floor, can handle in transition, cut to the basket and shoot from the perimeter? How is he not a Sun?
Draft James Young: Young's a standard three at a position of need. Having him as bench depth if they re-sign P.J. Tucker would be pretty great.
Draft Jusef Nurkic: Nah, they've got Alex Len. They're good on stiff bigs.
Draft Rodney Hood: Good offensive weapon who could probably excel in their fast-paced system.
Trade up or down: Very possible. Their GM has already said they're not keeping all three picks. They could move up to take someone like Saric or Payne, maybe even move into the top ten at a spot like Sacramento. Moving back doesn't seem likely.
Trade for a vet: Are they ready to contend now? Unless it's Kevin Love, this seems dangerous. They have a good thing going in Phoenix. Don't force it.
No. 15

Atlanta Hawks
Draft Elfrid Payton: They have Jeff Teague , but they've been taking offers for him for years, even after they re-signed him last year. They drafted Dennis Schroder last year, but he didn't show anything his rookie season. Payton can't shoot but he might have the most value here.
Draft T.J. Warren: They'd have to play him at three, which would be weird with Horford and Millsap. But he can score and would be strong at the three-spot, providing depth behind DeMarre Carroll .
Draft Clint Capela: They could use some crazy length beside Horford off the bench, and Capela as a 7-4 wingspan. You can even play him at center since the Hawks play smallball anyway.
Draft P.J. Hairston: Length and shooting, always in need.
Draft Kyle Anderson: I like this quite a bit. They could use a creator on the wing, and Anderson's two-dribble-off-the-pick is superb. His skillset meshes with what coach Budenholzer likes to run.
Draft Rodney Hood: A smart player whose defense was horrid last year because of a lack of engagement. Budenholzer gets the most of wings. What could he do with Hood?
Draft Cleanthony Early: Another good fit for what Early brings.
Draft K.J. McDaniels: Speed. Just pure speed. You can mold him. But he runs and jumps. Struggles to shoot but could be valuable off the bench.
Trade up or down: Trading down might not be a bad play. They can get someone like Jerami Grant, C.J. Wilcox, or Cleanthony Early later. Trading up would be bold, but they don't have much to package it with outside of the remaining Brooklyn Nets payoffs.
Trade for a vet: Would make some sense. They want to get better now. Why not make a play if there's one available. If Cleveland makes some of their guys available, like Varejao, Thompson, or Waiters, that could be a good fit. Same with some of the Sacramento Kings ' young guys.
Durant labeled the Cavs' situation as a regular problem in the NBA

James takes to Instagram for a better look at the Cavs' new Nike-made uniforms

Kevin Durant says he doesn't agree with what President Donald Trump agrees with
Evaluating where the future Hall of Famer might land up if he is freed from Chicago's rebuilding...

Adam Silver said his piece with the schedule out; we address that and what the slate looks...

The Hawks and Sharecare reportedly agreed to terms on a five-year deal