Draft Options: What can the Jazz do with the No. 5 pick?
A look at what Utah can do in the draft, including whether Jabari Parker really is a good fit, if Dario Saric is an option, and possible trade options.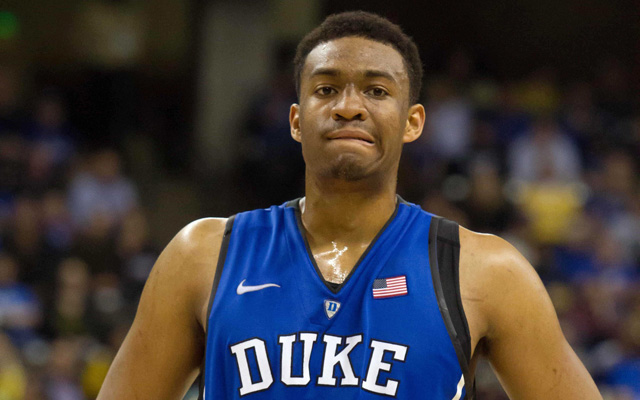 More Draft: Mock drafts | Draft news
From now until the NBA Draft on June 26, we'll be looking at the options of the teams picking based on their likely menu of choices, draft or trade. We continue today with the Utah Jazz, and the fifth overall pick. The Jazz have a few core pieces in Try Burke and Derrick Favors, and a lot of cap space, but Gordon Hayward is a restricted free agent. Here's a look at their options in this month's draft. 
Previous Draft Options: Cavaliers | Bucks | 76ers | Magic
DRAFT OPTIONS
Let's assume Embiid and Wiggins are off the board at this point. It's simply unlikely either of them fall this far. We'll keep Jabari Parker on the board but it's a longshot. Let's start there, and imagine that Embiid and Wiggins go 1 and 2, Exum and Vonleh go 3 and 4.
Draft Jabari Parker: This is a no-brainer and the Jazz should sprint, nay, gallop to the phone to call this one in. If you suggest that Parker fits with Utah, it's assumed you're talking about the fact that he's Mormon. However, if Joel Embiid were LDS, he'd still make less sense for Utah than Parker. Parker gives them a possible replacement for Gordon Hayward, and a combo-forward tht can play alongside Hayward, with Derrick Favors or with Enes Kanter. He provides the face of the franchise and another ball handler for Utah which it needs to create offense. He and Trey Burke would work well together in the pick and pop, and the Jazz' length defensively can cover his shortcomings.
There's no downside to this. If Parker's there, he needs to get got by Utah.
Draft Dante Exum: The idea is to run a dual-point guard set with Burke, moving Alec Burks to the bench. But Burke is really only useful if the ball is in his hands. And given Exum's preference for the big city lights, it's hard to see Utah as a good fit from a culture perspective. He would benefit from Quin Snyder's hire, but the fact remains that Utah went with a point guard last year. No reason to take another one. If he's the best player available in your mind, trading down, potentially with Sacramento, might not be a bad plan.
Draft Noah Vonleh: I can't even begin to understand this roster under this condition. Favors and Vonleh and Kanter? Favors and Vonleh? Together? If Vonleh is best player available, the Jazz are in a tough position. Trading Favors is trading away a player on big money with only moderate production as he's entering his prime. Trading Vonleh is moving a player with insane length and upside on account of his range. Vonleh is more of a risk for the Jazz than he is for the Sixers. The Jazz need someone to come in and make an impact. Vonleh may not be in that position for a while. Utah needs an instant impact. Vonleh is a long-term idea.
Draft Julius Randle: A popular choice among mock drafts. It creates a logjam but at least you know Randle can play immediately. You draft Randle, you start him and Favors, with Favors' length covering for Randle and Randle's polish making up for Favors. It's not a perfect fit but it is exciting and young. Randle is a player you can throw the ball to in the post and say "go get us points." The Jazz don't have that guy, and Burke would love playing with Randle. Even if Kanter has to come off the bench, this pick has very little downside.
Draft Marcus Smart: This would be a reach, but if you're not sold on the others, Smart makes no sense as a dual guard scorer with Burke. But it doesn't seem like there are enough basketballs to make this work. It's a weird attitude fit and Smart doesn't have the raw upside or immediate impact that Utah has to have at this spot. But if you like the idea of Burke as a game manager and Smart as more the primary offensive creator, this could work well as a backcourt. The Jazz have a pretty complex relationship with Alec Burks between recognizing his improvement and hoping for more and worrying he won't make a leap.
Maybe the best part about this would be how much better the Jazz' backcourt rebounding would improve, an overlooked facet of NBA play.
Draft Aaron Gordon: Gordon's interesting in that he'll rise on one mock, drop on another, and then flip. But here's what we know. The Jazz could use Gordon as a combo forward and go small with Favors or Kanter at center. They could trade Hayward to make minutes for Gordon at the three. As a pick and roll finisher with Burke, Gordon could be lethal. And with the right defensive scheme, Gordon could anchor a defense by guarding both the perimeter and interior. Gordon may honestly make the most sense for them at five of any player outside of Wiggins, Embiid, Parker.
Draft Dario Saric: And here we are. We've entered "the Saric realm." I'm not big on Saric. I have concerns about hos his skillset translates, about his frame adjusting to NBA contact, a number of things. But if the Jazz reach, this is an option. He's skilled, smart, and extremely versatile, something most of the combo forwards outside of Parker don't have, and he has the athleticism on top of it. This would have to be a simple "best player available" move, but you can argue he can do a lot of the things the other options here would. He can handle the ball and create offense. It's not a sexy pick, but it's effective.
TRADE OPTIONS
Trade up: They can't package Gordon Hayward and a pick due to his upcoming free agency. They could put together Kanter or Burks and a pick, but I"m not sure that helps you move up. The also have multiple picks from the Warriors they can put together in a deal. To get Parker they'd have to entice Philly, and that gets tough. The Sixers don't need a center with Nerlens Noel around so Kanter's out, and Burks isn't really enticing. They just signed Favors to a long-term extension at big money, which the Sixers might be skittish about. Their options just aren't great. But Favors,the No. 5 pick, and the extra Warriors picks might be enough to get someone to bite.
Trade down: Let's say Parker and Gordon are both off the board, and someone really wants Dante Exum. If you can fall back a few spaces, keep a top-ten pick, pick up a future first or another asset, and still grab someone like Smart, Doug McDermott, Gary Harris, or Saric? That's not a bad deal. The Celtics aren't going to move up, it's just not happening. But the Lakers might be interested in that kind of setup, whether in pursuit of Exum or Kevin Love. Let me put it this way. It makes more sense for Utah to move down, get a good player, and future assets than draft Dante Exum, despite Exum's talent.
Trade for a veteran: No. Forget Kevin Love, this is a pointless conversation to have. He wouldn't stay and it wouldn't be worth it. Now, the 5-spot is a pick that's closer to getting a "good not elite" veteran but you need someone young enough to grow with the roster but old enough to have an immediate impact. There are very few guys who fit that bill. Someone like Anderson Varejao makes them better immediately, but has too many miles on him to justify it. Someone like Taj Gibson isn't old or young, but isn't good enough to justify the trade. The fifth pick is just good enough to demand a high price, but not good enough to fetch someone elite. Their best bet is to keep the pick.
The Warriors rookie threw down an off-the-backboard dunk while up 25 late in the fourth qu...

The third member of the club might come as a surprise

LaVar said Lonzo won't lose again this week, and Marcin Gortat found that pretty funny
Eric Bledsoe is going to be traded at some point and these tweets will explain how it got...

Curry's outburst will cost him some money, but he won't miss any games

A look at the ups and downs for various suitors as Bledsoe has left the team.