Drew Gooden says he wasn't taunting Cousins when he shrugged
Washington Wizards' forward Drew Gooden says he wasn't taunting DeMarcus Cousins when he shrugged following a 3-pointer during the team's loss to the Kings.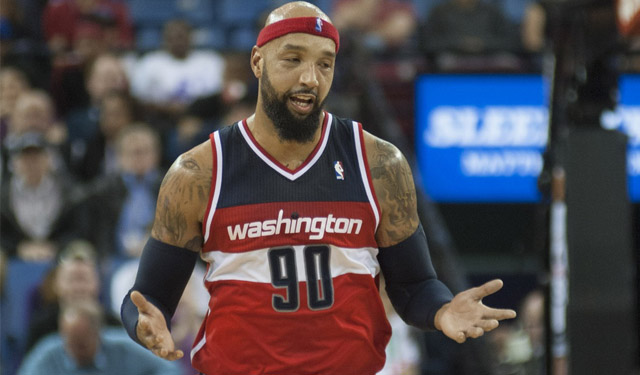 The Michael Jordan shrug is iconic. During Game 1 of the 1992 NBA Finals, Jordan dropped an uncharacteristic six 3-pointers in the first half against the Portland Trail Blazers, en route to scoring 39 points and taking control of the series. It's something most of us have replicated in one way or another, either after making some shots in a row, turning in a book report, or taking the garbage out. 
One person who wasn't trying to replicate it recently is Drew Gooden of the Washington Wizards. After hitting a few shots in a loss to the Sacramento Kings, he shrugged and in turn infuriated DeMarcus Cousins. Cousins went on a tear in the fourth quarter to help force overtime and the Wizards eventually lost the game. Michael Lee of the Washington Post has Gooden saying he wasn't taunting or trying to do the MJ shrug in that moment.
Drew Gooden wasn't taunting, just flaunting, when he decided to celebrate his big shots with shoulder shrugs over the past two games. His post-bucket antics have attracted some attention – both positive and negative – but Gooden said Thursday at the Wizards' morning shootaround at Moda Center that the shrugs are more about getting himself going than showing up anybody else.

"That ain't the MJ," Gooden said, referencing Michael Jordan's infamous shoulder shrug in the 1992 NBA Finals. "It's kind of like, 'What I got to do? What else I got to do?' "

"We got to get away from the shrug because guys coming in scoring 19 in the fourth quarter," Gooden said. "If that fueled him, then we got to try something else."
Cousins was certainly fueled after that moment. He scored 19 points in the fourth quarter and shrugged after at least one of the buckets to mock what Gooden had done earlier. That kind of a run apparently is enough for Gooden to want to get rid of shrugging after shots and find something else to get himself going.
He could maybe look into doing the sprinkler dance because his jumper is watering the court or mimic like he's driving a big rig because he's getting this truck moving or perhaps he can do that weird thing of getting back on defense and getting in a defensive stance. Regardless of what he chooses, it's good to have Gooden back on the court and doing weird things.
The Cavaliers gave up 148 points in their loss Saturday afternoon to the Thunder

Blatt made the comment before coaching in the All-Star Game in Turkey

We've got all the scores, highlights and news from all of Sunday's games
Is this rock bottom for the Cavaliers because it sure feels like it is

Wade, as he's done so many times in his career, threw it up to LeBron for the thunderous f...

The Warriors coach added there should be no shame in being picked last since everyone's an...