Durant on his 25-point scoring streak: 'I wish it was over'
Kevin Durant has scored at least 25 points in 41 consecutive games, topping Michael Jordan's mark of 40. But he's ready for it to end.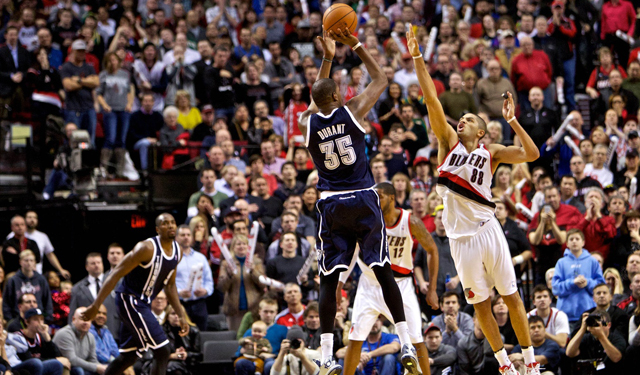 More NBA: Power Rankings | Expert Picks | Seasons in Review | Playoff Picture
It's been 92 days since Kevin Durant last played a game without scoring at least 25 points. The last time Durant didn't -- Jan. 5 -- Florida State had yet to be crowned national champions. The Seahawks were still a month away from winning the Super Bowl. The Winter Olympics, also a month away. 
Durant has topped 25 (really 26) in 41 consecutive games, passing Michael Jordan's streak of 40 set in 1986-87. It's the longest streak of 25-plus in 50 years, with Oscar Robertson next on the list at 46, and Wilt Chamberlain on the top with 80. 
But Durant is ready for it to be over with.
"I don't really care about it," Durant told reporters Sunday after dropping 38 on the Suns. "I wish it was over."
It's no big surprise that Durant routinely tops 25, since he's averaging 32.1 points per game this season. But during the streak, he's over 34 points a night, which started back when the Thunder were trying to survive when Russell Westbrook went out. 
Here's the thing about it ending: Durant can't really help himself. He can't help but score. It's his nature, what he was born to do. If he plays 40 minutes, he scores 25 points. The most likely way for it to end is the same way Durant failed to score 25 on Jan. 5 -- in a blowout. Against the Celtics that night he scored 21 in three quarters, sitting the entire final 12 minutes. And with a game ahead against the Kings on Tuesday, if things go according to plan, Durant may not be needed in the fourth. It's the same way his 30-point streak ended at 12 games in Brooklyn with him sitting the fourth.
(Then again, that's the first night of a back-to-back which means Westbrook will likely sit that one so he can play against the Clippers on Wednesday. And Durant averages around 35 points a game without Westbrook so once again, he might not be able to help himself.)
The thing for Durant is, he doesn't want the 25-point streak to be a distraction. Against the Spurs when it was in jeopardy late, he cracked a grin when he went to the free throw line to extend it, knowing what was at stake. But Durant has maintained all season he wants to just make the right plays and just let things come naturally. Which is somewhat of a catch-22 because Kevin Durant making the right play and letting things happen naturally often means scoring a lot of points. 
Wade, as he's done so many times in his career, threw it up to LeBron for the thunderous f...

The Warriors coach added there should be no shame in being picked last since everyone's an...

We've got all the scores, highlights and news from all of Saturday's games
The two teams have reportedly not had any substantial discussions to this point

Oladipo may be getting most of the shine, but this second-year big man has been phenomenal...

SportsLine's Mike McClure, a DFS pro with more than $1M in winnings, gives optimal lineup...