Durant on partnership with Jay-Z: 'He knows his lane with me'
The Thunder's Kevin Durant says his move to Roc Nation Sports and Jay-Z isn't a sign of him leaving Oklahoma City.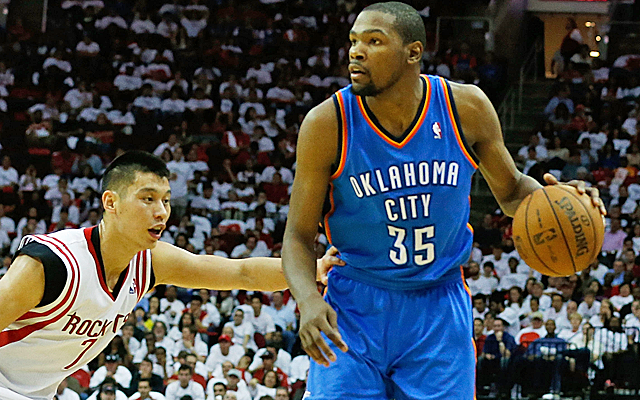 Kevin Durant won't be an unrestricted free agent until 2016, but people already are wondering and worrying about where he might go. 
The reason? Mostly because of his move to Roc Nation Sports to be repped by Jay-Z. The assumption is that with Jay-Z, Durant is positioning for brighter lights and a bigger market. However, as Durant told the Oklahoman, that's not at all true. 
"He has nothing to do with if I'm going to leave OKC or none of that," Durant said of his partnership with Jay-Z. "I heard that before, so put that out on the table. He has nothing to do with that. He knows his lane with me. Their team knows their lane with me. And they're letting me handle the basketball part. I would tell fans not to worry about that at all."
Durant is the first NBA player to sign with Jay-Z, who launched a new sports agency recently. Also repped by Roc Nation is Skylar Diggins of the Tulsa Shock, Robinson Cano of the Yankees and Geno Smith of the Jets. 
Durant has never wavered in his affection for Oklahoma City or the Thunder, repeatedly taking every opportunity to express his desire to remain with the city and team "as long as possible."
With Jay-Z being a big market guy, and a former minority owner of the Nets, there's anxiety that his influence could push Durant to brighter lights. But Durant made the move to Roc Nation more as a branding and marketing decision than anything else. He is already maybe the most marketable player in the league and, as a reminder, he plays in one of professional sports' smallest markets. Hasn't held him back yet.
"I was thinking about myself first and how I could be better off the court, because that comes with the game. I can't just overlook that," Durant told the Oklahoman. "I've got to take care of that, and they have a great team that's going to help me.
"It was something that I was really interested in. It was an intriguing situation. They've done so well for their brand, and it was something that I thought could help. I'm looking forward to becoming the first basketball guy. I'm looking forward to all of the people they have over there that's going to work with me and handle the stuff off the court while I handle my basketball."
There were also initial reports claiming Durant went to Roc Nation because Jay-Z is his "idol" and it was an opportunity he "couldn't say no" to. Something Durant says is also untrue. 
"I didn't say that at all. They're speaking for me," Durant told the Oklahoman. "I didn't say that at all. I didn't say he was my idol. I seen that comment: 'He's my idol, and I couldn't pass it up.' Nah, I didn't say that at all. I really respect Jay-Z for what he's done, being a rapper and then moving over to the business side and conducting himself the way he is now."
Adam Silver said his piece with the schedule out; we address that and what the slate looks...

The Hawks and Sharecare reportedly agreed to terms on a five-year deal

A look at the context of the schedule and who plays who when, and how far they travel during...
Durant took on rapper Lil Dicky and actually might have lost

A report that James would once again be leaving Cleveland made the rounds on Wednesday

Known for his 'take that for data' rant, the Grizzlies coach touched on a number of important...