Dwight Howard becomes a Laker as four-team deal completed
Yahoo Sports reports that the trade call to complete the four-way trade of Dwight Howard is complete. Dwight Howard is a Los Angeles Laker.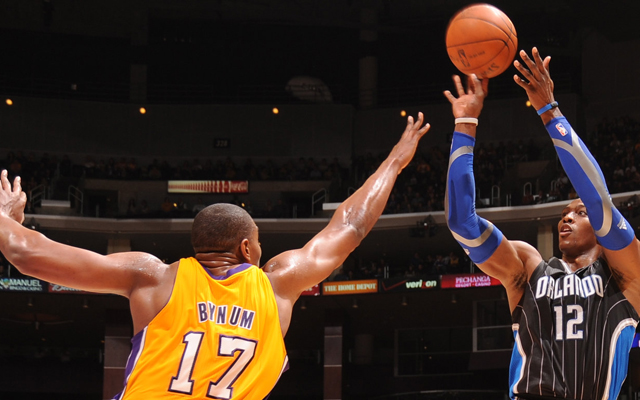 Howard and Bynum swap conferences in a four-way trade.
(Getty Images)
Ken Berger of CBSSports.com confirms a Yahoo Sports report that the trade call to complete the four-way trade of Dwight Howard is complete. 
Dwight Howard is a Los Angeles Laker. 
The trade sends a complicated series of players between four teams. According to multiple reports: 
The Lakers receive: Dwight Howard, Chris Duhon, Earl Clark
The Magic receive: Arron Afflalo, Nicola Vucevic, Al Harrington, Josh McRoberts, Moe Harkless, Chritian Eyenga, a conditional Lakers' first-round pick, a conditional 2015 second-round pick, the lower of the Nuggets' two 2014 picks, a 2013 second-round pick, and a protected pick from the Philadelphia 76ers. 
The Nuggets receive: Andre Iguodala
The Sixers receive: Andrew Bynum, Jason Richardson
We graded the trade on Thursday night, with the Lakers coming out the big winners. Despite the move, the Heat remain the odds-on favorites, but the Lakers jump the Thunder for second-favored to win. Kobe Bryant posted his thoughts on the trade to Facebook on Friday morning. 
From Orlando Magic GM Rob Hennigan via their presser: 
"A primary goal for our basketball team is to achieve sustainability while maintaining a long-term vision. We feel this deal puts us in a position to begin building in that direction," said Hennigan. "In addition to the six players joining our team, we will be in a position to maximize our salary cap flexibility in the near future, as well as utilize the multiple draft picks we have acquired going forward."

"Dwight Howard accomplished tremendous success on and off the court during his eight years in Orlando," said Hennigan. "We wish him, Chris (Duhon), Earl (Clark) and Jason (Richardson) all the best in the future."
Paul may be getting a late start in Houston, but he promises to unlock some key role playe...

Lonzo doesn't want to throw away money for a tech, which isn't a great look for the rookie

Davis left the Pelicans' game against the Nuggets in the third quarter
Popovich was upset about an out of bounds call

Wall went 3-for-12 from the field, and had just eight points in the Wizards' loss

Noah was reinstated from his 20-game suspension on Monday, but is yet to play for the Knic...