Dwight Howard, channeling America, says dunk contest has gotten old
Former dunk champion Dwight Howard said Friday that the All-Star slam-dunk contest has gotten old. Even with a rare infusion of All-Star talent this year, he's right.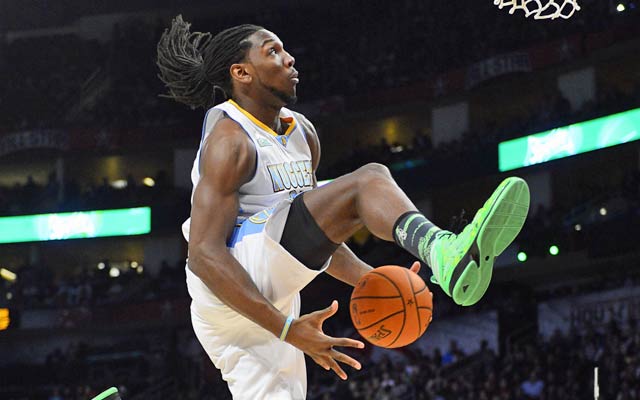 NEW ORLEANS -- This is the first time in 26 years that three All-Stars are competing in the slam-dunk contest at All-Star weekend. But since those All-Stars are not named LeBron James, Blake Griffin and Dwight Howard, there's a tendency to want more.
Howard participated in three slam-dunk contests, winning it in 2008. Blake Griffin won it in 2011. James has never competed in the contest, which used to be the signature event of All-Star weekend.
"Being in the dunk contest was never a goal of mine," James said on Friday.
With three All-Stars participating this year -- Paul George, Damian Lillard and John Wall -- it'll be a treat compared to the past few years. With George, especially, the Saturday night All-Star audience will get to enjoy one of the biggest (though understated) stars in the game. With a slam-dunk title to go with his All-Star status, George's coming out party -- which began when James dapped him up during last season's thrilling Eastern Conference finals -- would be complete.
The last time this many All-Stars competed in the slam-dunk contest was 1988, when Michael Jordan, Dominique Wilkins and Clyde Drexler did battle. Jordan won for the second straight year.
But the showcase event has since become a burden to stars who are weary from on- and off-court demands that now extend nearly year-round. Wall candidly said on Friday that if he weren't at All-Star weekend for Sunday's game, he wouldn't have made a special trip to do the dunk contest.
"Just being honest," he said.
And Lillard, another rising star, said he can understand why fans want to see the megastars, instead.
"I want to see Derrick Rose, I want to see Russell Westbrook, I want to see LeBron," Lillard said. "People like that." 
There's something else, according to Howard: The expectations for dunkers are way too high, and the limits of their athletic skills have just about been reached.
"People forget that every dunk has been done, basically," Howard said Friday. "There's not a lot of stuff that you can really do. Even though I've got some stuff that I haven't shown, I'm old now. I don't know if I can do it. Every dunk has been done. When you get in the dunk contest and somebody might try something, everybody's like, 'I saw that four years ago.' So guys are nervous about getting back in the dunk contest. You've got to be very creative."
But shouldn't LeBron at least do it once?
"I don't think that matters," Howard said. "If LeBron does the dunk contest or not, he's going to be one of the greatest ever to play this game."
But the greatest dunker? Not so much. Howard said there's a big difference between a great game dunker and a dunk-contest dunker.
"I love LeBron, but I think he's more of a game dunker," Howard said. "He's a one-leg jumper. So a lot of people want to see him do stuff in the dunk contest, but as a one-leg dunker, there's not a lot of things you can do. So it's a little bit different. The reason why Blake is so good, he jumps off two feet. Myself, Gerald Green, all these guys are two-foot jumpers, so you can get up and be more creative in the air. Even Mike, the year he won with the kiss-the-rim dunk, that was off two feet. The only thing you can do off one foot is just fly."
And the fans want to see the biggest stars fly on Saturday night. Despite this year's welcome infusion of All-Star talent, it's a concept that may have run its course.
Barea will return with members of his family after Mark Cuban loaned him the team plane

Wade, recently bought out by the Bulls, has reportedly made his decision

Dwight Howard apparently wasn't well liked by some of his Hawks teammates
Kyrie Irving created a movement -- but even he had no way of knowing the damage he could d...

Parsons, a Magic fan growing up, says his situation in Memphis with the injuries and big contract...

The Kings' big man says he was wrongfully arrested in August for possessing marijuana with...