Dwight Howard goes to Houston: Daryl Morey's plan pays off
How Houston's multiyear plan to get a superstar resulted in James Harden and Dwight Howard teaming up, and what it means for the Rockets.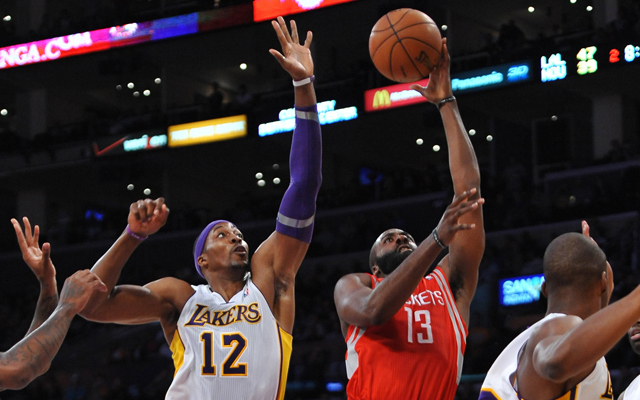 For three years, the Houston Rockets plotted and planned. For two years, Dwight Howard waffled and waned. 
And then, on July 5, 2013, the Rockets' pursuit of "the big one" and the Dwightmare simultaneously came to an end.  Ken Berger of CBSSports.com confirmed that Howard has chosen the Houston Rockets as his next team, and the Rockets are endeavoring to clear the last bit of space necessary by trying to move center Omer Asik . 
The Houston Rockets landed their mega-star. Make no mistake, James Harden is a legitimate superstar in this league and a prime candidate to lead the league in scoring in the coming years. He cemented himself as a legitimate No. 1 this season. But Harden is 23, and even with Finals experience, has a lot of room to grow. Howard, though, is an MVP candidate, DPOY candidate, the most intimidating force inside in the NBA. In a down year, he was still a force coming off of back surgery. 
He's the kind of star Rockets general manager Daryl Morey knew he had to get. 
For years, Houston stockpiled assets, from Kevin Martin to Jeremy Lamb to Kyle Lowry to Chase Budinger . They swapped and swapped for picks and picks, made moves to clear cap space. But they never got the lucky break. They were still winning, improbably, making the playoffs more often than not, and hovering right around there always. They never tanked. They never spit out a bottom-five season to get a top pick. They weren't successful on court, but they weren't horrible.
But Morey knew he needed a star. Despite all the praise for his moves bringing in versatile, athletic players and getting pick after pick after pick, Morey knew he needed superstar talent. He accumulated everything else in an effort to get his star power. They were always positioned for the biggest move of all.
But they could never catch the break. 
You see, to enter into real contention, to become one of those prolific teams, you have to catch a break. The Los Angeles Lakers had Kobe Bryant literally threaten to play in Italy if teams other than the Lakers drafted him. The Miami Heat had Dwyane Wade fall into their lap, then enter free agency at the same time as LeBron James . The Boston Celtics had the fortune of a former player, Kevin McHale, in charge of the Minnesota Timberwolves . You need that break. 
And when Oklahoma managed to literally out-draft themselves, landing too many great players in the draft and forced to trade Harden, the opportunity came. Morey wasn't psychic, he just put himself in a position to succeed and then was given the opportunity. It's yet another sign that in the NBA, if you build your organization the right way, you'll have a chance to become the kind of team that can compete for a title. 
So Howard joins the Rockets, and with Harden combines for one of the best inside-out tandems in the league. If Howard with a healthier back can (and is more willing to) operate more in the pick and roll, he'll have a legitimate chance to be dominant. Howard never agreed to that role in Los Angeles with Steve Nash . He'll have his post opportunities with Houston, with a dramatically more spread spacing set, but if he's willing to work in the pick and roll, it could be just as devastating as it would have been with Nash. 
He'll have shooters around him in Harden and Chandler Parsons , and athletic bigs in Terrence Jones and Donatas Motiejunas . A deal to bring Josh Smith in is in the works, and that will give him a wing forward who can attack the glass and slash to the basket even if Smith continues shooting too many 3s. More than anything, Howard and Smith would combine for one of the best defensive combinations in the NBA, with Smith's length and perimeter defense combining with Howard's ability to shut down anyone at the rim to make for a terrifying combination. 
There are downsides and concerns; Morey's work is not done. They will need a point guard if they trade Jeremy Lin ( Jose Calderon ?) and shooters to surround Howard and Harden. They'll need depth with little cap space, veteran leadership, and a damn good training staff to get Howard back to full health. But their three-year process that involved swinging, and missing, on Chris Bosh , Amar'e Stoudemire , Carmelo Anthony , Deron Williams , and twice on Howard has finally landed what they wanted. 
Houston showed it could build a team with valuable trade assets and a foundation good enough to get a superstar. Now can they build a championship team with the opposite approach, now stocked with star power and little else? But that's a question for another day. This is about right now, about today.
Today, the Rockets got Dwight Howard.
From Thunder Dan to Pistol Pete to Agent Zero, guards who would be better these days

Griffin said recently he thinks it's more likely that LeBron James goes to New York than L...

Mayo was suspended for two years last summer for violating the league's anti-drug program
The NBA broke its silence with a statement related to the Lakers-Paul George tampering cha...

The Clippers big man thinks LeBron will reunite with the banana boat crew at some point

Have the Clippers reportedly found their next GM?