Dwight Howard is happy in Houston, doesn't talk to Kobe Bryant
The Los Angeles Lakers and Houston Rockets are going to play a game against each other Thursday night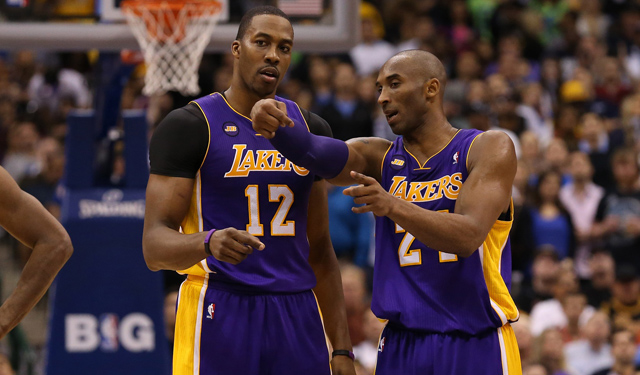 There was a time in which Dwight Howard was the possible future of the Los Angeles Lakers. It lasted exactly one season before the All-Star center parted ways with the fabled franchise and left to go play with James Harden and the Houston Rockets. It's not a story that needs to be rehashed all that much more with everything well on the record. However, the two teams play each other Thursday night on TNT, which means we're likely to hear comments from both camps over the next couple days.
Howard will be playing against some old friends on the team that are still there in the Lakers' transition period. Guys like Jodie Meeks, Jordan Hill, and Robert Sacre are still friends with Howard and will go against their former teammate Thursday night. Howard was asked if he talks to those former teammates, including Kobe Bryant. The answer he gave will surprise nobody. From the LA Times: 
In his first game in Los Angeles since leaving the Lakers to play for the Houston Rockets, Howard said he still talks to a lot of his former teammates.

"Me and Jodie [Meeks] and Jordan [Hill] and [Robert] Sacre, we have a great relationship, so we talk a lot and I'm looking forward to seeing those guys," Howard said after the Rockets fell to the Clippers, 137-118, on Monday.

What about Bryant? Do you still talk to him?

"No," Howard said.
Is anybody shocked that Howard and Kobe don't talk anymore? Don't everybody raise your hand at once. 
At this point, both sides probably want to move on and just exist in their respective seasons. The Lakers are trying to tread water until Kobe Bryant comes back from his Achilles' injury and the Rockets are trying to become title contenders by the time the playoffs come around. They're headed in different directions and looking to just move on with their lives. That's not going to stop the questions from rolling in prior to their matchup though.
Howard said he hasn't looked back since deciding to leave Los Angeles. In fact, when a reporter asked him if the Lakers could have done anything differently to keep him, Howard seemed a bit frustrated.

"Listen, it's over with man," he said. "Like I'm already out of there. There's no reason to talk about what the Lakers could have did. I made my decision and I'm living with it. I'm happy with where I'm at. I'm in a great place.

"I think everybody should move forward. It's over with. This is my life, you know what I'm saying. If you don't like it, so what."
In a couple of days, this story will go away until the next time they play, which will probably feature Kobe Bryant. Then get ready for another flood of questioning. 
Oklahoma City has reportedly offered the MVP a five-year extension worth over $200 million

The big man was a big part of the Warriors' championship run last season

The Cavs jokes were out in full force after Golden State reportedly agreed to sign Antonius...
New York seems to be at the top of Irving's list of preferred destinations

Is it just a normal workout, or is LeBron continuing his recruiting efforts?

Chris Bosh answered on the spot about the LeBron James and Kyrie Irving situation