Dwight Howard: 'No matter how the season ends, I'm still a champion'
Houston center Dwight Howard tried to stay positive after being eliminated from the playoffs.
• 1 min read
Houston Rockets center Dwight Howard appeared miserable when he sat down at the podium following their 104-90 loss to the Golden State Warriors on Wednesday. That's understandable, as his team had just been eliminated from the playoffs in five games in the Western Conference finals. Howard gave one- or two-sentence answers to the first few questions, then gradually started to open up. He talked about how much he and his teammates wanted to win, and how they had to come back stronger next year. Then a reporter asked how tough it was to overcome injuries and then have the season end like this.
"It's tough, but I won't stop fighting," Howard said. "I'm going to continue to push myself to the limit and remember that, no matter how he season ends, I'm still a champion. And I won't let anyone tell me anything different."
OK, clearly there are going to be a million jokes about this. Howard is, in fact, not an NBA champion. He went to the NBA Finals with the Orlando Magic, yes, but he has not won a title. Few people will  to care about the context here, but he quite obviously meant that he wanted to approach his craft like a champion, that he believed he could win in Houston. My interpretation: Howard was trying to say his goals out loud and to speak a championship into existence. This was a setback, just like his injuries, but he wants to overcome it.
As crazy as this sounds, I'm not even sure that was the highlight of his media availability. The best part might have been when he was asked what head coach Kevin McHale said in the locker room.
"To be honest with you, I was zoned out, boss," he said. "I was zoned out. All I heard was, 'Great job this season.'"
Howard is obviously hoping for a different sort of speech next year -- one that would be delivered in June rather than May.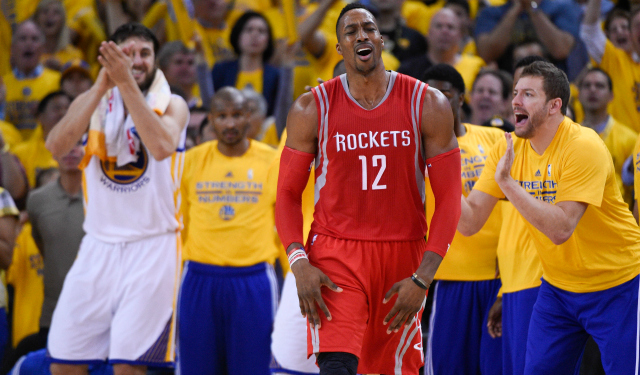 We've got all the scores, top plays and news from Thursday's NBA games

It was a loss of epic proportions on Thursday, and there were some mind-boggling stats along...

Protesters surrounded the Golden 1 Center, preventing many fans from getting in
Curry hasn't worn low-tops since he got his signature line with the apparel company

Brown said he hopes to return from his injury on Sunday

The banged-up defending champs expect to get one of their All-Stars back against the Hawks