Dwight Howard on Chandler Parsons' departure: 'It won't affect us at all'
Rockets center Dwight Howard believes the team will be fine without Chandler Parsons, and he probably went a bit too far.
• 1 min read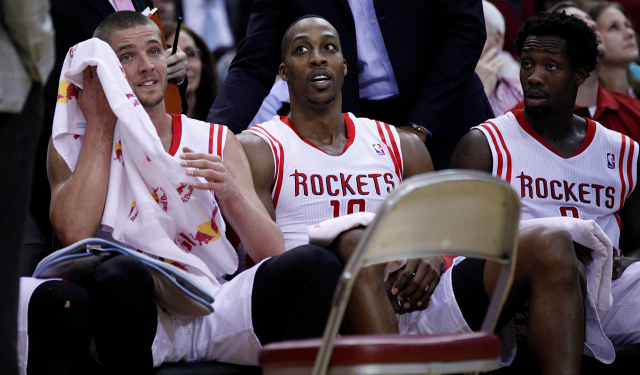 More Offseason Analysis: Coaching changes, news | Free Agency | Draft
Rockets center Dwight Howard was wooed to Houston by Chandler Parsons. There were a lot of texts and calls when Howard was a free agent. In his introductory press conference, Howard gave Parsons credit for the way he recruited him. Now, though, after the Rockets declined to match the Dallas Mavericks' offer sheet to Parsons, the team will be different. With Jeremy Lin and Omer Asik gone, too, the safe bet is it will be worse. Howard, however, downplayed all of this, via the Associated Press:
"It won't affect us at all," Howard said Friday of Parsons signing a three-year, $45-million deal with the Dallas Mavericks.

…

"We have myself and James (Harden)," Howard said. "We have the best center and the best two guard in the game on the same team. It's on us."
Speaking from his father's basketball camp, Howard went on to praise newcomer Trevor Ariza, calling him a "soldier." That's fine, and there's no reason he shouldn't be confident about Houston's chances. It's just that this is a bit much. Parsons is very, very good. Losing him, a 6-foot-9 forward who can shoot, create and finish, will obviously affect the Rockets. So will the other cap-clearing moves that didn't bring back any assets. It's going to be tough to win as many games as last year.
Howard is right about one thing, though: It's on him and James Harden. If Houston is going to make up for it, Howard is going to have to dominate all season and Harden is going to have to start putting the effort in when he doesn't have the ball.
Mirotic and Portis combined for 49 points as the Bulls won their fifth straight game, beating...

Gobert, who missed 11 games earlier this season with a knee injury, will have an MRI

Get all the latest scores, news and highlights from Friday's NBA games
Porzingis is questionable for Carmelo Anthony's return to MSG on Saturday

The Spurs and Rockets will renew their in-state rivalry on Friday night

Anthony will play at Madison Square Garden on Saturday for the first time since being trad...