Dwight Howard on playing with Kobe Bryant: 'It was very tough'
After leaving the Los Angeles Lakers for the Houston Rockets, Dwight Howard admits that it was 'very tough' playing with Kobe Bryant.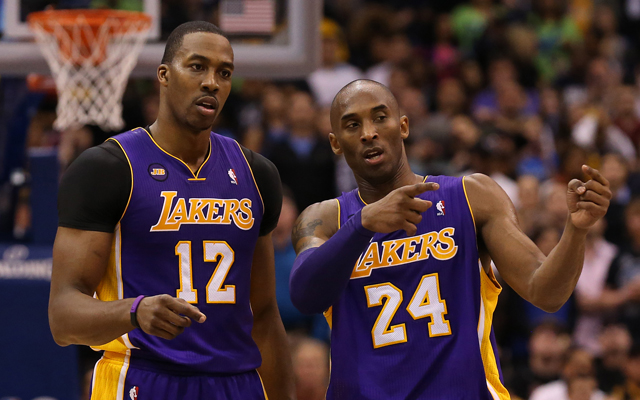 We're probably going to get more and more quotes like this as Dwight Howard becomes more comfortable with his new environment as the center piece of the Houston Rockets and the Los Angeles Lakers prepare for the new era that eventually won't include Kobe Bryant. We're going to get more comments with Dwight Howard explaining how he felt when he was with the Lakers because that's what people seem to want to ask him.
In an interview with Stephen A. Smith on ESPN's SportsCenter, Howard talked about how it was "very tough" to play alongside Kobe Bryant and that they had their disagreements. After a tumultuous season for the Lakers mired by injuries, rail-thin depth and preseason title aspirations that quickly became punchlines, finding out that there was some hard feelings at times between the two stars isn't surprising. From ProBasketballTalk:
"Was it tough playing with Kobe? Yeah, it was very tough. But playing along with Kobe didn't have any parts of my decision going to Houston. I just felt like Houston was a better situation for me and my career. Me and Kobe, we had our disagreements, we had our moments. Everybody knows Kobe likes to score and there were times we would get at it getting the ball. And that happens on a team."
Kobe Bryant is a superstar scorer who is demanding of his teammates and can be difficult at times? Well, I never!
This isn't a new idea. Bryant has been pegged like this at various moments in his career as a reclusive teammate early on, someone who wanted Shaquille O'Neal to be as dedicated to being in shape and dominating as other stars, someone who wanted veterans to join the team when Andrew Bynum was struggling to establish himself early on, and other moments as well. It can be viewed as Bryant being a bad teammate. It can also be viewed as Bryant wanting the best chance to win championships. 
Depending on the team dynamic and situation at the time, I'm sure there's middle ground there. With Dwight Howard on the Lakers, they were a frustrating disappointment for those involved. I'm sure it was tough playing with Bryant, just like I'm sure it was tough playing with Howard at times. 
It was just a tough year all around for the Lakers. 
The Cavaliers won the much-anticipated matchup, 121-112

Two of the league's most interesting teams will meet on national TV on Friday night

A mic on the court evidently picked up what the Cavs superstar had to say to the Lakers ro...
The idea was to bring Bell along slowly, but he's making it harder and harder to keep him on...

Donovan Mitchell kept the top spot in the rankings, but there was plenty of shuffling below...

Stephen Oh is 23-7 picking Rockets and Spurs games and just locked in a play for Friday