Dwight Howard plans to go from villain to champion, just like LeBron
Dwight Howard wants to become the likable guy again, and knows if he's going to do it, he needs to win.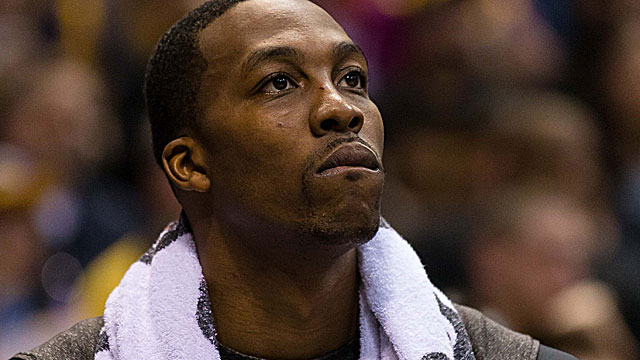 You either die a hero, or you live long enough to see yourself become the villain. 
Or in Dwight Howard's case, you either win and become a hero, or lose and remain the villain. 
Howard acknowledges his role in the NBA now. He's the bad guy. With his disatrous departure from Orlando that jaded fans and ticked off everyone else, then his unsuccessful stint in Los Angeles only to leave for Houston, Howard doesn't have a lot of people on his side anymore. 
And he knows the only way to get them back is to win. 
"Last year, I felt like I was the villain," Howard told Yahoo Sports. "Now, I feel like I'm an even bigger villain."
The path to redemption has already been paved by one star. LeBron James made enemies all over with his Decision, and then became a punch line as he failed spectacularly in the 2011 Finals. But with a title in 2012, and then another in 2013, LeBron has regained his perch as not only the game's best player, but one of the most revered. 
And Howard has paid close attention to all that and hopes to follow LeBron's path. 
"He got hated for a lot of reasons," Howard told Yahoo. "I was really, really happy when LeBron finally won. I was unhappy that it wasn't me up there, but I was glad to see him get through that whole thing.

"I knew exactly how he felt. People putting you down, saying bad things about your character, who you are as a person. It doesn't sit well with you. When you go out on the court, you want to show them, 'Hey, this isn't who I am.'

"Here's a guy who's a great basketball player. He did something that was for him, and he did it in front of the whole world. I realized then that our issues, our problems, our flaws are out there for the world to see. You can't run from it. We have to learn from our mistakes and move forward."

[...]

"Me and LeBron, especially dealt with that," Howard told Yahoo. "Chris [Paul] didn't get as much as attention as me and LeBron. Every day, people want to know where we're going. Last year, the year before, it was every day: 'Come play here. Come here. Where are you going?' I dealt with that for a whole season.

"Especially in Orlando, I really wanted to test the waters, but I loved the city. I didn't want to hurt people. You're stuck in this place where you want to do what's best for you, but, at that same time, you don't want to hurt people.

"I just remember LeBron being up at the stage, and saying he was going to Miami, and I just remember the look on his face … 'I don't want to hurt these people but I've got to do this.' I felt for him. I could just see it in his eyes and his face. And then I started thinking, 'You don't know what it feels like until you go through it.'"
So now Howard looks to begin fresh with the Rockets. The slate is sort of wiped clean, or at least that's the idea. 
But he understands it: Want to become the hero again? You've got to win. Pretty simple formula. 
Jordan Bell had himself a night against Portland

The younger Ball brothers are heading to BC Prienai, but that could spell trouble

Not many games, but still plenty of action and intrigue Monday in the Association
SportsLine's advanced computer model simulated Tuesday night's Lakers-Knicks game 10,000 t...

The Reno Aces are concerned about the new WNBA franchise stealing their thunder

Hinkie parted ways with the 76ers in 2016 after drastically changing the direction of the...