Dwight Howard responds to Shaquille O'Neal's criticism: 'Move on, let it go'
Los Angeles Lakers center Dwight Howard urges TNT commentator Shaquille O'Neal to "let it go" when it comes to criticizing his play.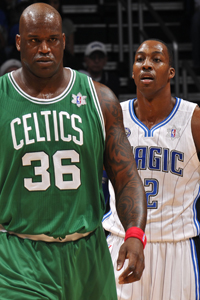 Dwight Howard tells Shaquille O'Neal to "let it go." (Getty

 Images)
We're into at least the fifth round of smack talk between Los Angeles Lakers center Dwight Howard and TNT commentator Shaquille O'Neal.
O'Neal, who was a No. 1 pick by the Orlando Magic before moving to the Lakers, has mocked and criticized Howard, who was a No. 1 pick by the Magic before moving to the Lakers, for stealing his "Superman" nickname, among other inane transgressions. Over the last year or so, O'Neal has ratcheted up the attacks, honing in on Howard's supposedly limited offensive game and his lack of an NBA title to his name.
On Wednesday, O'Neal got particularly foolish, telling ESPNNY.com that Howard, clearly the NBA's best center for years, is actually only the third-best in his book.
"We as players, we always watch people before us. When I came in it was Patrick Ewing and Hakeem Olajuwon, guys who played like true centers who played inside. What we have now are centers that are going to the European style, which is a lot of pick-and-roll. Dwight Howard, who's a pick-and-roll player, some people say he's the best center in the league, but me being an old-school center, I'm going to go with [Brook] Lopez and Andrew Bynum because they play with their back to the basket."

"Listen to what I'm saying. I'm not talking about dunking, I'm talking about playing like a big man with the moves. My man, before he had the foot injury, was putting up nice, solid big man numbers. He don't have a lot of flash, a la Tim Duncan, but he can play. If you put him with a nice team around him, you can get a lot from this big man. Like if you want to go to flash and dunking and the pick and roll, you gotta go with Dwight Howard. But me, the last true original dundaughta (slang for big timer), I'm going with Andrew Bynum and which Lopez? Brook. Brook Lopez." 
Thankfully, Howard, who is still working himself into shape after back surgery last season and has participated in Lakers training camp this season, has heard about enough from O'Neal. He sounds almost -- almost -- fed up with the attention, which would seem to be a first for one of the league's most attention-hungry stars.
Asked for his response to O'Neal's latest round of criticism, Howard offered the following, according to ESPNLA.com.
"I don't care what Shaq says," Howard told reporters after practice. "Shaq played the game. He's done. He's gone. It's time to move on."

"He hated the fact when he played that the older guys were talking about him and how he played and now he's doing the exact same thing," Howard said. "Just let it go. There's no sense for him to be talking trash to me. He did his thing in the league. He's one of the most dominant players to ever play the game. Just sit back and relax. You did your thing. Your time is up. So, I don't really care. I don't really care. He can say whatever he wants to say."
The O'Neal/Howard tiff winds up being an excellent test case for Howard, who has said in interviews since his departure from Orlando that he has to realize he can't try to please everyone. But given how violently he swung back and forth with his decision-making last season -- Do I stay? Do I go? Do I re-sign? Do I demand a trade? And on. And on. -- we can't exactly take his "I don't care" statements at face value.
Is he truly capable of tuning out O'Neal, a player who directly paved the way for him in the league? Will he be able to continue tuning out O'Neal if the knocks continue on the Thursday night TNT set week after week? Can he find a peace of mind from now until he can finally prove O'Neal wrong by winning a title?
You would hope the answers to those questions are all "yes." But Howard has proven, especially over the last few seasons, that it's rarely that simple.
Kyle O'Quinn has reportedly drawn interest from the Warriors

LeBron James will try to finish off his 30,000 point milestone tonight when the Cavaliers play...

The old rivalry of Celtics-Lakers is renewed once again, but the stakes are still pretty l...
David Blatt thinks Cleveland players aren't doing enough for Tyronn Lue and the rest of the...

SportsLine's Mike McClure, a DFS pro with more than $1M in winnings, gives optimal lineup...

Lillard has a private meeting with owner Paul Allen over the future direction of the organ...